There's a New Reason to Subscribe to Amazon Prime—and Fly on JetBlue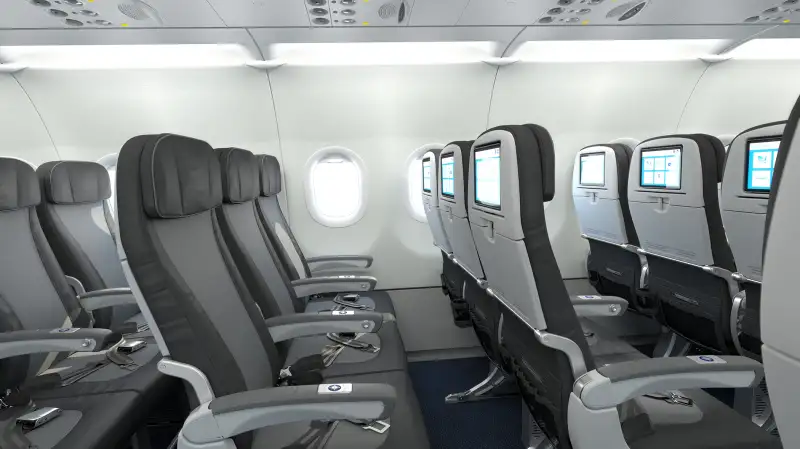 Airlines that offer wi-fi on flights typically charge $5 per hour, or $16 for a full day's access, and customers aren't able to stream video from the likes of Netflix, Amazon Prime, or HBO Go because the connection isn't strong enough. On JetBlue Airways, however, a basic wi-fi service called Simply Surf has been free on equipped aircraft, while an enhanced Fly-Fi option that's powerful enough to allow streaming runs $9 per hour.
Thanks to a freshly announced partnership between Amazon and JetBlue, passengers who are Amazon Prime members will be able to stream content on JetBlue flights via Fly-Fi for no additional fee. Starting this year on JetBlue Airbus A321 and A320 aircraft, and next year on the carrier's Embraer E190 planes, Prime members can instantly stream tens of thousands of movies and TV shows from Amazon Prime Video on smartphones, Kindles, iPads, laptops, and other devices. They'll also be able to listen to one million+ songs via Amazon Prime Music. All of this content on JetBlue flights costs nothing above the $99 annual price of an Amazon Prime subscription.
"We're thrilled that Fly-Fi technology will give Prime members and customers unlimited, on-demand access to the full catalog of titles from Amazon's digital video library while they're in the sky—without the need to rush to download one more episode or movie before taking off, we're helping make airline travel more enjoyable," Michael Paull, Vice President of Digital Video at Amazon, said via press release.
The partnership provides some benefits for non-Prime members traveling via JetBlue as well. All passengers will now have the on-board option of renting or purchasing certain Amazon Instant Video content—including new release movies and TV shows that aren't included in regular Prime—as well as the ability to buy and download songs, apps, and Kindle ebooks from Amazon.
Perhaps most importantly, the Amazon partnership is being credited as the "prime" reason JetBlue will be able to continue allowing all passengers to enjoy Simply Surf, the basic service that'll suffice for browsing and checking email, at no charge on flights. All JetBlue passengers will continue getting free DirecTV via individual seatback screens too.