Jurassic World Stomps Box Office Competition for Second Week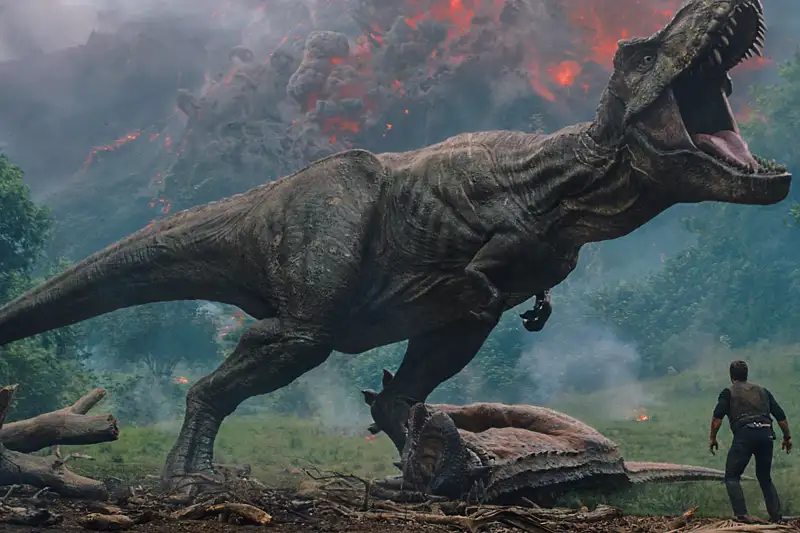 Photo Credit: Universal Pictures—COPYRIGHT © 2018 UNIVERSAL STUDIOS and AMBLIN ENTERTAINMENT, INC. and LEGENDARY PICTURES PRODUCTIONS, LLC.
"Jurassic World: Fallen Kingdom," a sequel in the popular film series about a dinosaur theme-park gone wrong, led the domestic box office for a second straight weekend, outdrawing two new releases.
The film from Comcast Corp.'s Universal Pictures movie collected $60 million in U.S. and Canadian theaters, researcher ComScore Inc. estimated in an email Sunday. The Sony-distributed "Sicario: Day of the Soldado," another sequel, placed third with $19 million, while Lions Gate Entertainment Corp.'s comedy "Uncle Drew" took in $15.5 million for fourth place.
Led by the blockbuster releases, "Jurassic World" and "The Incredibles 2" from Walt Disney Co.'s Pixar, summer box-office sales heading into the weekend were up about 18 percent from last year's dismal total, according to Box Office Mojo. As expected, the two hits delivered more than $100 million in weekend revenue. Disney's animated superhero feature snagged $45.5 million in weekend receipts.
"Fallen Kingdom" was in line with a forecast of $62 million from Box Office Pro. The movie's global haul has already reached $932 million, according to ComScore. The movie picks up where the last movie ended, with dinosaurs rampaging through the fictional Isla Nublar. Chris Pratt reprises his role as the fearless Owen Grady, this time trying to save the dinosaurs from a volcano and trophy hunters.
"Uncle Drew" was expected to take in $16 million, according to analysts at Box Office Mojo. Directed by Charles Stone, the film features Milton "Lil Rel" Howery, best known for playing the scene-stealing TSA agent in "Get Out." He portrays a sneaker salesman who forms an amateur basketball team to beat his arch-rival in a legendary street ball tournament. Shaquille O'Neal and Tiffany Haddish co-star.
Critics were mostly favorable, with 60 percent giving positive reviews, according to RottenTomatoes.com. It was forecast to collect $17.3 million by Box Office Mojo.
"Sicario: Day of the Soldado" is a new chapter in the story about a drug war across the U.S.-Mexico border. Josh Brolin returns as federal agent Matt Graver, who calls on assassin for hire Alejandro Gillick, a role reprised by Benicio del Toro, whose family was murdered by a local drug lord.
Graver wants to abduct the kingpin's daughter to trigger a gang war. The movie cost $35 million to make, excluding marketing costs, and was projected to generate $17.1 million, according to Box Office Mojo. Reviews were mostly positive at 67 percent, according to Rottentomatoes.com.