Here's Justin Bieber's Net Worth on His 22nd Birthday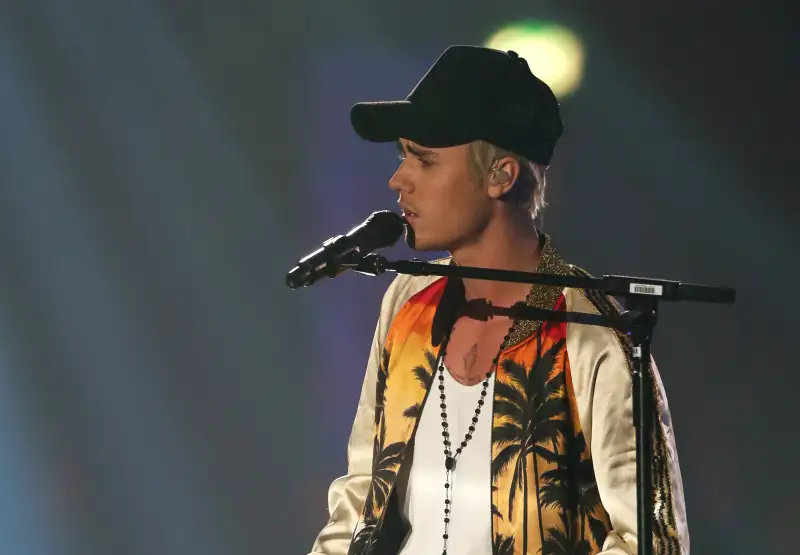 David M. Benett—2016 David M. Benett
Pop star Justin Bieber's birthday is March 1 and the bad boy heartthrob is turning 22 years old. Plans for his birthday festivities haven't been made public, but last year he used the occasion to film the Justin Bieber Roast Comedy Central special as a way of apologizing for his habitually immature behavior. Of course, after the taping he headed to Omnia nightclub in Las Vegas to celebrate with celebrities like Kris Jenner and Katherine McPhee and hundreds of die-hard Beliebers.
Justin Bieber Net Worth: $200 Million
Justin Bieber has come a long way since his rise to fame as a 13-year-old YouTube sensation raised by a single mother. The net worth of Justin Bieber is currently $200 million, according to Celebrity Net Worth, but this is likely to increase monumentally as his earning power is estimated at $60 to $80 million per year.
Justin Bieber Music
Just about everything Justin Bieber touches turns to gold, platinum or multi-platinum. The latest Justin Bieber album "Purpose" was released on Nov. 14, 2015 and within weeks sold 1 million copies, joining the ranks of his other top-sellers "Believe," "Under the Mistletoe," "My World 2.0" and "My World."
Since his 2015 comeback, the singer's churned out three Billboard chart toppers, which were his first ever. First, there was the 2015 hit "What Do You Mean?" then "Sorry" and the February 2016 sensation "Love Yourself," shown below.
The immense success of his albums has proven extremely lucrative for Justin Bieber. His 2010 album "My World 2.0" brought in $6.4 million — according to TheRichest — followed by $3.1 million for 2011's "Under the Mistletoe" and $7.1 million for 2012's "Believe."
Read More: What It Costs to Drive Like Justin Bieber
Justin Bieber Concerts
Justin Bieber concerts are even more profitable. His 2010 "My World" tour earned him $44 million, followed by $12.25 million for 35 shows on the Believe tour in 2012 and another $42.7 million for 122 shows on the 2013 leg of the tour. His Purpose world tour will have 58 shows and kick off March 9 in Seattle.
His music has also landed him on the silver screen. In 2011, his feature film "Never Say Never" earned $98 million worldwide.
Justin Bieber Awards
In 2016, Justin Bieber's "Where Are U Now" won a GRAMMY for Best Dance Recording. But the singer is no stranger to awards. Bieber has earned a slew of other honors, including eight American Music Awards, 14 Billboard Music Awards and two People's Choice Awards.
Bieber often manages to command the stage too, serving as a regular performer at shows like the GRAMMYs, MTV Video Music Awards, American Music Awards and the Teen Choice Awards.
Read More: Justin Bieber to Peyton Manning — 30 Millionaires Born in March
Justin Bieber Endorsements
Music isn't the only factor behind Justin Bieber's net worth. In 2010, he struck a $3 million endorsement deal with the skincare line Proactiv, which was only the beginning of his presence in the beauty industry. In 2011, he earned $3 million in royalties from his first fragrance Someday — which broke records as the bestselling celebrity fragrance launch in Macy's history.
In 2015, Justin Bieber became an underwear model. Calvin Klein signed the star as a brand ambassador and he appeared scantily-clad in a series of ads with model Lara Stone. In a 2016 campaign, Kendall Jenner appears as his co-star.
Justin Bieber House and Property
Over the past few years, the "Boyfriend" singer hasn't had the best luck putting down roots. In 2012, he purchased a 9,214 sq. ft. mansion for $6.5 million in a gated Calabasas, Calif., community, but his hard-partying ways clashed with the family-friendly neighborhood. Just two years later, in 2014, Justin Bieber's house was sold to Khloe Kardashian for $7.2 million.
Afterward, he simultaneously rented two condos in a swanky Beverly Hills, Calif., building, but continued to anger neighbors with his heavy partying. He then moved on to a Beverly Hills mansion that cost him $60,000 per month in rent. Later, he downgraded to another palatial home in the same area with nearly half the monthly price tag — $35,000. Recently, Justin Bieber has been living at the Montage hotel in Beverly Hills, according to TMZ.
Read More: Justin Bieber Net Worth — New Song Expected to Make the Pop Star Even Richer
Justin Bieber Philanthropy
Justin Bieber's reputation certainly took a hit in recent years, but regardless of his sometimes less-than-impressive antics, he's proven himself to have a giving heart. For his 17th birthday, he encouraged Beliebers to make donations to a clean water campaign, a move that raised $47,148 and helped more than 2,357 people. He continued this for his 18th birthday, asking fans to donate $18 for clean water or start a fundraiser of their own. The celebration brought in $21,657 and resulted in the creation of 821 new campaigns.
He also gave the net profits from his Someday perfume to charity and has donated many personal items to an eBay auction benefiting the Stratford House of Blessing food bank that helped him as a child. One article of clothing he donated, Nike basketball shoes, sold for $62,000.
Justin Bieber's charitable giving isn't just limited to financial donations. In 2013, he became the first recording artist to grant 200 wishes through the Make-A-Wish Foundation. Later that year, he gave the shoes off his feet to an underprivileged child in Guatemala. He even won the Champ of Charity honor at the Young Hollywood Awards, which was presented by a young Make-A-Wish recipient.
While en route to a nightclub in January 2016, Justin Bieber stopped to help an elderly woman who was the victim of an alleged hit-and-run accident, and when his pal Floyd Mayweather's young children were involved in a car accident in 2014, he beelined to the scene to offer moral support.
During the past year, Justin Bieber has done a lot of work to revamp his image, and his hard work is paying off. It also seems the Justin Bieber-Selena Gomez relationship is finally over; he is reportedly trying to cover a tattoo on his wrist that he got for her and is rumored to be dating model Hailey Baldwin. The next year looks promising for the 22-year-old star and will likely boost his net worth even higher.
This article originally appeared on GoBankingRates.