A Ranking of the Richest Women of the Kardashian-Jenner Clan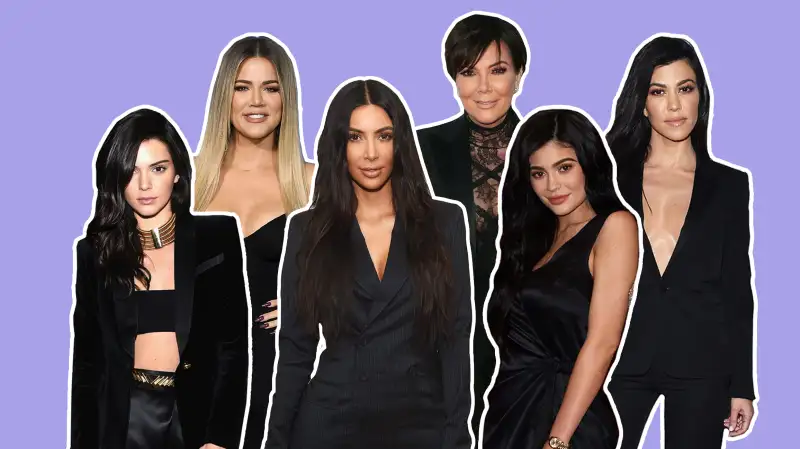 What began as a reality television series to explore the brash and busy lives of the Kardashian-Jenner family has turned into a decade-long story — turning each of its characters into multi-millionaires.
Keeping Up with the Kardashians, which celebrated its 10-year anniversary on E! in the fall of 2017, has effectively instigated an empire — with Kim Kardashian West, Kylie Jenner, Kendall Jenner, Khloe Kardashian, Kourtney Kardashian and Kris Jenner each earning a net worth of well over $10 million. Together, the Kardashian net worth (at least the women) is a collective $122.5 million just between June 2015 and June 2016, according to Forbes, making the Kardashian-Jenner clan the highest-earning stars in reality television.
With an average of more than 2.1 million viewers for each episode, Keeping Up With The Kardashians has spawned nine spin-offs — the latest being Life of Kylie — on E!, which agreed to a reported $80 million contract with the Kardashian-Jenner family through the current season 14, according to the Hollywood Reporter. Season 15 of the show will begin August 5.
Each of the women who are part of the Kardashian-Jenner clan have come a long way financially since the series first premiered 10 years ago. With highly profitable cosmetics lines, lucrative sponsorship deals, apparel companies and modeling careers, here's a look at the Kardashian family's net worth.
Estimates for each woman of the Kardashian family's net worth come from CelebrityNetWorth.com and BankRate.com.
Kendall Jenner net worth
Kendall has a net worth of around $18 million. The 21-year-old has scored some of the most coveted real estate in fashion, including a cover on Vogue's September issue, a lead spot on the Marc Jacobs runway and as the face of Estée Lauder.
According to Forbes, Kendall earned $17 million in 2016, and is the third-highest paid model in the world. Outside of print and runway modeling, Kendall earned her cash from the reality show, her apparel line with her sister Kylie and a series of sponsorship deals.
Kendall notably came under fire earlier last year when she appeared in an ad for Pepsi that many considered tone-deaf. The ad was later pulled. As PepsiCo CEO Indra Nooyi explained to Fortune, "The minute I saw people upset, I pulled it."
Kourtney Kardashian net worth
CHRIS DELMAS—AFP/Getty Images
The oldest of the Kardashian siblings, Kourtney has earned most of her estimated $35 million net worth through the reality show, which she both stars in and executive produces. But before Keeping Up With the Kardashians, Kourtney appeared on the 2005 reality show Filthy Rich: Cattle Drive, where the kids of the rich and famous were sent to a cattle drive.
Kourtney, 38, also helps run the Dash clothing store with Khloe and Kim, as well as ran children's boutique Smooch before it closed. Kourtney also has a number of endorsement deals on social media, including one for Lyfe Tea, a weight-loss and diet tea.
Kourtney is the mother of three children, who she had with her ex-boyfriend Scott Disick. She is also the only one of her sisters to attend college, graduating from the University of Arizona in 2002.
Khloe Kardashian net worth
Khloe Kardashian, Taylor Hill—FilmMagic
The youngest of the Kardashian sisters, Khloe has a net worth of around $40 million, most of which she has earned from the series as an executive producer and cast member, as well as her own spin-offs. Khloe briefly hosted Kocktails with Khloe on the FYI channel, and this year, her new show Revenge Body with Khloe Kardashian premiered on E!.
Khloe has made cash outside of television, with appearances, clothing lines like her Good American Jeans brand, and endorsement and sponsorship deals. Khloe married NBA star Lamar Odom in 2009, and they divorced in 2016. She is expecting her first child later this year with Cleveland Cavaliers player Tristan Thompson. Earlier this year, she gave birth to her first child, True, whom she had with Cleveland Cavaliers player Tristan Thompson.
Kylie Jenner net worth
Kylie Jenner, Gilbert Carrasquillo—GC Images
Both the youngest of the Kardashians/Jenners and the youngest high-earning celebrity on Forbes list this year, Kylie has accumulated a net worth of around $50 million at just 20 years old.
Much of her wealth comes from her quick-selling make-up line, Kylie Cosmetics, best known for its lip kits. Kylie Cosmetics has made a stunning $420 million since launching less than two years ago, Kris Jenner told Women's Wear Daily earlier this year. Kylie also has a lucrative sponsorship deal with Puma and is the latest member of the family to get her own spin-off series, called Life of Kylie. Kylie and Kendall also have their own fashion line.
Kylie also had a celebratory start to 2018 with the birth of her first child on Feb. 1. The reality star kept her pregnancy a secret from fans but shared the story of her pregnancy in a video online that includes her family and boyfriend, rapper Travis Scott.
Kris Jenner net worth
Kris Jenner, Jason Merritt—Getty Images
The matriarch of the Kardashian-Jenner clan, Kris, serves as manager to her children — and Kris has a net worth of about $60 million. Kris is credited with pitching the idea of Keeping Up with the Kardashians to Ryan Seacrest in 2007, which ultimately launched not only her career, but those of her children, according to the Hollywood Reporter.
Kris earns most of her money from Keeping Up with the Kardashians, which she appears on and serves as an executive producer for. She has also been an executive producer for the numerous spin-offs, as well as her short-lived talk show Kris. As a manager to her daughters and son, Rob Kardashian, Kris earns a small percentage of what they each earn.
Robert Kardashian, the late Hollywood lawyer best known for serving on O.J. Simpson's defense team during the "trial of the century," was Kris's first husband and father to Kourtney, Kim and Khloe. Kris remarried and had two more children, Kendall and Kylie, with Caitlyn Jenner. The couple has since divorced.
Kim Kardashian West net worth
The most famous, wealthy and entrepreneurial of her siblings, Kim has a net worth of about $175 million.
Kim, along with Kourtney, Khloe and Kris, is an executive producer of Keeping Up with the Kardashians, as well as a savvy entrepreneur that has capitalized on her fame. Her hit Kimoji app has made millions, and her newly launched contour palettes make-up line sold out in just three hours when it first debuted in 2017. Kim also launched a fragrance line, with products coming in crystal bottles and Valentine's Day-themed perfumes.
Kim also created the Kim Kardashian: Hollywood game, has an app for exclusive content about her life and published a book made entirely of her selfies shot over the years, called Selfish. Along with countless endorsement deals and paid appearances, Kim also has a kids clothing line with her husband and rapper Kanye West.
Over the last year, Kim made $45.5 million, making her the 47th richest celebrity on the Forbes list of the 100 highest-earning celebrities in 2016.
In October 2016, Kim was robbed at gunpoint in her hotel in Paris during Fashion Week. The robbers stole nearly $9 million worth of jewelry including a $4 million diamond engagement ring from Kanye. Known for her frequent use of social media, Kim kept a low profile in the months after the traumatic event and has since recounted the robbery in detail on the family's show.
Kim and Kanye wed in 2014 and have three children: North, Saint and Chicago.
Before Kanye, Kim (now infamously) married basketball player Kris Humphries before they separated after just 72 days of marriage. Kim also was married to music producer Damon Thomas for three years after they eloped when she was 19 years old.