Would You Spend $60 for Your Kid's Lunch Box?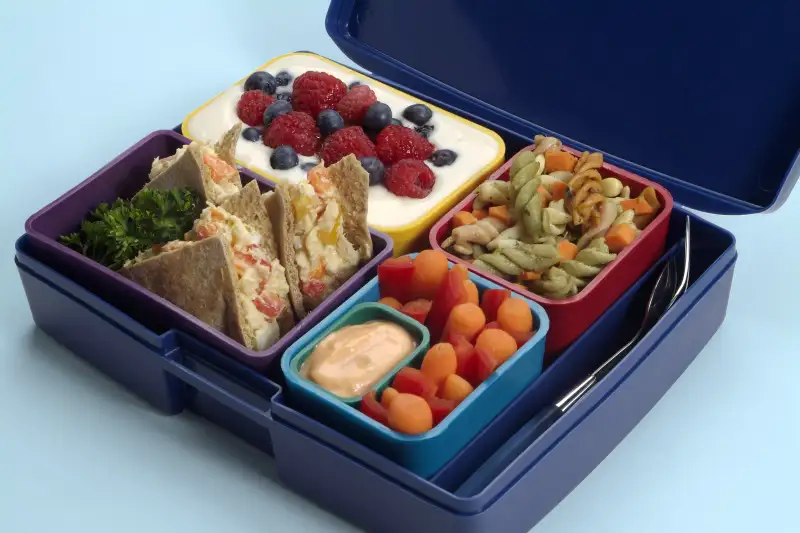 When it comes to kids' lunches, we've come a long way from PB&J, an apple, and a cookie in a brown paper bag.
Beau Coffron, of Fremont, Calif., packs his daughter's school lunches in stainless steel containers that cost at least $20 a pop. He apportions all of her food into little compartments, making cartoon characters like Charlie Brown and animal shapes such as tigers and llamas out of the ingredients. Her sports water bottles cost about $10, and the sack to carry it all came with the lunch kits but would retail separately for about $25.
Everything is toxin-free and reusable, naturally.
What started as simply a creative way to pack lunches has become a movement in the U.S. to reduce waste from individual packaging, save money by buying in bulk, make use of leftovers, and have toxin-free food containers—and share it all on social media.
Coffron, who posts pictures of these lunches on his blog, is part of this wave of moms and dads who are willing to pay much more than the cost of a box of plastic baggies at the dollar store for these benefits.
Parents who are investing in fancy lunch gear say it's worth the upfront costs because it lasts longer than disposable items. The annual savings from reusable items amount to an average of $216 a year, according to a study by U-Konserve, whose lunch kit runs $39.95.
While popular in Japan, Bento-style lunch gear, where a variety of food is packed in small containers or compartments in a specialized, lidded tray, is still a very small portion of $1.4 billion food storage industry, according to research firm Euromonitor International. However, the small companies that sell these products report phenomenal U.S. growth during the last several years as the trend has exploded.
Laptop Lunches, one of the oldest and biggest of these companies, launched in 2002 and now sells more than 500,000 units a year, according to the company. On the smaller end of the spectrum is PlanetBox, which sells under 100,000 units a year. Launched five years ago, PlanetBox says sales are up 150% the last two years.
Products vary from all-in-one solutions like PlanetBox, which has a $59.99 Bento lunch kit with a bag and stainless steel lunch tray, to multi-piece solutions like Laptop Lunches' $32.99 kit. A simple Goodbyn tray with three compartments runs $8.99.
That's a lot of cash for something that is likely to end up lost within the first week of school, which is why more manufacturers are offering customization. For example, PlanetBoxes offers magnets to put on cases and Goodbyns come with stickers so that the items are easily recognizable in the lost-and-found bin. The heft of these products makes children realize they need to take care of them, too.
Mix and Match
Investing in one expensive lunch kit might not be enough, which is why there's some mixing and matching that goes on, parents say.
Venia Conte, based in Las Vegas, has two PlanetBox lunch kits, in case one gets misplaced or is dirty, plus a couple of LunchBots lunch kits, which run $20 for the stainless steel containers. She also uses stainless steel food thermoses, which cost around $25 each, plus $1.50 re-usable napkins from Etsy.com and various water bottles.
"When you look at their shoes, which they grow out of in six months, $50 for a lunch box doesn't seem so bad," says Conte, who blogs about her lunches to keep herself engaged for 180 days a year.
While the bento lunch fad has been ongoing in Japan for years, most of the companies selling these products in the U.S. emerged after the recession in 2008.
"When I started the business, parents were like: $25 for a lunch box, that's like way too expensive. But parents are factoring that equation differently," says Sandra Harris, founder of ECOlunchbox, whose three-compartment stainless steel kid's tray runs $12. "Now, BPA-free is a household word," she says, referring to the Bisphenol, a chemical that is found in polycarbonate plastics.
For Tammy Pelstring, who started Laptop Lunches, the biggest surprise has been the community that has sprung up around these lunch kits, fueled by social media. Her company started before Pinterest and Instagram, so the first thing she noticed was people posting photos on Flickr of lunches packed in her lunch boxes—thousands upon thousands of them.
"We completely hit on something," Pelstring says. "There's this joy that people get when you create a beautiful lunch. It feels really good."