Meet the Kids of the World's Richest Billionaires, Who Attend Secret Schools and Enjoy Expensive Hobbies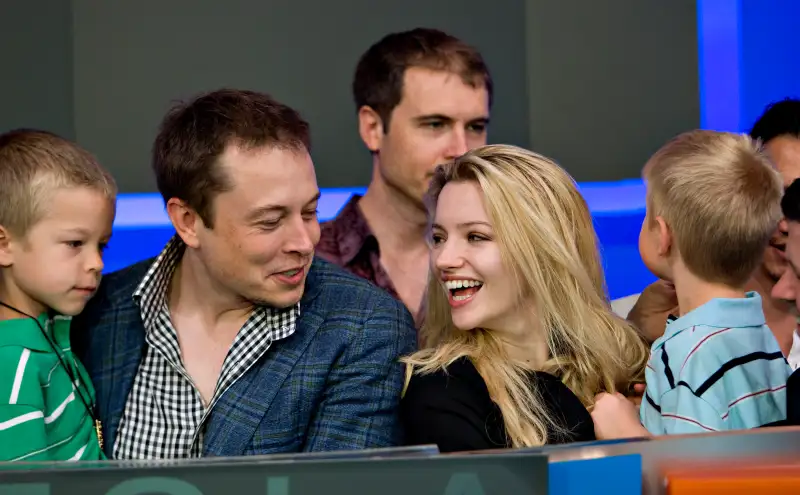 Bloomberg—Bloomberg via Getty Images
Most kids face the same problems growing up, but some do so with a billionaire parent.
When not running their tech company and managing other executives, many of the world's richest people and most recognizable business moguls have the universal job of taking care of their children.
The kids of the richest business moguls have many of the same experiences as everyone else. They go to school, relax on vacation, date, and eventually have children and careers of their own.
However, they may also attend secret schools, pursue expensive hobbies like riding horses, or head up their father's charity organization — less than ordinary experiences that make their childhood the opposite of average.
Below, find out more about the children of some of the most successful billionaire business moguls: Mark Cuban, Mark Zuckerberg, Elon Musk, Richard Branson, Bill Gates, and Warren Buffett.
---
Mark Cuban is a father to three children — Alexis, Alyssa, and Jake.
---
Cuban and his wife, Tiffany, keep family time fun. Last summer, the Cuban family took a vacation to Disneyland.
---
Cuban has admitted that it is difficult to get his children off their phones. He limits Netflix time for his kids and has instituted a technology curfew.
Source: CNBC
---
Facebook founder Zuckerberg has two young daughters. He and wife Priscilla were joined by Maxima in 2015 and August in 2017.
Source: Business Insider
---
The tech giant took off from work in December to spend time with his family. Facebook allows parental leave for mothers and fathers of newborns.
Source: Business Insider
---
Tesla pioneer Elon Musk had six sons with first wife Justine Wilson. Their first child — Nevada — died as an infant. Through in vitro fertilization, the couple had twins and then triplets. Griffin and Xavier were born in 2004, and Damien, Saxon, and Kai came two years later.
Sources: Marie Claire, Elle
---
Musk enrolled his five sons in a secretive, experimental school he created. Little is known about Ad Astra — Latin for "to the stars."
Source: Business Insider
---
In 2013, Musk said he strives to spend time with his sons. In 2010, he called his children "the love of my life."
Source: Business Insider
---
Richard Branson of Virgin has two adult children from his second marriage. He and Joan Templeman welcomed Holly to the family in 1981 and Sam in 1985.
---
Holly was a medical school graduate and junior doctor when she moved over to her father's organization. She became an active member of Virgin Group's management team and chair of Virgin Unite, one of her many philanthropic activities.
Source: Virgin
---
Holly shared in her biography "WEconomy," that she had trouble becoming a mother with two miscarriages and two failed rounds of IVF. Eventually, Holly and husband Freddie Andrews became parents to twins in December 2014.
Source: The Daily Mail
---
Like her father, Holly is adventurous. She has climbed Mount Blanc, run marathons, attempted a sailing record, and signed up to go to space.
Source: Virgin
---
In 2013, Sam had a "nearly royal wedding" to Isabella Calthorpe with a five day South African affair. The couple has since welcomed two children to the Branson family.
Source: The Daily Mail
---
Sam has become a figure of Virgin Management and active philanthropist like Holly. He also founded a film production company called Sundog Pictures.
Source: Virgin
---
Bill Gates has three children with wife Melinda: Jennifer, Rory, and Phoebe.
---
Jennifer Gates is the oldest child of Bill and Melinda — who were married in 1994. Jennifer will turn 22 in April.
---
Jennifer is studying human biology as a senior at Stanford University. A couple of years ago, Jennifer said she planned to "pursue either a master's degree in public health or social work or attend medical school."
Sources: Horse Network, Sidelines
---
Aside from education, Jennifer is an accomplished horse rider. She was recently awarded the 2018 Lionel Guerrand-Hermès Trophy for sportsmanship and horsemanship.
Source: United States Equestrian Team Foundation
---
Bill purchased an entire street in Wellington, Florida, for Jennifer. The $37 million purchase is for Jennifer's horse riding practice.
Source: Miami Herald
---
Across from the Gates's Florida home, Eve Jobs — daughter of the late Apple founder Steve Jobs — lives in a ranch. Like Jennifer Gates, Eve is a professional horse rider and Stanford student.
Source: Business Insider
---
The Gates' only son, Rory, turned 18 last year. In an Instagram post on his birthday, Melinda described Rory as "compassionate and curious," a lover of puzzles, and a proud feminist.
---
Phoebe joined the Gates family in September 2002. The youngest sibling lives with her parents in Washington state.
---
Jennifer and Rory both graduated from Lakeside School, where Phoebe is currently enrolled. The Seattle private school is where their father attended, discovered a love of computers, and met Microsoft cofounder Paul Allen.
Source: Business Insider
---
Even though Gates is a tech pioneer, his children weren't allowed to own cell phones until age 14.
Source: Business Insider
---
Although their father is worth over $90 billion, the Gates children will only receive a small fraction of the Microsoft founder's fortune. Most of Bill's money will go to the Giving Pledge and other philanthropic causes.
---
Warren Buffett was married to Susan until her death in 2004. The couple had three children — Susan Alice, Howard, and Peter — together.
Growing up in Omaha, Susan Alice didn't realize that her father was the ultra-wealthy investor. She found out about her family's wealth from a Wall Street Journal article in her early 20s.
Source: Business Insider
---
In an HBO documentary, Susie talked about her typical upbringing. "We lived in a nice house but certainly not the biggest house in town. We went to public schools. We didn't get cars when we turned 16. We got an allowance and we had jobs," the eldest of the Buffett siblings said.
Bloomberg—Bloomberg via Getty Images
Last December, the 64-year-old Susie married for the third time. She — like her two brothers — dropped out of college before graduating.
Susan is now dedicated to philanthropy, serving as chair and member to several boards focusing on issues from poverty alleviation, nuclear disarmament, and women's health.
Source: ONE
---
Middle child Howard Buffett became sheriff of Macon County, Illinois, last year. He is also a farmer in Decatur whose philanthropy aims to end world hunger.
Bloomberg—Bloomberg via Getty Images
Before settling into his current life, Howard's future could have gone a lot of ways. Howard had planned on becoming a lawyer, worked at See's Candy, worked as an excavator, and served on the Douglas County Board of Commissioners.
Source: The Atlantic
---
Before settling into philanthropy like his older siblings, Peter Buffett worked as a professional musician, releasing 16 records.
Source: Peter Buffett
Peter and his wife, Jennifer, serve as co-chairs of the NoVo Foundation. The Buffett siblings will not see most of their father's wealth because Warren has pledged it to charity.
This article originally appeared in BusinessInsider.com.