7 Kitchen Trends That Will Help Get Your Home Sold Fast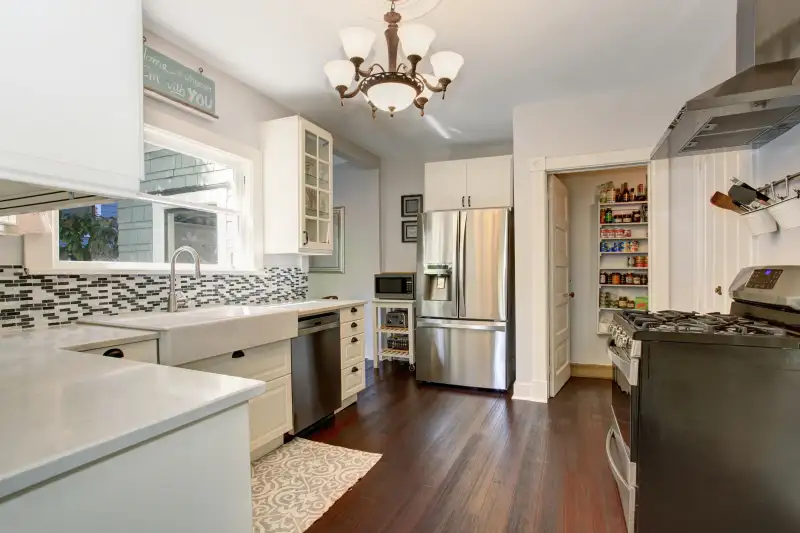 irina88w—iStockphoto/Getty Images
Full-on kitchen renovations don't always result in high returns, but strategic facelifts can lend significant boosts. Homebuyers love these on-trend features that turn the kitchen into a stylish place to live, not just cook.
1. Take the Subway
Save that intricate backsplash of your redesign dreams for your forever kitchen. According to a recent Zillow Digs analysis, homes on the market that feature subway tiles sell for as much as 13 percent more than expected and about 60 days more quickly than homes that trumpet less classic designs.
2. Try Two Tones
Two-tone cabinets are a trend buyers can get behind. Gray and white or navy and blue are popular pairings, as are other neutral tones mixed with wood finishes. Paint the lower cabinets in a dark, grounding hue and uppers in a lighter hue.
3. Farm It Out
Swapping a stainless steel sink for a spiffy apron-front farmhouse sink creates an immediate focal point and offers the illusion of a higher priced kitchen overall. In fact, Zillow reports that homes with farmhouse sinks can sell for nearly eight percent more than those with more humdrum styles.
4. Counter That
Zillow also found that listings touting the word "quartz" corresponded with a six percent sales premium. Granite countertops saw a boost too, though a lesser one at four percent. Still, homes with granite-topped counters sold 38 days sooner than those with less coveted surfaces, especially laminate.
5. Store More
In surveying 4,300 homebuyers last year, the National Association of Home Builders cited a walk-in pantry as a feature desired by 80 percent of homebuyers. Kitchens that are outfitted with custom cabinetry for stores cutlery and gadgets were also on the wishlist.
6. Eat In
Along the same lines, almost 70 percent of homeowners surveyed by Houzz are planning or recently completed kitchen renovations that incorporate a place to eat, with 25 percent adding an actual dining table. Removing a non-load bearing wall to accommodate a table and chairs can be a cost-effective upgrade.
7. Open Wide
Last year's Kitchen Trends Survey by Houzz found that homeowners prefer seamless transitions between living spaces and the kitchen. Almost half of renovating homeowners are opening up their kitchens to other interior spaces and 18 percent are opening them up to adjacent outdoor areas.