The 10 Youngest and Richest Celebs on the Forbes 100 List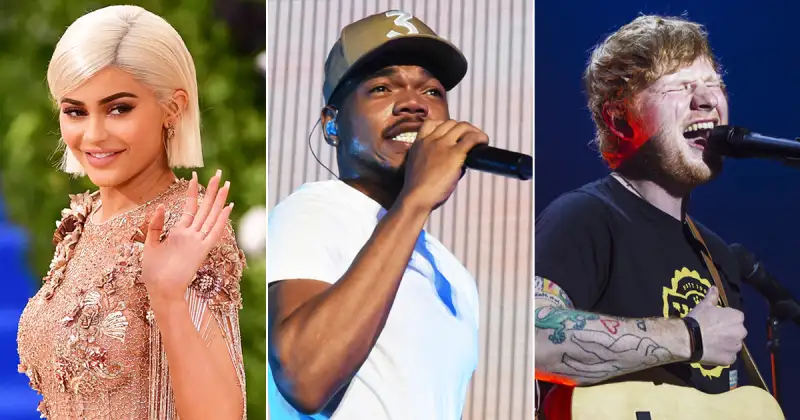 James Devaney, Chris McKay, Paul Bergen—AFP/Getty Images
Say what you will about Kylie Jenner, but at just 19 years old, she has built a cosmetics empire.
Jenner is the youngest celebrities on Forbes' new rankings of the 100 highest paid celebrities in the world — and is about four years the junior of the next youngest, Justin Bieber. The youngest of the Kardashian/Jenner clan, Jenner made $41 million from June 1, 2016, through June 1, 2017, ranking 59th on the list, according to Forbes.
The annual list compiled by Forbes features celebrities ranging from movie stars to musicians to television personalities. Sean "Diddy" Combs topped this year's list thanks to his sponsorship with Ciroc vodka and his Sean Jean clothing line, raking in the most of any celebrity with $130 million in earnings.
Much of Jenner's wealth comes from her Kylie Cosmetics line, which she launched in 2016 as her Lip Kits sold like wildfire, and new colors are still consistently sold out on her website. Her line has since expanded to include blush, highlighter and eye palettes, among other products.
Jenner also earned her $41 million through endorsement deals, including Puma, and her family's reality show Keeping Up with the Kardashians, which she first appeared on when she was just 9 years old. Jenner also recently announced her own spinoff series, Life of Kylie, which will air on E! as well.
But Jenner isn't the only young celebrity making tens of millions. Bieber, 23, made more than double Jenner's income last year, coming in No. 13 on Forbes' list. And The Weeknd, also known as Abel Tesfaye, had a meteoric rise, earning $92 million last year. He's just 27 years old.
And 24-year-old Chance the Rapper has famously never sold a physical album — instead opting to share his music on free streaming services. He makes his millions from concerts, selling merchandise, headlining music festivals and sponsorships with Apple and Kit Kat.
Here are the top 10 youngest celebrities to make the Forbes' 100 list this year:
Kylie Jenner, $41 million, age 19
Justin Bieber, $83.5 million, age 23
Jordan Spieth, $34.5 million, age 23
Chance the Rapper, $33 million, age 24
Neymar, $37 million, age 25
Damian Lillard, $38.4 million, age 26
Ed Sheeran, $37 million, age 26
Fletcher Cox, $33.4 million, age 26
The Weeknd, $92 million, age 27
Andrew Luck, $50 million, age 27