These Are the Absolute Best Deals You'll Find During Labor Day 2018 Sales — and What to Skip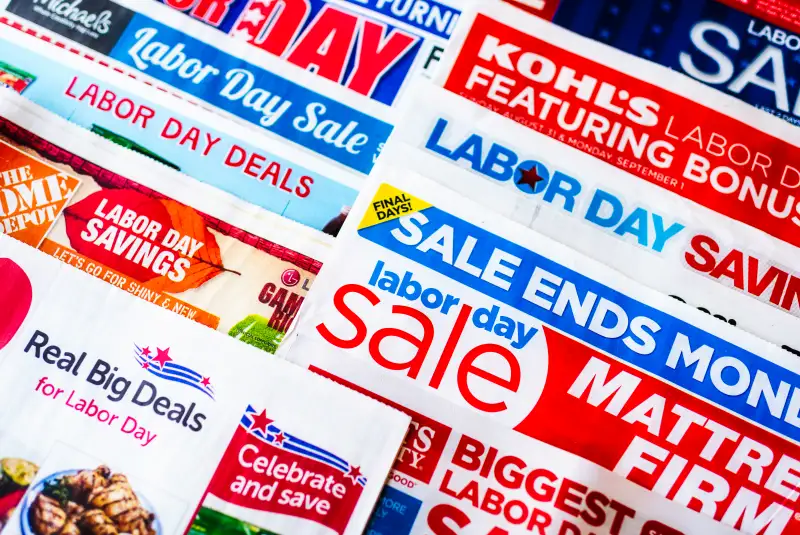 Each product we feature has been independently selected and reviewed by our editorial team. If you make a purchase using the links included, we may earn commission.
Labor Day sales are as ubiquitous as barbecues right around now, but not all those deals are created equal.
When the recession was in full force a decade ago, retailers realized they needed to promote deep discounts to get customers to so much as consider opening their wallets. Today, Americans are feeling good about the economy and willing to spend again, but our habit of gravitating towards discounts stuck around, and so did stores' tendency to use any excuse to invent or hype up a sales opportunity. (For Exhibit A on this trend, just look at Amazon Prime Day. The "Black Friday in July" schtick had been tried before with mixed results, but once Amazon was off and running with this, other stores scrambled to catch up and the improbable event snowballed.)
To find the best deals on Labor Day 2018, focus on the categories where you're not likely to find lower prices later in the year.
What to Buy During Labor Day Sales
Grills and Patio Furniture
This category is kind of a no-brainer: The strictly seasonal nature of these items in many parts of the country means that big-box and home-improvement stores are looking to get rid of everything related to backyard cooking, dining, and lounging. Of course, if you've waited until this late in the season, you're likely to find a more limited selection than if you'd gone shopping in May or June. But the trade-off is that prices can be as much as 70%-90% lower now, according to the deal-trackers at Offers.com.
Summer Clothes and Swimwear
Again, since the apparel and footwear categories are so seasonal, stores with summer inventory have to drop prices to get it out the door. So deals are everywhere.
Phil Dengler, who runs the deal site BestBlackFriday.com, says this category remains fairly seasonal in spite of an influx of online-only mattress sellers that advertise low prices all the time. "While the refresh may be a bit less drastic than when car manufacturers release new models, mattress manufacturers do release new products every year, typically around June," he says. As a result, by Labor Day they're ready to go out with the old, in with the new.
Once you have that new mattress, how about picking up some new bedding to go along with it? Stores that sell bedding and home goods often run back-to-school sales on XL twin sheet sets that target the college market, but many of them also discount other sizes of sheets, pillowcases and blankets, according to the pros at BradsDeals.com.
It can sometimes seem like home-improvement and department stores promote appliance sales all year round, but experts say fall is usually a good bet for scoring deals. In particular, if you're in the market for a foreign-brand washing machine, you might want to jump on a sale if you see one this Labor Day because the tariffs implemented earlier this year have made prices more volatile than usual.
Still, even if a store uses a word like "sale," savings experts say you should be wary of purported deals in categories where stores traditionally roll out the biggest price cuts around Black Friday.
What 'Deals' You Can Skip This Labor Day Weekend
While individual steals do pop up from time to time , TVs, gaming consoles and other gift-able electronics like headphones are generally cheaper closer to the holidays, if you can wait a few months. The one exception is laptops: Any back-to-school leftovers that didn't sell (generally Windows machines) are likely to be very cheap right now.
Fall and Halloween Merchandise
Items like fall clothes and Halloween decor, costumes, and accessories are going to be at their pricing peak as soon as they hit stores. The optimal time to buy these kinds of goods is right after Halloween has passed, assuming you can wait that long. Just remember where you stored them when it's time to bust them out at this time next year.