Another State Just Made Sports Gambling Legal. Here's Where and How to Place a Bet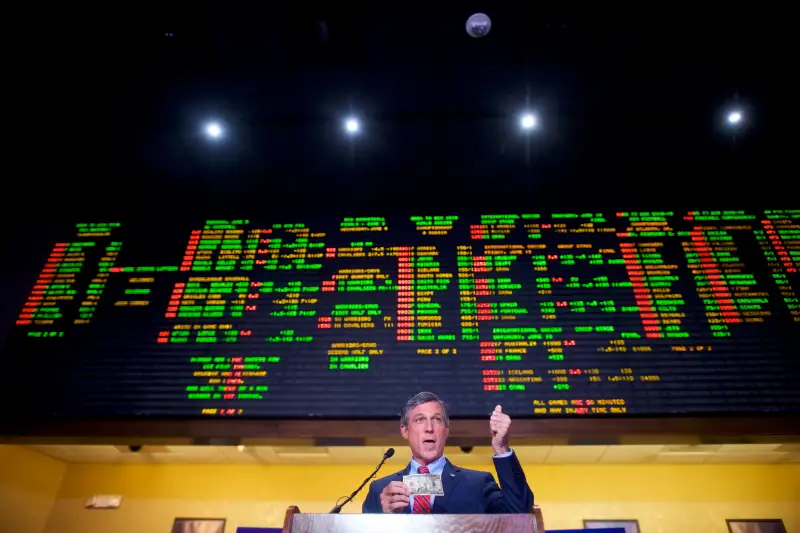 A few short weeks after a Supreme Court ruling opened up the possibility of legal sports betting throughout the country, gamblers are being allowed to place "Las Vegas-style" sports bets thousands of miles away from the sports books of Sin City.
On Monday, New Jersey Governor Phil Murphy signed a law making it legal to bet on sports in the state. New Jersey casinos and racetracks are expected to start accepting sports bets later this week, and the Monmouth Park track — roughly 90 minutes by car from New York City and Philadelphia — could open up legal sports betting as soon as 10:30 a.m. on Thursday, June 14, according to NJ.com.
Legislators had passed a bill authorizing sports gambling in New Jersey last week, but it didn't officially become a law until the governor signed it.
Meanwhile, New Jersey missed being the first state outside of Nevada to offer legal sports betting. Its neighbor to the south, Delaware, began accepting sports bets on single-game competitions at casinos and tracks last Tuesday; Delaware sports betting locations include casinos and racetracks like Dover Downs and Delaware Park. (These Delaware establishments had previously offered legal parlay bets on sports, with wagers placed on several games simultaneously, but now gamblers can bet on any single game as well.)
Here's everything you need to know about legal sports betting in New Jersey and Delaware.
Where is it legal to bet on sports?
In Delaware, sports gambling is available at Dover Downs Hotel & Casino, Murphy's Race and Sports Book at the Harrington Raceway and Casino, and the Casino at Delaware Park. Here's a "How to Bet Guide" that explains sports betting terms like "teaser" and "money line," and the details on what kinds of bets are possible.
Bets are being accepted on the following professional and college sports: auto racing, baseball, basketball, boxing/MMA, football, golf, hockey, and soccer.
In New Jersey, legal sports betting will be allowed for most professional and collegiate sporting events. Wagers cannot be placed on any high school sporting events, however — nor collegiate athletic events taking place in New Jersey or involving New Jersey teams. (That means you could bet on an Alabama-Georgia game, for instance, assuming it wasn't being played in New Jersey for some reason, but you could never bet on Rutgers, no matter where its games take place.)
Betting is tentatively scheduled to be available on Thursday at Monmouth Park racetrack, which plans on opening a sports book at the William Hill Race & Sports Bar. Other New Jersey tracks and casinos, including casinos in Atlantic City, are expected to add legal sports betting as well.
It remains unclear, however, exactly when legal sports betting will be widely available in the state — and where you'll be able to place your bets. At least one Atlantic City casino could be prohibited from accepting sports bets because the casino owner also owns an NBA team — and legislators are worried about possible controversy and conflicts of interest.
And there are more states moving to take advantage of the new Supreme Court ruling. According to ESPN, Mississippi, Pennsylvania, and Wyoming have also passed bills recently to legalize at least some sports betting, and more than a dozen other states are considering sports gambling bills.
Is online sports betting legal?
For now at least, the only way to bet on sports legally in Delaware or New Jersey is to do so in person. The minimum age to place a legal bet is 21.
Online sports betting could be on the horizon in certain states, however. While legal sports gambling in Delaware is strictly an in-person experience, the New York Times reported that online wagering in New Jersey could begin as soon as "30 days after the law is signed."
Note that online gamblers would pay higher taxes on New Jersey sports bets: The state intends to claima 13% tax on wagers made online, versus an 8.5% tax on in-person bets. Also, gamblers would have to verify that their online bets are being placed within New Jersey — in other words, you won't be able to bet online with a New Jersey casino or track if you are out of state.