LGBT Couples Still Face Financial Discrimination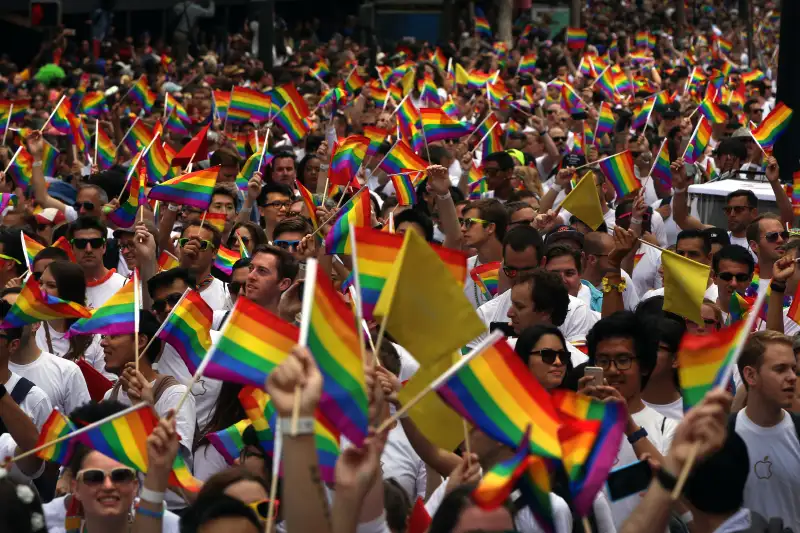 Rick Loomis—LA Times via Getty Images
The U.S. Supreme Court's June decision to legalize same-sex marriage did not eliminate the unique financial planning needs of lesbian, gay, bisexual and transgender (LGBT) clients.
For years, same-sex couples in domestic partnerships needed financial advisers to navigate a patchwork of marriage laws and to recreate marital protections via complicated legal documents.
So, did LGBT-focused advisers who supported gay marriage lobby themselves out of a job? Not so fast. Gay clients still face discriminatory laws and complicated adoption procedures, these advisers say.
Clients may even need help dismantling complex financial arrangements that are now unnecessary thanks to the ruling.
While the ruling is a game-changer for LGBT-focused advisers, it affects some more than others, based mainly on location.
"We don't look at it as are you gay or straight anymore - it's are you married or unmarried," said Joshua Hatfield Charles, a Washington area certified financial planner.
Meanwhile, Ryan Miracle, a certified financial planner near Charlottesville, Virginia, said his couple of dozen gay clients still may need decades before they feel really comfortable in their southern community.
The largest wealth management firms, Wells Fargo Advisors, Morgan Stanley Wealth Management, Bank of America's Merrill Lynch and UBS Wealth Management Americas, confirmed that their programs to help LGBT clients are ongoing.
The following are some areas that LGBT-focused advisers are helping clients navigate:
Workplace Discrimination
Some gay clients are concerned that by getting married, they will "out" themselves to employers, who may discriminate against them, advisers said. A minority of states have laws that specifically protect LGBT people, according to the American Civil Liberties Union (ACLU).
Advisers should review clients' employee handbooks to see if companies have policies forbidding discrimination on the basis of sexual orientation, said James Anderson, a senior vice president with Anderson Asset Management in Bell Buckle, Tennessee.
Regardless, Anderson recommended getting clients in touch with a lawyer to fully explain their rights if they come out to employers.
Child-Rearing
Jennifer Hatch, president of New York-based Christopher Street Financial, said she would not let LGBT clients take chances about parental rights just because they can now marry.
For instance, if a gay client has a biological child, Hatch wants to make sure the other spouse can also legally demonstrate full parental rights. Gay couples should not assume this will automatically happen simply because they can wed anywhere in the country.
Hatch recommended that advisers educate themselves on the legal, medical and financial documents needed to help gay clients navigate second-parent adoption procedures. The website marriageequalityfacts.org, developed by a coalition of pro gay-marriage groups, including the ACLU, includes extensive information.
Legal Forms
Some legal and financial forms still say "husband" and "wife." Review clients' legal and financial forms to make sure this won't create problems, said Miracle, the Virginia adviser.
After gay clients marry, update estate plans and beneficiary information to reflect, for instance, "spouse" instead of "partner," said Anderson, whose firm is affiliated with Wells Fargo.
That may seem redundant, but as with much of the planning for LGBT clients, it's better safe than sorry.