Lionel Messi Is the Highest-Paid Soccer Player in the World. Here's How He Makes and Spends His Millions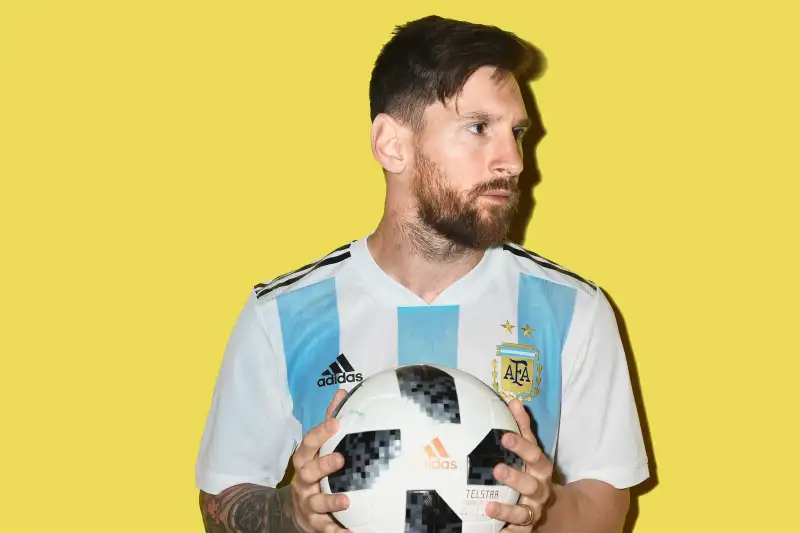 Michael Regan-FIFA—FIFA via Getty Images
Among the 736 players in the 2018 World Cup and the hundreds of millions of soccer players worldwide, Lionel Messi is the highest-paid person competing in the sport.
The 30-year-old footballer, who is a forward for Spain's FC Barcelona and the captain of Argentina's national team, has a reported enormous net worth of about $400 million, thanks to his standing as the second highest-paid athlete in the world, after boxer Floyd Mayweather. Over the past year, Messi pulled in more than $80 million in salary and bonuses before taxes, and another $27 million through endorsement deals, according to Forbes.
While his play speaks volumes on the field, Messi is known as a shy person off it. Yet he's built a massive online presence of 181 million social media followers, with 88 million on Facebook and 93 million on Instagram.
Dive into Messi's spending habits and you can see someone who has used his fortune to do some incredibly quirky things like building a soccer pitch next to his house and creating a theme park in China that will allow visitors to play alongside him through virtual reality.
Argentina is currently playing in Group D in the World Cup — their first game was this past weekend, where Messi missed a penalty kick against Iceland that many think cost the team the match.
Here's what we know about how Messi makes and spends his millions:
Road to Stardom
As one of the world's most well-known and well-compensated athletes, Messi can be found taking private jets to award ceremonies or joy rides in his Maserati. But his upbringing was fairly modest. He grew up in Argentina's third largest city, Rosario, and is the son of a steel factory worker and a cleaner. Messi excelled in soccer from a young age, but struggled with a hormone deficiency that stunted his growth.
"I injected my legs once every night," he said of his hormone treatments.
At age 13, Messi traveled to Spain, where he signed his first contract with professional club FC Barcelona — the team then started to pay for his treatments. He quickly climbed through the franchise's youth program, making his debut for the club's top squad in 2004, when he was just 17.
Since then, Messi has won FIFA's Player of the Year award five times, led FC Barcelona to four Champions League titles, six Copas del Rey titles and nine La Liga titles. At over 600 career goals, Messi is the highest scoring player in his team's history.
Much of that success has translated to international play, where Messi also holds the record for the most goals on the Argentinian national team, leading them to a gold medal at the 2008 Summer Olympics in Beijing and to the 2014 World Cup finals. But he is still in search of that elusive first World Cup title.
How Messi Got Rich
In 2017, Messi made $111 million from salary, bonuses, and endorsements, Forbes reported. His current contract with FC Barcelona reportedly pays him $645,000 a week, or $33 million a year, through 2021. If Argentina wins the 2018 World Cup, the Associated Press reports that the team will get $38 million in prize money from FIFA, though it's unclear how much each player gets.
Messi also signed a lifetime endorsement deal with Adidas last year. The exact compensation is unclear, though it is likely greater than the $12 million per year Messi made in his previous deal with the apparel company.
Messi's other endorsements are a who's who of top international brands, from Chinese telecom giant Huawei to sunglass company Hawkers to Gatorade and Pepsi. Earlier this year, he reached an endorsement deal with Chinese dairy firm Mengniu Group, the official milk company of the 2018 World Cup.
Messi is also getting into the thrill-ride game, throwing his support behind a Chinese theme park bearing his name, which is set to open in 2020. Virtual reality will allow park visitors to not only play alongside Messi but also speak to him, ESPN reports. Meanwhile, Messi's wife Antonella Roccuzzo recently opened a boutique shoe store in Barcelona, in collaboration with Sofia Balbi, the wife of Messi's FC Barcelona teammate Luis Suarez.
Forbes estimated that Messi's social media presence generated $53.5 million in value for Adidas in 2016, with a single Instagram post generating $3.6 million.
The House That Soccer Built
Like others with hundreds of millions to spend, Messi has taken a liking to luxury cars. He owns a Ferrari F430 Spider, a Maserati GranTurismo MC Stradale, and an Audi R8 Spyder — all worth hundreds of thousands of dollars combined. Messi is also rumored to have bought the most expensive car ever, a 1957 Ferrari 335 Sport Spider Scaglietti, at auction for €32 million or about $37 million. (He responded to the speculation with a trolling Instagram post of a toy car from the movies Cars and some laughing-crying emojis.)
Messi's prime piece of real estate is an old home 16 miles outside Barcelona, in the town of Castelldefels, which has a view of the Catalan mountains and easy access to a nearby beach. The mansion's modern aesthetic and panoramic windows make it a unique perch in the neighborhood's verdurous hills. Of course, the property does include a football pitch, in case the mood to practice strikes him.
One of Messi's recent expenses is far less glamorous. In July 2017, he paid a $288,000 fine to Spain for tax evasion in lieu of a 21-month prison sentence, the BBC reported.
Messi, who married childhood sweetheart Roccuzzo last summer, has three young kids: Thiago, Mateo, and Ciro. At least one of the children shares his expensive tastes: "Thiago likes cars and motorcycles," Messi told TYC Sports.
Pass It Forward
While a prolific scorer, Messi is also known for assisting teammates on the pitch — and he's brought that spirit of generosity to his wealth.
The Lionel Messi Foundation, formed in 2007, helps vulnerable children around the world, especially those suffering from health ailments, as Messi once did. Last year the foundation helped build 20 classrooms in Syria as part of a partnership with UNICEF, for which Messi served as a goodwill ambassador. The donation has enabled more than 1,600 Syrian children affected by the conflict attend school, UNICEF said.