18 Million Americans Could Soon Lose Medicaid Coverage. Here's What to Do if You're One of Them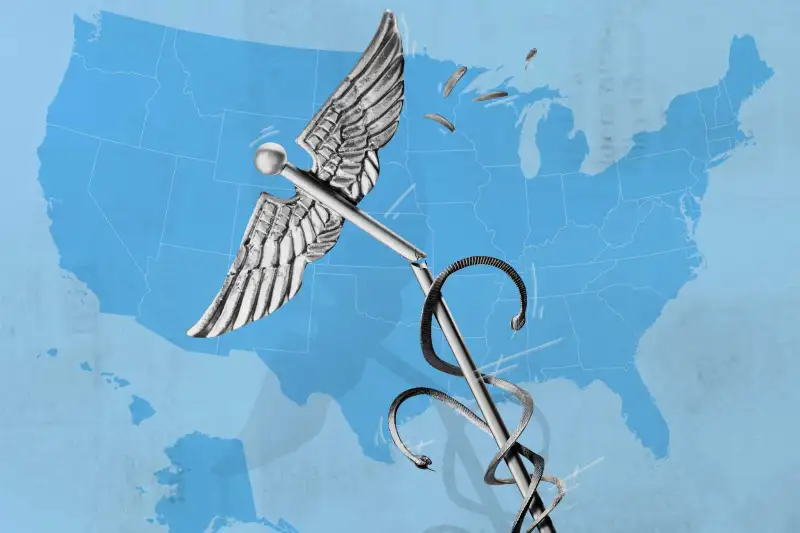 Millions of Americans will lose their health coverage through Medicaid in the coming months after pandemic-era protections expired — an upheaval that experts say has no precedent.

For the past three years, states have been barred from kicking people off Medicaid in exchange for more funding from the federal government. This provision, tucked into the first COVID-19 aid package, led to a boom in Medicaid rolls over the course of the pandemic.
The expansive government health insurance program for low-income people has ballooned to cover more than 85 million Americans — an increase of about 21 million enrollees from when the continuous-coverage protection first went into effect. Those protections expired at the end of March, and already some states have begun to remove people who no longer qualify for Medicaid.
"This is a big deal," says Joan Alker, executive director at Georgetown University's Center for Children and Families. "We expect a change of historic proportions to happen in the next year or so."
As officials like to say, Medicaid is now "unwinding." In less euphemistic terms: 15 million Americans, who are disproportionately Black or Hispanic, will lose their health coverage, according to the U.S. Department of Health and Human Services. Independently, the nonprofit Urban Institute found that as many as 18 million people could be disenrolled.
Many of these folks simply don't meet Medicaid's stringent income requirements anymore, explains Thomas Waldrop, a health care policy fellow at The Century Foundation. Earlier in the pandemic, many people's incomes took a temporary hit that initially qualified them for Medicaid. As their incomes rebounded, they would have normally been booted off. But the continuous-enrollment rule allowed them to keep their benefits. With that rule gone, this group will certainly lose their coverage.
What really worries experts, though, is how many qualified beneficiaries may fall through the cracks due to reintroduced administrative hurdles.
"If there's no affirmation of eligibility," Waldrop says, "the state might disenroll someone as a result, even if they are actually eligible."
That puts any of the 85 million Americans receiving Medicaid at risk of losing coverage. As eligibility checks restart, the burden of jargon-filled paperwork is expected to particularly disadvantage Latino beneficiaries and other people of color who may not speak English as a first language. For people who enrolled during the pandemic and have never done an eligibility check, the process could be especially confusing.
"The letter might require a law degree to understand what it actually means," Alker says.
How states are purging their Medicaid rolls
Even though Medicaid is a federal-state partnership program, experts say that individual states have a lot of latitude on how to unwind their Medicaid programs, adding to the confusion enrollees will face in the coming months.
"There's a saying that there's not one Medicaid program — there's 50," Waldrop says.
States do have to follow some basic guidelines, however, notes Alker from Georgetown University. For instance, all states must make their way through their Medicaid rolls and determine who's still eligible by May 2024. They're first supposed to use information from SNAP, unemployment or other databases to automatically determine eligibility when possible.
If that information isn't available, the state is supposed to make contact — likely by mail — to request income and other household information. States are no longer allowed to remove someone if the letter is returned to sender; they must make at least one other contact attempt, which could be by phone, text or email, before disenrolling an individual.

Beyond that, it's largely a patchwork operation. Perhaps the most pressing question is when a state will begin removing people who no longer qualify. Each state can choose the month the process starts, which has led to five broad waves:
In April, five states have already begun Medicaid disenrollments.
In May, 14 more states will begin disenrolling people.
In June, 21 states and Washington, D.C., will begin disenrollments.
In July, nine states will begin disenrollments.
In October, the last state — Oregon — will begin disenrollments.
(Is the interactive Medicaid map not displaying correctly? View it here to find out more on how each state is unwinding Medicaid.)
Health insurance options after the great unwinding
Within a year or so, some 18 million Americans may be booted off Medicaid. If you're one of them, you may still have several options to get health insurance.

Losing coverage kicks off a 60-day enrollment period where you can join another health care plan, according to Alker. "This is just not well known," she says. In some cases, like with plans through the health insurance marketplace, you could have much longer than that to find a new plan.
In addition to your state's Medicaid agency, federally-funded health insurance "navigators" can help you understand more about available health care plans for your specific situation. (You can search for one in your area here.)
Here's a look at some of the most likely options; what you qualify for will depend on several factors, such as your state, income and family size.
Medicaid
As Waldrop with The Century Foundation noted, many people who will be kicked off Medicaid will actually still qualify for coverage. Health and Human Services estimated about 7 million people will fall into this category.
If you lose Medicaid coverage during the unwinding process, the federal government recommends reapplying with your state anyway. To keep coverage going forward, you'll have to pass routine eligibility checks, which vary by state but largely request income and other household information.
It was common before the pandemic for people to lose Medicaid coverage and re-enroll later, according to the nonprofit Kaiser Family Foundation. This churn often affected people who had a temporary boost in income that disqualified them from coverage for a certain period of time — or because the beneficiary had trouble completing the eligibility check.
Alker expects this trend to pick back up as eligibility checks restart, noting that people on Medicaid haven't had to complete eligibility checks for at least three years — with many new enrollees never having had to complete one.
Turning them back on, she explains, is going to cause a lot of churn.
Employer-sponsored health insurance
Alker says the most common option for people losing their Medicaid coverage is going to be health insurance plans offered by employers.
Many people are losing Medicaid coverage because their financial situation has improved over the course of the pandemic. Some folks may now have jobs that offer health insurance. If that's the case, losing Medicaid will initiate a 60-day enrollment period where people can join their employer's health plan.
Even if your employer does not offer health insurance, you may also be able to join a partner or spouse's plan. And folks under 26 years old may be able to join a parent's plan as well.
If plans through an employer are not considered affordable, you may be able to sign up for a subsidized plan through the Affordable Care Act, aka Obamacare, instead. And if your job's plan does not cover your kids, they may be eligible for CHIP (more on that below).
Obamacare (or a state-run plan)
Obamacare is another option if you don't get insurance through your employer — or if your employer's plan is too expensive. Enrollment in Obamacare plans hit a record-high earlier this year, and with the impending wave of people losing Medicaid, enrollment is likely to surge even more.
Part of the reason more people have been signing up is because of more generous subsidies. The Inflation Reduction Act, passed last August, made the plans cheaper for people earning up to 400% of the federal poverty line.
For people who lose their Medicaid coverage during the unwinding process, there's a special enrollment period that runs through July 2024.
Federal marketplace plans are available in 33 states; the remaining states have their own separate marketplaces for residents to sign up.
You can get help signing up for a plan through healthcare.gov. Free health insurance navigators can also assist with the process.
When applying for Obamacare through the federal marketplace, the website says it will flag your application if it turns out you or a family member qualifies for Medicaid or CHIP and send that info to your state agency.
CHIP
Even if you lose your benefits, your kids could still stay covered.
CHIP, or the Children's Health Insurance Program, works similarly to Medicaid. Available in all 50 states, CHIP is a federal-state partnership program that provides low-cost health coverage for children in low-income families.
Essentially, CHIP is a supplement to Medicaid. If you have a child and earn too much money to qualify for Medicaid, it's possible that your kid could still qualify for CHIP. Like Medicaid, each state can set its own eligibility requirements, but CHIP's tend to be broader.
"CHIP often has significantly higher eligibility thresholds than Medicaid," Waldrop says. In "New York state, for example, their CHIP eligibility goes all the way up to 400% of the poverty line."
Unlike Obamacare or employer-sponsored health insurance, CHIP has no enrollment period, meaning you can apply for coverage at any time.
If applying for health care on the marketplace, the website may recommend CHIP coverage if your child is eligible in your state. Likewise, if your state is terminating your Medicaid coverage, it should explain whether your child is losing coverage too.
What you can do right now
While Medicaid terminations won't happen for several months in some states, experts and state officials have been warning that everyone on Medicaid should already be preparing.
"The most important thing," Alker says, "is to update your contact info right now."
"Contact your state Medicaid agency, your trusted community resources. Talk to your doctor's office, talk to your clinic," she adds. "Get proactive about this."
More from Money
Medicare Won't Have Enough Money to Pay Full Benefits After 2031: Report
More Than a Third of Americans Have Skipped Filling a Prescription Because of the Cost
A Record Share of Families Delayed Medical Care Last Year Because It Was Too Expensive