The Classic Paper Lunch Bag Just Got an Upgrade — and It's 40% off Right Now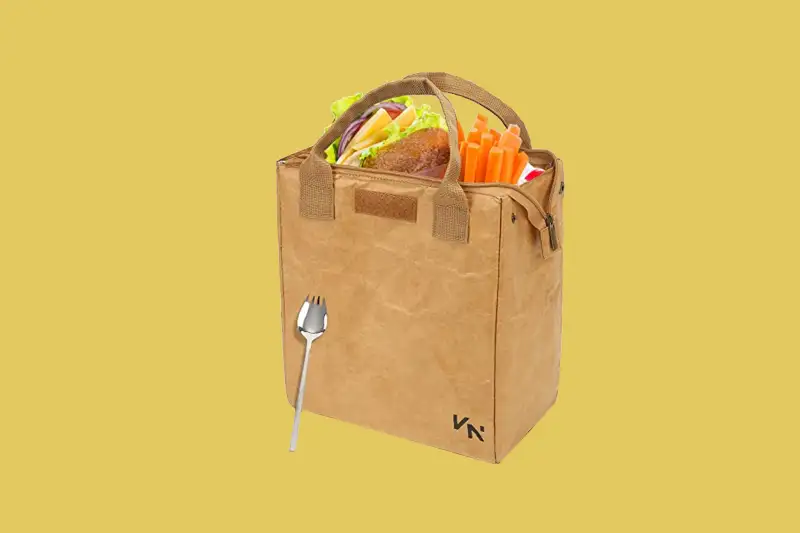 Are you always in a rush to get out the door in the morning? Are you looking for a convenient, stylish, and sustainable way to bring your lunch with you? Look no further than Amazon's flash deal on this reusable lunch bag!
Whether you're a busy professional, an on-the-go college student, or simply someone who wants an easy way to transport a nutritious meal, the VonNova Lunch Bag is perfect for those days when you need to grab something quickly and head out the door.
Pack your lunches in style
This lunch bag is a stylish, convenient, and sustainable option for eating on the go. It is made with a lightweight and water-resistant Tyvek material that's easy to clean and even easier to carry. So if you're looking to ditch disposable bags once and for all, and upgrade your lunch experience, now's the perfect time to upgrade with 40% off on the VonNova Lunch Bag.
The reusable bag has plenty of room with an additional interior pocket perfect for storing keys and other small items. It comes with high-quality insulation to keep food cold for up to 6 hours and hot for up to 3 hours.
With soft handles for easy carrying to the office or school, picnics, hiking, or other on-the-go activities it's easy to see why this is such a popular lunch option. In addition to its durability and practicality, the lunch bag has a unique fashion appeal.
It comes with a quality steel spork and canvas cutlery pouch making it an attractive option for those who like to express themselves through their lunch bags. Wrinkles and creases are normal with this paper-bag-like look which adds another layer of uniqueness and style to the lunch bag.
An everyday bag at a great discount
The reusable lunch bag offers quality and utility without compromising fashion or convenience, leaving you with a lunch bag that looks good and stands up to everyday wear and tear. Buy it now while it's 40% off and save over $10.