15 Over-the-Top Luxurious Winter Cruises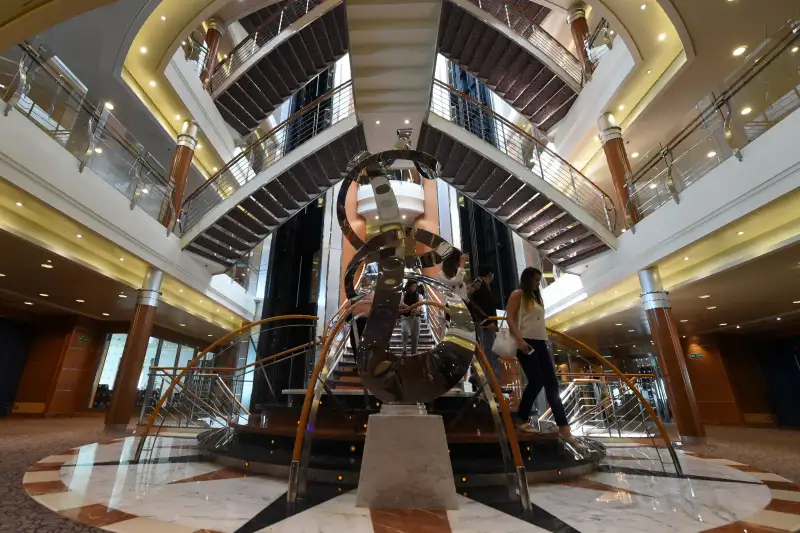 ROSLAN RAHMAN—AFP/Getty Images
If you're ready to jet off on a cruise to the Tahitian Islands or travel around the enchanting coastlines of the Mediterranean this winter, book a luxury cruise for the ultimate experience.
From indulgent menus to in-suite spa treatments, you can look forward to a few days of pampering as you enjoy privileged access to some of the world's most exotic locales and historic venues. Go on a splurge-worthy adventure on one of these most luxurious winter cruises, and celebrate the holiday season in style.
1. Regent Seven Seas: Caribbean Dawn Cruise
Regent Seven Seas claims this is the most luxurious cruise ship ever built. With suites selling for $10,000 per night, you can expect more than just the royal treatment.
The 10-night Caribbean Dawn Cruise in the Regent Suite costs $102,798 and includes perks such as free Canyon Ranch SpaClub services, Guerlain amenities and a welcome bottle of Veuve Clicquot. The two-bedroom, 3,026-square-foot suite affords guests access to a Steinway Grand Maroque piano and king-size bed, along with unlimited spa treatments.
Plus, dining is handled by Cunard Line, said The Cruise Guy, Stewart Chiron, who sailed on this ship in Monaco. "Their Queen and Princess Grills are the best restaurants at sea providing surreal experiences," he said.
2. Windstar Cruises: Tahiti & the Tuamotu Islands Cruise
Head off to beautiful French Polynesia on the Wind Spirit cruise ship to explore the Tuamotu Islands' natural beauty and wonder. Bora Bora, Huahine and Fakarava are a few of the destinations on this 10-day cruise, so you'll get to explore the UNESCO Biosphere Reserve and sail through the Society Islands.
The Wind Spirit accommodates 148 guests and has four decks for optimal viewing. Enjoy buffet dining at the Veranda restaurant and spa treatments at the WindSpa. When you're not busy sunning on the sand or enjoying water sports on the islands, spend some time in the ship's casino or library. This cruise starts at $4,799 per person.
3. Seabourn: Holy Land & Arabian Gems Cruise
Travel from Greece to the United Arab Emirates on the Seabourn Encore for a 16-day adventure. The Owner's Suite starts at $12,999 per person and boasts a full-length window, private veranda and whirlpool bath.
You can spend time at the casino, The Club or in the pool and whirlpools on deck when you're not enjoying shore excursions. Seabourn also offers gourmet dining experiences with menu items developed by Michelin-starred chef, Thomas Keller, open bars throughout the ship and complimentary welcome champagne.
4. Crystal Cruises: Cruise to Dubai
Skip the megaships for your next cruise experience, and hop aboard the Crystal Cruises' 62-passenger luxury yacht for plush accommodations and memorable fine dining experiences.
The yacht has its own submarine — you can book a 30-minute ride in the five-seater sub for $599, said Colleen McDaniel, Cruise Critic senior executive editor. Make your way to Crystal Esprit's Sun Deck for global street food, enjoy a cocktail in the open-air bar and dine at The Yacht Club, an elegant restaurant that serves the cuisine of each cruising region.
This 10-day round-trip cruise to Dubai will take you to Frank Gehry's Guggenheim Abu Dhabi (opening 2017), and NASA astronaut Scott Kelly will be joining you onboard. The cruise starts at $8,750 per person.
Read More: 9 Cheap Island Getaways
5. Royal Caribbean: Busan & Kumamoto Cruise
This winter, head off on a grand exploration of Shanghai, China, and Kumamoto, Japan, aboard the Royal Caribbean Quantum of the Seas. The five-night cruise starts at $1,064 per night and will give you a chance to explore the beautiful gardens and temples of the Far East.
The onboard experience includes salsa dancing classes, rock climbing, ice skating and spa services. Don't miss the chance to step into the North Start capsule, which ascends more than 300 feet above sea level. You can also ride bumper cars or go roller skating in the SeaPlex recreational area.
6. Norwegian Cruise Line: Western Caribbean Cruise
Get ready for a Caribbean holiday like no other aboard the Norwegian Getaway this winter as you tour Cozumel, George Town and Great Stirrup Cay. This seven-day cruise departs from Miami and starts at $1,599 per person.
The megaship features The Waterfront, an open-air promenade, along with a lineup of restaurants and bars, five water slides and a three-level sports complex. Catch a Broadway musical, and don't miss the mesmerizing shows with special effects in the Illusionarium.
7. Viking Ocean Cruises: Christmas in the Mediterranean
If you're looking for an all-inclusive vacation, plan your adventure aboard the Viking Sea, a Scandinavian-style ship with several restaurants serving up mouthwatering dishes and indulgent desserts, including a Nutella panna cotta.
Sign up for The Kitchen Table cooking and eating experience, and follow the ship's chef on a culinary adventure that includes wine tasting.
This 15-day Christmas in the Mediterranean cruise includes overnight stays in Malta and Barcelona, and accommodations with a private veranda. You'll also have access to a top-rated spa and can extend your stay in Venice or Barcelona. Prices start at $3,499 per person.
8. Regent Seven Seas Cruises: Holiday Warmth Cruise
Another lavish experience with Regent Seven Seas Cruises awaits you aboard the Seven Seas Mariner. On this 14-day Holiday Warmth Cruise, you'll travel from Miami to Key West, Cozumel, Costa Maya, Belize City, Santo Tomas and George Town before returning to Miami.
Stay in the Master Suite on this holiday excursion for $49,998 per person and enjoy butler service, concierge amenities, luxury bath amenities and a welcome bottle of Veuve Clicquot, plus VIP status for dinner with the captain and a complimentary cocktail party for eight.
9. Royal Caribbean: Chinese New Year Cruise
Celebrate the Chinese New Year in style in January aboard the Quantum of the Seas, one of Royal Caribbean's most elegant and luxurious ships. Suites start at $1,109 per person for the four-night journey from Shanghai, China, to Seoul, South Korea.
The Quantum Class ships give you the chance to go skydiving in the RipCord by iFLY simulator and play in the SeaplexSM. The newly designed staterooms offer virtual balconies at sea, and you can enjoy a wealth of dining options, with menus inspired by the world's most cosmopolitan cities.
Read More: 35 Things You Wish Your Parents Told You About Being an Adult
10. Norwegian Cruise Line: Panama Canal From Los Angeles
You'll be making waves aboard the Norwegian Jewel for the 14-day Panama Canal cruise departing in January. Suites start at $4,999 and are some of the largest available at sea.
The Norwegian Jewel boasts 16 dining options, 15 bars and nightclubs, a sports court and plenty of sundeck space to soak up the rays. You'll enjoy butler and concierge service in your suite, along with a Special Suite menu. Relax on pillowtop mattresses with fine linens, and settle in with plush bathrobes and slippers for some in-suite relaxation.
11. SeaDream Yacht Club: Marigot to Bridgetown Cruise
Head off on a dream yacht adventure to explore St. Barts, St. Lucia and Bridgetown on this seven-day excursion the week before Christmas.
You can look forward to a boutique-style experience aboard the SeaDream I yacht, a 54-room yacht with an Owner's Suite that features a private master bedroom and bathroom with soaking tub, plus separate living and dining area. Additionally, you'll be treated to Bvlgari bath amenities, superior Belgian bed and bath linens, luxury bath robes and slippers, and access to a 24-hour Small Bites menu.
Brochure fare for the Owner's Suite starts at $13,500.
12. Oceania Cruises: Sun-Splashed Holiday
For those who appreciate the finer things in life, the Oceania Cruises Riviera features an Owner's Suite furnished with Ralph Lauren Home decor and country club ambiance. Indulge in the finest cuisine at one of six gourmet restaurants, enjoy a hands-on cooking class led by master chefs and take a painting class in the Artist Loft.
The 12-day Sun-Splashed Holiday voyage takes you from Miami to the Bahamas, St. Barts, Barbados and Saint Lucia for an unforgettable adventure. Staying in the Owner's Suite means you'll have exclusive access to the private Executive Lounge, 24-hour butler service, a complimentary in-suite bar setup and a free iPad — all for $37,998.
13. Uniworld: Parisian Royal Holiday River Cruise
Enjoy an all-inclusive Parisian getaway aboard the S.S. Joie de Vivre. This eight-day excursion offers the perfect opportunity to celebrate the holiday season in the most romantic city in the world, since you'll be cruising down the Seine.
Shore excursions include walking discovery tours, a trip to the Christmas Market, a Julia Child tea time at La Couronne and a trip to the Notre Dame Cathedral.
Staying in the Royal Suite will cost you $7,799 to $8,099, depending on the departure date. The ship features a swimming pool, Le Club l'Esprit fitness and wellness center, Le Restaurant Pigalle and a full-service bar.
Read More: The Most and Least Affordable Places to Spend Your Holiday Vacation
14. Crystal Cruises: Island Holidays Cruise
Run away to the Caribbean this holiday season aboard the Crystal Serenity ship from Crystal Cruise Lines. The 14-day excursion departs from Miami a few days before Christmas and will take you around the Caribbean Sea to Mexico, the British West Indies, Jamaica, Puerto Rico, French West Indies, St. Maarten, USVI and the Old Bahama Channel.
Onboard entertainment includes full-scale music productions, the 6/8 Cafe jukebox musical and celebrity guest speakers and lecturers. Staying in the Crystal Penthouse with Verandah means you'll enjoy complimentary beverages, personal butler service and access to a master bath with a Jacuzzi and ocean view. Cruise-only fares for the Penthouse start at $40,540.
15. Silversea: Valparaiso to Buenos Aires South America Cruise
Enjoy 17 days of cruising around South America aboard the Silversea Cruises Silver Spirit. Voyage No. 5703 includes stops in Chile, Argentina, the Falkland Islands and Uruguay. Plus, the ship boasts an 8,300-square-foot spa, gourmet dining options — including Asian fusion at Seishin Restaurant — cabaret performances at Stars Supper Club and the only Relais & Chateaux restaurant at sea.
There's a waiting list for the Owner's Suite, but you can book the Grand Suite with a veranda starting at $25,350 per guest. The suite accommodates up to four guests and includes a Bang & Olufsen audio system, Pratesi fine bed linens, premium mattresses, plush robes and slippers, and dinner at the officer's table.
This article originally appeared on GoBankingRates.