How to Make Sure Your Pumpkin Masterpiece Doesn't Spoil Before Halloween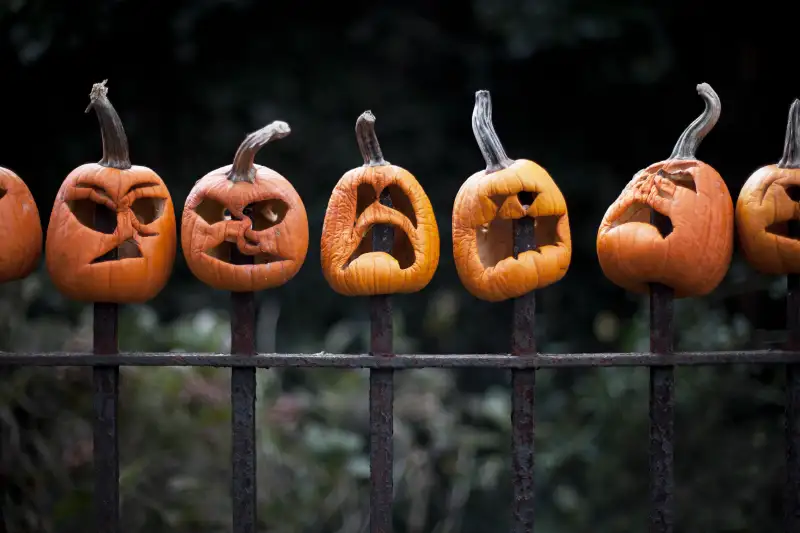 Bernie DeChant—Getty Images
Don't you hate it when you spend hours carving the perfect pumpkin, only to have it wilt and decay after a few days? After all, you probably don't want your Hillary Clinton pumpkin to turn into a Donald Trump.
The average price of a pumpkin is $4.32, according to data from the Department of Agriculture in 2015, and that can really add up if you plan on decorating and carving multiple pumpkins this Halloween.
Once carved, pumpkins will generally only hold up for three to five days — or up to two weeks if you live in a colder climate — before wilting and showing signs of decay. And that's not very long when you've worked so hard on your masterpiece.
So if you don't want to waste money this Halloween, here are seven easy ways to make your jack-o'-lantern last even longer.
1. Don't Cut Off the Top
Stop — don't cut that top off your pumpkin quite yet.
Although tradition is to cut a hole at the top of your pumpkin before gutting and carving it, this is probably the worst thing you can do as far as the life of your pumpkin is concerned: Removing the stem of any fruit or vegetable will cut its life short. Instead, cut the back or even the bottom of the pumpkin out.
This way, any decay happening won't start from the top and trickle down. Your pumpkin will keep fresh much longer if moisture can't collect on the bottom and the stem stays intact.
Read: Throw a Killer Halloween Party for Under $50
2. Clean Your Pumpkin With Bleach
Be sure to completely clean out your pumpkin — leaving no guts, seeds or innards inside. Here's how:
Cut a large opening in the bottom of your pumpkin, making sure you have enough room to reach your hands in.
Use an ice cream scoop or large spoon to get all of the guts and seeds out.
Thoroughly scrape the inside and sides of the pumpkin to remove as much of the innards as possible.
"Once the pumpkin is gutted, clean out the insides with bleach and water," said Amy Chang, lifestyle savings expert at SlickDeals.
Make a solution of 1 tablespoon of bleach per quart of water and use it to thoroughly clean out the pumpkin. Bleach helps kill bacteria and get rid of dirt, which will prevent the pumpkin from growing mold too quickly. Plus, the cleaner the pumpkin, the less quickly it will begin to rot.
3. Let the Pumpkin Dry Fully
After the pumpkin is completely gutted and cleaned with a bleach solution, be sure to let it dry fully. If your pumpkin is still wet when you set it outside, mold is more likely to form. Here are some pumpkin drying tips:
Use a towel to dry out the inside of the pumpkin as well as you can.
Leave your pumpkin in a cool, well-ventilated area.
Don't use a blow dryer to dry your pumpkin as the heat will accelerate the rotting process.
Don't set your pumpkin outside to dry as the outside elements could also make it decay more quickly.
Use a fan set at low speed to help your pumpkin dry out more completely and quickly.
4. Use Vaseline
When you're ready to carve your pumpkin, put petroleum jelly around the carved edges as well as all around the inside to help keep it moisturized. This will ensure the pumpkin stays fresh for a longer amount of time. If you don't have any Vaseline on hand, you can always try these other options:
WD-40
Vegetable oil
Olive oil
Or, use something to lock in the moisture, like:
Clear nail polish
Clear spray paint
White glue
Read: How to Score Deals on Costumes and More This Halloween
5. Make Your Own DIY Pumpkin Spray
At this point, it might seem like your pumpkin has become pretty high-maintenance. But the key to keeping your pumpkin fresh longer is making sure it stays moisturized.
You can make a spray at home using soap, peppermint oil and water to help keep mold at bay. This is all you'll need:
8-ounce spray bottle
1 capful liquid peppermint soap
6 drops peppermint oil
Peppermint has anti-fungal properties, which will help keep fungus and mold away. Use this homemade spray on the inside, outside and especially around any carved edges of your pumpkin to help keep it moisturized.
Alternatively, if you're not the DIY type, you could also buy some Pumpkin Fresh spray, online or at the store; it's said to do wonders for all pumpkins.
6. Soak in Cold Water
Before you put your pumpkin out on display, or after it's already been put out and has begun to shrivel, pamper your pumpkin with a bath — a cold bath. A quick ice water bath can breathe new life into your pumpkin, especially if it's already started to wilt a little. Here are some pumpkin bath tips:
Fully submerge your pumpkin in ice cold water for one to two hours.
You have the option to add a small amount of bleach to the water to help kill any mold starting to form.
Remove the pumpkin from the ice water bath.
Apply more moisture using sprays, petroleum jelly or oil.
Set your newly revived pumpkin back on display.
Read: 30 Ways You're Wasting Your Paycheck on Halloween
7. Don't Carve Your Pumpkin
This might sound odd, but it's the best way to ensure your pumpkin stays the freshest. Instead of carving your pumpkin, you can still decorate it with glitter, googly eyes, yarn, construction paper and more. Or you can simply use markers to draw a face or design on your pumpkin. You can also wait until a day or two before Halloween to carve your pumpkin. That way, it's sure to last through the holiday.
Now that you're an expert, you can use these pumpkin-carving tips to prolong the life of your jack-o'-lantern this Halloween.
This article originally appeared on GoBankingRates.