This Man Stole $18.7 Million Worth of Maple Syrup From Quebec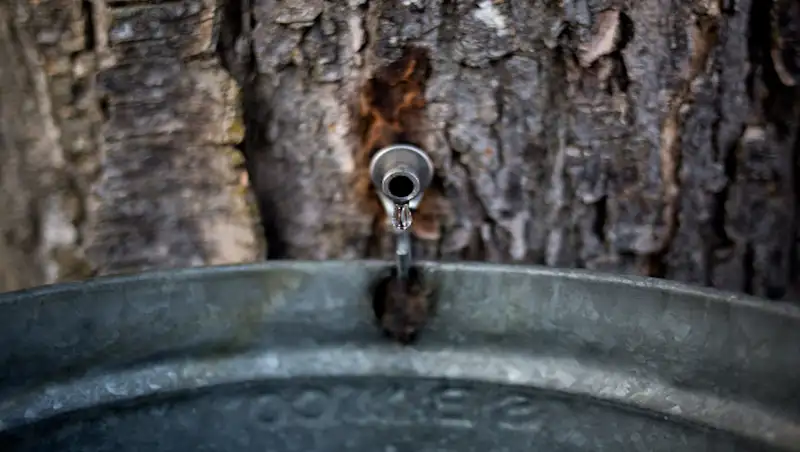 Portland Press Herald—Press Herald via Getty Images
The epic tale of the great Canadian maple syrup heist – which began to unfold last year – finally reached its conclusion.
The story begins back in 2011, when the Federation of Quebec Maple Syrup Producers rented a warehouse on property owned by Avik Caron's wife. The Federation planned to store some of their haul for the year in the warehouse. Caron had other plans, though: He saw that delicious syrup as liquid gold. So he decided to steal it. Caron looked for a black market buyer to whom he could sell the syrup for a cash profit. Using a trailer tractor, he moved barrels of syrup from the warehouse to a shack where they were emptied and then re-filled with water.
His plan worked for about a year, and before he was found out, Caron managed to empty 9,571 barrels – that's 3,000 tonnes of maple syrup, worth (CAD) $18.7 million dollars, making it the most expensive crime ever investigated by the Quebec police force. Caron's team made (CAD) $200,000 dollars for every syrup transaction they conducted.
Caron plead guilty to the theft back in January, and was finally sentenced to five years in prison and a (CAD) $1.2 million dollar fine. According to Canada's National Post, he exploded in anger upon hearing the sentence, arguing that he was tricked into pleading guilty by his lawyer.
Ten thousand syrup producers were left high and dry after the maple syrup Caron stole disappeared. The thieves Caron worked with also moved their product in unregulated containers, showing a callous disregard for the public that would eventually pour the potentially tainted syrup on their pancakes.
Caron's accomplices, Richard Vallières – who had been buying from the maple syrup black market (a very real trade in Canada) for 10 years – his father Raymond, and New Brunswick syrup buyer Étienne St-Pierre, are still awaiting sentencing, but Caron was the ringleader of the operation.
After he was arrested, finding himself in a sticky situation (sorry), Caron tried to implicate the Montreal Mafia, claiming that they provided his supposedly small operation with additional drivers and equipment, but there's no evidence that any criminal organization ever helped Caron steal the syrup.
Having sat in prison during while awaiting his sentence, Caron has three more years in the slammer to consider what he did to Canada's maple syrup industry – which produces 80% of the world's supply and is worth $360 million dollars. The rest of us can just be thankful Caron's scheme ended before he was able to sap any more from Canada's trees, forcing us to cancel breakfast forever.