3 Strategies for Managing Your Team Remotely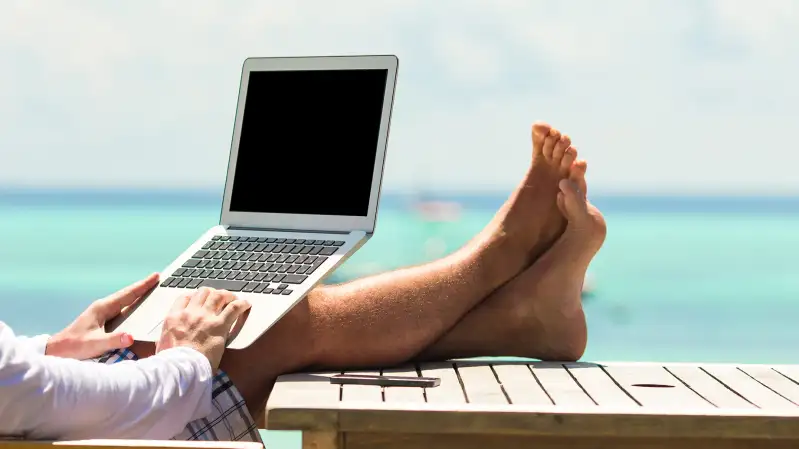 Travnikov Studio—Getty Images/iStockphoto
Tapping away on his laptop, Antonio Evans ran his two companies, Socialdraft and FriendsEAT, from Pag, a Croatian island in the Adriatic Sea, for part of the summer. "I'm obsessed with Game of Thrones," he says. "I was in Croatia three years ago, when they first started filming here." Then he planned to depart for Italy and France.
It doesn't make much of a difference where he is. Both FriendsEAT, a site that helps users find restaurants, and Socialdraft, which lets agencies post to social media via Google Calendar, are virtual companies. The 15 team members at FriendsEAT and 12 at Socialdraft, who include a mix of employees and contractors, span the globe, from Detroit to Bangkok.
Working from residences that he rents on Airbnb, Evans manages his team via his computer and mobile phone, using tools such as Slack for communication and Trello for organizing projects.
Internet Connections Critical
Good Internet connections are critical, as is a standardized schedule. All of his employees work on Eastern time, even if that means they must do a night shift. He builds his own schedule around that, even when surrounded by tourist temptations: beautiful beaches and historic ruins. "You have to have the discipline for it," he says. "I don't do a lot of tourist stuff."
As technology has advanced, Evans' mode of running his company is becoming more common. Many startups have gravitated to virtual models where all or some of their teams are based in other states or other countries and seldom or never meet with the entire team in person. It's a step beyond telecommuting, a perk that 38% of employers currently allow at least some employees on a regular basis and 3% offer to all or most employees, according to 2014 research by the Families and Work Institute and the Society of Human Resource Management.
Lower Costs, Greater Flexibility
Running a startup virtually can bring many benefits, including lower costs for office space, more flexibility in staffing and access to far-flung (and perhaps cheaper) talent -- and it's getting easier, thanks in part to a constant stream of new mobile apps for communicating and managing projects, as well as the growth of online talent marketplaces where it's easy to find skilled contractors.
"The good thing about this day and age is if you are going to build a team of 10 people or so, contributing to one company, you can do it from your laptop," says Steve Boerner, a partner at Gen-Y Consultants, a firm in Bethlehem, Pa., that advises growing companies.
But virtual companies can also bring unexpected challenges. Building a cohesive team can be harder, especially if your talent mix includes a constantly changing group of contractors.
Proven Strategies
Here are some strategies from seasoned entrepreneurs with experience leading remote employees.
1. Build eye contact into the relationship. If you can't interview potential employees or contractors in person and work side by side with them, introduce some face-to-face communication into your collaboration. Boerner says he's found that it is easier to build strong relationships with technology contractors overseas if he holds video chats with them via Skype or Google Hangouts.
Boerner says he has had overseas contractors who communicated only by email and then tried renegotiate their fees in the middle of a project -- bringing work to a standstill. "They would go on strike essentially and try to up their price," he says. "They would say, 'We've decided to cease working until you agree to the terms we've provided.'"
Although Gen-Y Consultants now spells out its expectations to contractors very thoroughly before a job commences, Boerner also tries to avoid situations where contractors can hide behind a keyboard. "They can do things behind email they wouldn't do sitting around a boardroom table," says Boerner.
2. Keep team members engaged. ZogSports, a co-ed, charity-oriented social sports league, is based in New York City but has operations in six other places: Atlanta, Los Angeles, Philadelphia, several counties in New Jersey, San Francisco, and Washington, D.C. The company has 30 full-time employees and 300 field team members who staff events such as dodgeball and soccer games.
Those field team members are part-timers who don't come into the company's offices, says CEO Robert Herzog.
To make sure the field team can perform at a high level, ZogSports uses an in-person training process where members learn what the company's core values (such as "fun") mean when serving customers in general, as well as in the sports-specific activity each will be doing.
There's also a well-defined communications strategy, with each field team member reporting to either a manager on the full-time staff or a field team supervisor who works at the events. Field team members provide and receive feedback on events at the end of each shift, and supervisors speak with them by phone at least once a month.
This year, ZogSports has put a big emphasis on creating "highlights," or high points in its events, says Herzog. So a supervisor might ask, "Do you think you created any highlights for our customers yesterday or over the past month?" -- and if not, "What has been preventing you from creating them?"
"A lot of it has to do with engagement," says Herzog. "In my office, I can tell who is performing well. It's harder to know whether people in the field are enjoying their jobs and feeling engaged."'
3. Offer growth opportunities. Employees who work in remote locations often get neglected when it comes to training and development. Robyn Tippins, CEO of Mariposa Interactive -- a three-year-old content marketing agency in Claxton, Ga. -- has found a way to keep her team's skills sharp. Her company has 10 full-time employees, including two who work remotely, and about 25 off-site contractors.
Every Friday at 4 p.m., Tippins holds a group training on a topic her team has chosen. She records the sessions in Basecamp, a project management software, so virtual employees and contractors can get access when they have time. "The other day they wanted to know what Google's mobile change meant to our clients," she says. "I spent about an hour sharing that, just off the cuff."
She also uses Basecamp to send out announcements about changes that affect everyone. "Sometimes they'll say, 'I didn't know we were changing over to this,'" she says. "I've forgotten to tell them. I'm trying to be more communicative."