The U.S. Economy Has Been Growing for 10 Straight Years. See Which States Are Getting Ahead -- And Which Ones Aren't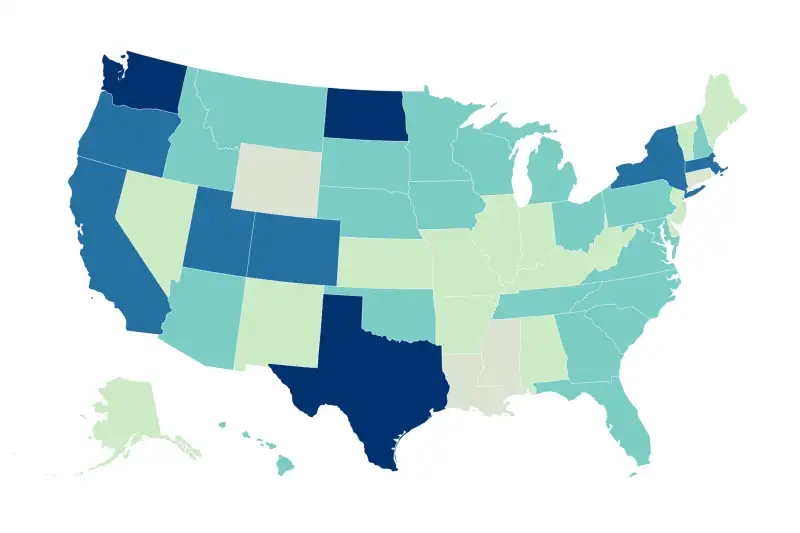 The U.S. economy just set an important record. But not all states are reaping the rewards.

In July, the U.S. economic expansion, which began in the wake of the 2008-09 financial crisis, reached 121 months. That marks the economy's longest period of uninterrupted growth ever, beating its previous record of 120 months from 1991 to 2001. Most states benefited from the expansion, but not all. Some economies soared, and others sputtered or even shrank.
How has your state stacked up?
The U.S. GDP, the total value of the goods and services produced, grew by a 10-year annual average of 1.9% between 2008 and 2018. Coastal states like California, with its booming tech sector, and New York, with robust financial and real estate industries, performed well, with 2.6% and 2.2% growth, respectively.
But it was North Dakota whose economy expanded the fastest — at 4.9% a year, on average. This explosion in growth can be attributed to fracking, a method of extracting oil and gas by breaking up rock deep beneath the Earth's surface. The state's oil production started to rise right around the time the 2008 recession hit.

Some of the state's fastest-growing jobs are in oil and gas-related fields. The industry boom also brought in construction and truck driving jobs, which are also projected to grow.

Washington's and Texas's economies also performed well with 3.2 and 3.1% average annual growth, respectively.
While the vast majority of state economies have expanded in the past ten years, four states'— Connecticut, Wyoming, Louisiana and Mississippi — economies shrunk.
It may come as a surprise that Connecticut fared among the worst in the expansion given that, on average, its residents earn some of the highest wages in the country. The average weekly earnings in the state are $1,334, the fourth highest among U.S. states.
It's important to note that many people from Connecticut commute to other states like New York and New Jersey for work, says Mauricio Ortiz, chief of the regional income division at the Bureau of Economic Analysis. So, while people may be taking home big paychecks, the goods and services they produce often count towards other states' GDP, according to Ortiz.