6 Ways to Win Your March Madness Office Pool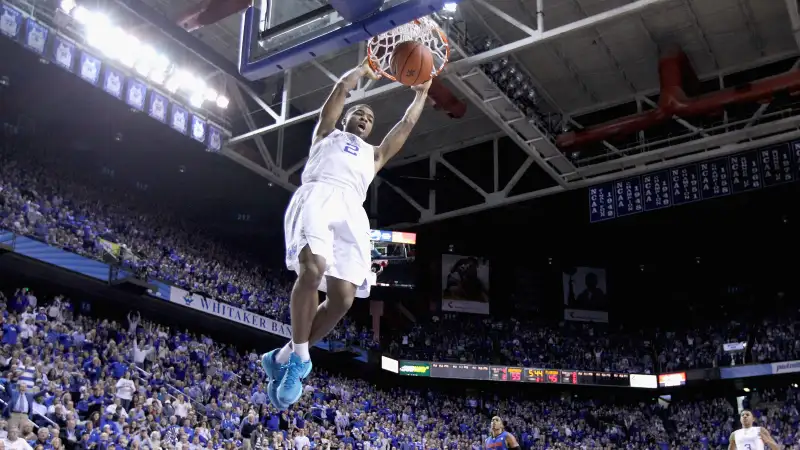 You would have to be crazy to think you can master the betting process for the NCAA's annual college basketball tournament. That's part of why it's called March Madness.
The odds of picking all the winners among the 68 teams in this year's men's tournament is an insane 1 in 9.2 quintillion, according to a DePaul University math professor. That is roughly equivalent to winning the Mega Millions lottery jackpot twice in a row.
No wonder famed investor Warren Buffett felt so comfortable offering a $1 billion for a perfect bracket in last year's NCAA tournament. (No one won.)
But to pick up a few bucks winning your own March Madness office pool, which draws an estimated 50 million Americans a year, you do not have to be perfect. You just have to be good enough to beat your friends. What is at stake is some of the $12 billion that will be bet worldwide on this year's March Madness tournament, according to the website Pregame.com.
And if you actually win a little cash? According to the Internal Revenue Service, all gambling winnings are taxable—although it's highly unlikely your podunk office pool will be reported to any authorities, and Uncle Sam has never bothered with them in the past.
Here are six tips to help you get an edge when bracket seedings and matchups are announced on Selection Sunday, March 15.
1. Don't Get Carried Away With Cinderella Stories
While highly entertaining, huge upsets do not happen all that often (although the Mercer Bears did knock off the powerhouse Duke Blue Devils just last year).
"For the most part, you want to stick with the favorites—especially as you get deeper into tournament rounds like the Elite Eights and the Final Four," says Ken Pomeroy, founder of the stats-analysis site KenPom.com.
This year in particular, there is one runaway favorite: the Kentucky Wildcats and their perfect 30-0 record. Bet against them at your peril.
2. Tailor Your Picks to Your Pool
Your optimal bracket will change depending on the size of the pool, notes Brad Null, founder of the site BracketVoodoo.com. It is basic game theory: You are not just picking winners, you are playing against others.
If a pool is only comprised of three or four people, stick largely with the favorites, Null says. The bigger the pool gets, the more risks you should take in order to win the prize. In a pool of 10 or 20 people, for instance, you might want to forgo heavily favored Kentucky in favor of talented but less-probable teams like Virginia, he advises.
Even more bettors and you might want to vary it up even more, by looking at names like Wisconsin, Villanova, or Gonzaga to go deep into the tournament.
3. Get Expert Help
If you do not have an advanced degree in statistics, good news: Experts are happy to do all the number-crunching for you (sometimes for a fee).
For likelihoods of victory in any given match-up, visit sites like Nate Silver's FiveThirtyEight.com or TeamRankings.com, advises Doug Drinen, an associate math professor at Tennessee's Sewanee: The University of the South.
4. Factor in the Scoring System
Every individual pool can feature its own scoring method, and that in turn influences how you should bet. If there is a special bonus awarded for upsets, for instance, pencil in more shockers than you would otherwise.
On the other hand, some pools are heavily weighted toward the eventual victor—awarding only one point for a first-round win, but 32 points for the final game. In that case, go with the heavy favorite, because "it's almost impossible to win the pool unless you pick the champion," says Drinen.
Download Your Printable March Madness Bracket Here
5. Avoid Homer Bias
It is only natural to root for your college team. It is not a winning pool strategy.
"If I'm in a pool with a bunch of people who went to college at Stanford, you know half of them are going to pick Stanford to win it all," says Null. Be a contrarian and go the other way.
6. Think Like a Value Investor
The beauty of March Madness is that you never know who might go on a run—like last year's champion Connecticut Huskies, who started as humble seven seeds.
"You don't want to just look at teams who have been successful in the past, but also those who have been down lately," says Null. "In that way, it's kind of like picking stocks."