5 Marriage Milestones That Will Forever Change How You Think About Money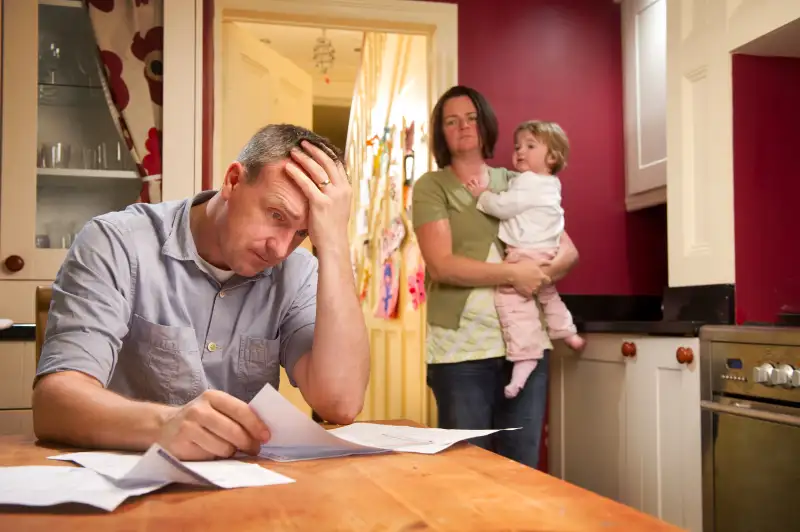 First comes love, then comes marriage …
Then come all kinds of exciting-yet-stressful life events that can completely transform your finances.
Babies. Houses. Job changes. The list goes on and on.
And like any major shift, these events can stir up emotions that will not only affect your relationship, but also impact the financial decisions you make.
"Everyone tells you not to make big decisions from a place of worry or upheaval, but that's exactly what big milestones create in our lives, making it impossible to feel like you've made choices from a place of peace," says Megan Ford, LMFT, a licensed marriage therapist and president-elect of the Financial Therapy Association.
The solution?
You need to recognize (and prepare!) for the fact that these major life moments are likely to send you on an emotional roller-coaster—and spur a need for significant financial adjustments.
It's precisely why Mary Beth Storjohann, a CFP and founder of Workable Wealth, tells all of her clients to set a monthly money "date" with a partner—a designated time to talk through the state of your finances and what emotions are coming up around them.
With regular financial check-ins, you're more likely to discuss the big milestones before they come, Storjohann says, and be in a much better position to plan for them.
To help you navigate the ups and downs of life, we've asked marriage and money pros to offer their best advice for how to keep five common milestones from derailing your marriage—and finances.
Marriage Milestone #1: Buying Your First House
Purchasing a new pad is exciting—but once that first rush of adrenaline is over, the new day-to-day reality quickly kicks in, says Ford.
Aside from the increased money pressure, having to agree on every last paint color and fabric swatch can highlight your differences and drive home just how difficult compromise can be.
What You're Both Likely to Feel … Excited, scared, proud, frustrated and overwhelmed. And while it may seem counterintuitive, buying a new home can also spark a sense of loss.
With such a big purchase comes big responsibility, and the number of unexpected expenses that often surface can lead to the realization that you've just lost a lot of your freedom.
"Your priorities around being able to do things—both financially and timewise—are going to shift once you're a homeowner," says Ford, adding that this can significantly impact the dynamic between you and your partner.
How to Keep Your Finances on Track … When a good chunk of your available funds go into your home, says Ford, you can end up house-rich and cash-poor—a recipe that's likely to highlight financial friction between the two of you.
So before you even apply for that mortgage, have a frank conversation about how much home you can really afford—and how you're going to finance it.
And if you find yourselves feeling maxed out once you're in your new digs, you might want to look into refinancing your mortgage to reduce your monthly payment, says Storjohann, and even consider taking on a side gig.
And although it can be tempting to get your home pulled together quickly, you should also delay spending on other big-ticket items, like that fancy Viking range you've been coveting.
Read next: Buying a House Together Before Marriage? Read This First
Marriage Milestone #2: Bringing Home Your (Million Dollar) Baby
Few experiences in life can produce as much joy—as well as sleep deprivation, stress and money concerns—as a new addition to the family.
And when we say money concerns, we mean it: The average lifetime cost of raising a kid now exceeds $245,000, according to the U.S. Department of Agriculture.
What You're Both Likely to Feel … Happy, exhausted, thrilled, depressed … and very, very stressed.
With your bills at record highs, and your savings goals more ambitious than ever (college costs how much?!), it's no wonder many new parents tend to feel overwhelmed when they take a closer look at their finances.
It's also understandable that you'd want to make sure your new center of the universe has the best of everything—no matter the cost.
"So many new parents feel pressured to buy the most expensive items for a baby," Storjohann says. "That pressure to spend more than what's really needed—or what you can actually afford—can be intense."
How to Keep Your Finances on Track … Before your baby is born, look into exactly what you're entitled to when it comes to your company's maternity and paternity leave policies, says Storjohann, as well as what less obvious expenses are covered by your company benefits—such as a gym membership and even help with child care.
Bottom line: You don't want to miss out on any paid time off or covered costs.
Also, once your baby arrives and you have a clearer picture of how much things really cost, redo your baby budget. Factor in every detail you can think of, including things like birthday gifts for other kids.
Then run the numbers and have an honest conversation with your partner about what you can afford to spend—and where you should cut back.
"These things can add up to thousands of dollars a year," Storjohann says. "Figuring out how you're going to adjust can feel empowering and reduce your stress."
Marriage Milestone #3: Your Combined Income Dips
Whether one of you intentionally leaves a job—perhaps to take care of children or start a new business—or you're dealing with unexpected job loss, making less money as a couple can create a lot of strain.
What You're Both Likely to Feel … Anxiety, pressure, fear and maybe even resentment.
"When one partner has to pick up all of the financial slack, it can be really tough on a marriage," Ford says. "Not only does the working partner feel extra stress and responsibility, but the partner who's not making money can feel shame."
How to Keep Your Finances on Track … If a job loss is unexpected, you should discuss together just how much you're going to tap into your emergency fund, as well as where you can cut back expenses for the short-term.
And regardless of whether you can or can't plan for a loss of income, says Storjohann, you should be prepared for it by having a retooled household budget at the ready.
Another crucial move, says Ford, is for both partners to continuously identify and discuss their feelings, so they don't fester.
"When you keep emotions locked up, they end up taking on a life of their own—and have the potential to cause you to make rash financial decisions," she says.
Marriage Milestone #4: You Have to Care for an Elderly Parent
When a parent or loved one reaches the point of needing your help—both physically and financially—the situation can shift how you spend your time and finances.
There's even a term for those who find themselves having to juggle the competing demands of caring for young kids and elderly parents at the same time—the sandwich generation.
What You're Both Likely to Feel … Sadness, worry, guilt, anger and frustration. And those are just some of the emotions you may be experiencing.
Not only are you worried about your aging parent, but you're also feeling the ripple effect on your own finances and commitments. All of this rearranging of time and money can be stressful—especially if you're also taking care of your children.
And you may feel angry and frustrated because you're the one having to carry the burden for everyone—which can lead to guilt, says Ford. And that guilt can create even bigger money worries if it causes you spend more money than you can afford.
How to Keep Your Finances on Track … Ideally, this is something you and your partner will talk about—and plan for—well before your loved ones need elder care, says Storjohann.
"This is actually part of the discussion when my husband and I have our monthly money dates," she says. "It's crucial to talk about who might need our help one day, and what we, as a couple, are willing to do to support those people."
Her advice if you're feeling guilty about not being able to do enough?
"I recommend saying to family, 'This is what I have to help support you, but that's all I can do at this time,' " she says. "The more parameters you're able to set, the less obligated you'll feel to go above and beyond."
Marriage Milestone #5: You're Ready to Retire
After years of being knee-deep in deadlines and conference calls, your time hasfinally come to clock in for the last time.
But while you thought you'd be celebrating that much-deserved retirement on your first European cruise, you haven't even booked your tickets yet.
What You're Both Likely to Feel … Elation, fear, relief, stress and more. Ford says that, in her practice, she's seeing a lot of retired couples who should be rejoicing—but who are worried and unhappy instead.
"People are living longer and saving less—and that can create a stress storm that impacts marriages," she explains.
And for those who have carefully saved, says Ford, they face a big adjustment when it comes to actually tapping into those accounts.
How to Keep Your Finances on Track … First, Storjohann suggests coming up with a list of all the things you want to do in retirement.
"This will put you in the best position to come up with a spending plan for those retirement goals," she says. "It can be very scary to pull money from your retirement accounts if you don't have a system in place, and having a plan ensures that what you're taking out of your savings is sustainable."
Plus, if after doing that plan, you find your retirement spending isn't going to allow you to live your current lifestyle, it gives you time to reassess.
For example, you might want to scale back on spending in your golden years in certain areas, or consider taking on a part-time job in retirement, so that you can withdraw less.
Feeling particularly anxious that you haven't saved enough? You may want to consider easing into retirement part-time—often referred to as semi-retirement.
"I think a lot of new retirees benefit from getting used to the retirement lifestyle in stages," Storjohann says. "It can help you figure out what it is you really want to do—and how, exactly, you'll pay for that."
LearnVest Planning Services is a registered investment adviser and subsidiary of LearnVest, Inc., that provides financial plans for its clients. Information shown is for illustrative purposes only and is not intended as investment, legal or tax planning advice. Please consult a financial adviser, attorney or tax specialist for advice specific to your financial situation. Unless specifically identified as such, the individuals interviewed or quoted in this piece are neither clients, employees nor affiliates of LearnVest Planning Services, and the views expressed are their own. LearnVest Planning Services and any third parties listed, linked to or otherwise appearing in this message are separate and unaffiliated and are not responsible for each other's products, services or policies.
More From LearnVest: