How to Buy a Mattress in 10 Minutes or Less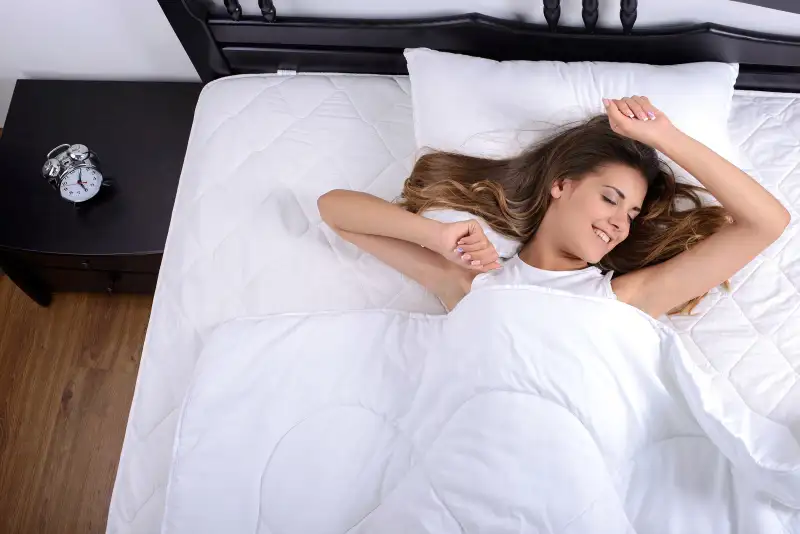 Mattress shopping can be kind of a nightmare. There are so many choices. And since the last time you bought a new mattress was probably several years ago, you probably can't even remember how you did it. Is this an all-day shopping event? An endless, store-hopping nightmare?
Finding your perfect bed doesn't need to be a stressful ordeal. In fact, preparation and the right tools will help you find a mattress in less time than it takes to brush your teeth, change into your PJs, and set the sleep timer on your TV. Here's how to find the perfect mattress in less than 10 minutes.
1. Identify Your Current Mattress' Flaws
Before even going to the mattress store, figure out what you want to avoid in your next mattress. Too many coils? Too firm for you and not firm enough for your partner or spouse? Narrowing down your list of current mattress flaws will give you a better idea of what you do want.
2. Do Your Homework
Once you know what you don't want, and have a vague idea of what you do want, it's time to do a basic search online. Check for prices, sizes, and brand names you'd like to see in person. This, too, will cut your actual in-person shopping time way down.
3. Test With a Trust Fall
For every mattress I've ever purchased, this is the sure-fire method I've used to find my ideal mattress match. I stand at the foot of the bed, pretend there are eight sets of trusting arms about to catch me, and I fearlessly fall back. I wouldn't recommend this if you prefer a firm mattress, because, ouch, or if you have pre-existing neck problems, because whiplash. But if you're looking for a soft and cuddly pillow-top, this is all kinds of fun, and only takes one minute of your time.
4. Try Out All Options
If you're looking for a new kind of bed, then take the homework you did and test out firm, pillow-top, adjustable, and Tempur-Pedic mattresses by laying down for one or two minutes on each one. It's kind of like trying on wedding dresses, in that you'll know instantly once you've found "the one."
5. Don't Go for the Cheapest Mattress
A mattress is probably one of the most important purchases you will ever make. Restful sleep is crucial to your overall health and wellbeing, so going for the cheapest mattress you can find is not the best idea. You will spend six to eight hours a day laying on this thing, so acknowledge that this is an investment and is worth the hefty pricetag.
6. Know Your Warranty and Refund Rights
You might feel confident in your mattress selection at the store, but just in case you take it home and completely hate it, make sure you know what the mattress store's policies are with warranties and refunds. Most quality mattresses will come with a 10-year full warranty. As for refunds, some brands give you two weeks to decide if you want to keep it. Some offer a "comfort period" for your body to adjust to the mattress and then a set time frame for returns. But be wary of these "comfort periods" because they often come with a shipping fee and a restocking fee. So once you've found your top pick, ask about both before handing over your money.
7. Negotiate Away
If a mattress store is willing to negotiate on price, then you need to make sure they negotiate fairly. This is because most mattress manufacturers apply set minimum prices for their retailers, so many will just price them at the minimum right off the bat. If you find some wiggle room in price discussions with the salesperson, bring them down as low as possible, since you know they marked it way over the minimum manufacturer price. This might take the most time, so save five minutes for haggling, if needed.
More from Wise Bread: