McDonald's Is Testing a New Item on Its All-Day Breakfast Menu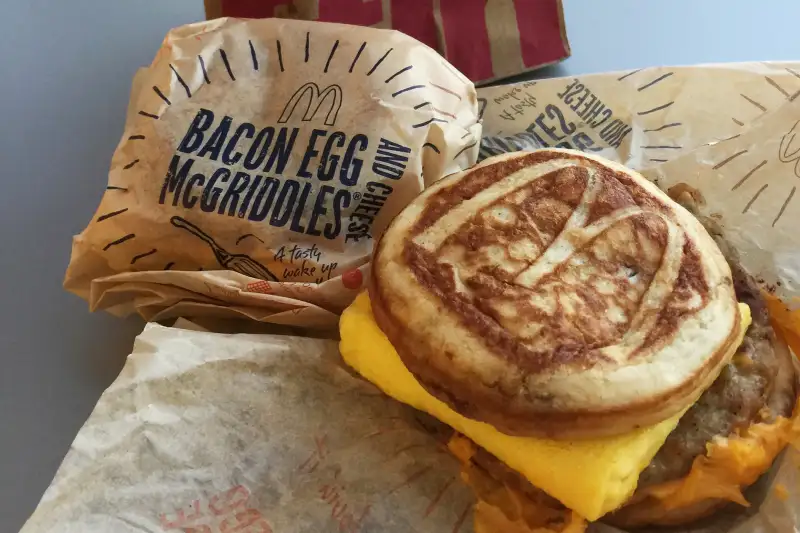 If you were outraged when you couldn't find the McGriddle sandwich on McDonald's all-day breakfast menu, take heart: The popular morning meal will soon be on the menu at selected locations.
Starting Feb. 1, McDonald's will offer an expanded all-day breakfast menu that includes McGriddle sandwiches in 72 restaurants in Tulsa, Oklahoma. The addition is prompted by complaints from customers were shocked that the sandwich—which deliciously combines bacon, an egg and American cheese between two small pancakes—did not make the cut when McDonald's rolled out its all-day breakfast menu in October 2015.
The test will last for two to three months before the fast food giant makes a decision about whether the change will be permanent, the Associated Press reported. Also added to the new all-day breakfast menu is a sandwich made of biscuits, the chain said.
But McDonald's has concerns about how smoothly the test run will go. It worries that adding the McGriddle sandwich might prove too difficult, particularly at a time as it plans to turn around struggling U.S. restaurants by simplifying its operations.
McGriddles are not a quick food to prepare: The pancake buns need to be warmed up in ovens, and they're also made with a frozen egg—rather than a cracked egg—patty, LeAnn Richards, a McDonald's franchisee who led a task force on all-day breakfast, told the AP. The addition would place another strain on restaurants to juggle oven space and time in order to offer more items.
The appearance of McGriddle sandwiches on the all-day breakfast menu is not likely to be the only change in the works for the world's largest burger chain. Since it introduced its all-day breakfast last fall, same-store sales have jumped 5.7% and earnings increased to $1.21 billion, for the best quarterly results in nearly four years.