Medicare Is Part of the Solution to Rising Health Care Costs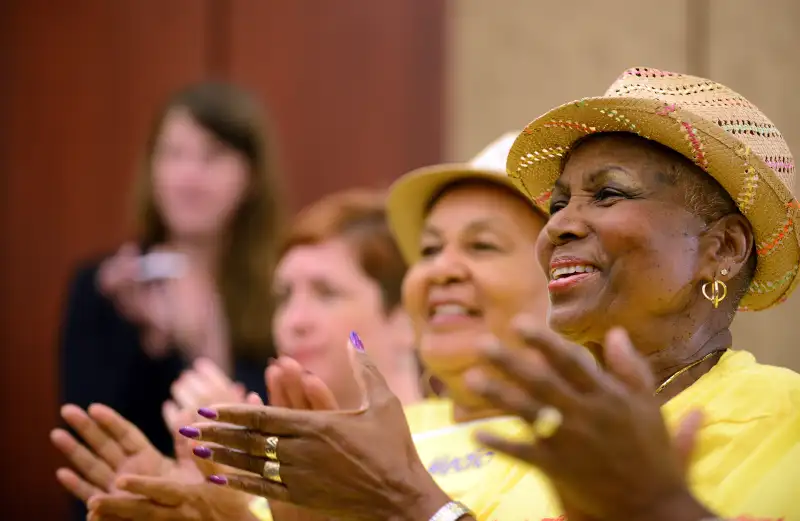 Astrid Riecken—Getty Images
Medicare turns 50 on Thursday, riding high in the polls but under attack from presidential candidates proposing benefit cuts or even phasing out the U.S. healthcare program for older people.
When President Lyndon Johnson signed the law, half of Americans age 65 or older had no health insurance. Today, just 2% go uncovered.
And the public really, really likes Medicare, which last year covered 54 million Americans. A poll released earlier this month by the Kaiser Family Foundation found strong support across political party lines for Medicare and Medicaid, which insures low-income Americans and became law alongside Medicare.
But Medicare still sticks in the craw of conservatives.
"We need to figure out a way to phase out this program for (people who are not already receiving benefits) and move to a new system that allows them to have something, because they're not going to have anything," Republican presidential contender Jeb Bush told an audience of conservatives in New Hampshire last week.
Bush later tried to walk back his comment, but he is not alone in his desire to euthanize Medicare just as it hits midlife.
Fellow Republican presidential candidate Chris Christie has proposed raising the eligibility age for Medicare and Social Security to 69.
Beyond all the noise lies an important question: how to best pay for health care for our aging population.
In 2050, the 65-and-older population will reach 83.7 million, almost double what it was in 2012, according to the U.S. Census Bureau. That, along with rising healthcare costs, means Medicare will account for a rising share of the federal budget in the years ahead.
The line of attack against Medicare is that its finances are not sustainable, but what we really have is a healthcare cost problem, not a Medicare problem.
The program is funded through two trust funds.
The Hospital Insurance fund, which finances Medicare's Part A hospital benefits, receives money mainly from the 1.45% payroll tax that employees pay and employers match. This fund is projected to run dry in 2030, leaving Medicare able to meet only 85% of that part of the program's costs.
Meanwhile, the Supplementary Medical Insurance trust fund finances outpatient services and the Part D prescription drug program. It gets 75% of its funding from general tax revenues and 25% from yearly premiums that beneficiaries pay. It will stay solvent because contributions are reset annually to match anticipated spending, but that is expected to put more pressure on government and household budgets in the years ahead, especially if healthcare inflation takes off.
Medicare actually does a better job of restraining spending growth than private health insurance because its massive size gives it the power to set prices that providers will accept. And the Affordable Care Act mandated constraints in provider payments that have been paying off.
Medicare spending has been slowing in recent years. Reflecting that, the annual Part B (outpatient services) premium has been flat at $104.90 for the past three years.
Medicare's trustees projected last week that the program's total spending as a percent of the gross domestic product would rise from 3.5% to 5.4% in 2035. That is "not nothing, but neither is it insurmountable," says Jared Bernstein, an economist and senior fellow at the Center on Budget and Policy Priorities.
The gap can be closed through efficiencies. We could change the law to allow the government to negotiate drug prices with pharmaceutical companies, for example. Or a small increase in the Medicare payroll tax from 1.45% to 1.8% would do the trick.
The conservative plan, however, is to reduce the value of Medicare's benefits. That can be done by raising the eligibility age, effectively a lifetime benefit cut, or by replacing the program's set of defined benefits with something called "premium support."
With that, people would receive a voucher that they could use to purchase private insurance plans. Bush was showcasing that idea in his New Hampshire remarks.
A phase-out or redesign of Medicare will mean higher out-of-pocket costs in a program where the median income of enrollees is just $23,500 per year.
"These folks would unquestionably be worse off in the absence of Medicare," Bernstein said.
Instead, we should continue working on reforming the delivery of care and negotiate savings with pharmaceutical companies.
And we should wish our most important health insurance program a happy birthday. Medicare, you are part of the solution, not the problem.
Read next: Medicare Turns 50 But Big Challenges Await