Meet the Quirky Billionaire Who Will Be the First Paying Customer on Elon Musk's Rocket to the Moon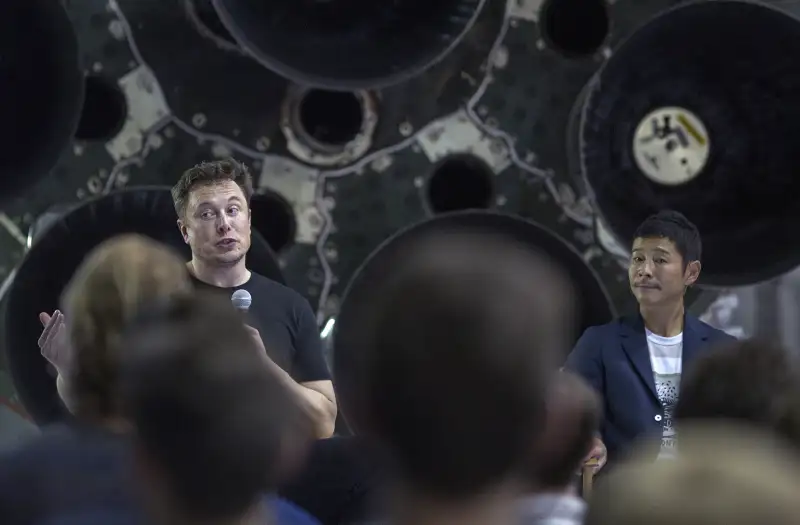 DAVID MCNEW—AFP/Getty Images
In a country known for conformity, Yusaku Maezawa has always sought to stand out.
He skipped college, moved to California to play in a rock band and started his own e-commerce company. After making it big, the 42-year-old started dropping hundreds of millions of dollars on artwork. Now the billionaire founder of Start Today Co. is set to become the first paying passenger to the moon on a SpaceX rocket scheduled to blast off in 2023. It's the latest headline-grabbing project by Maezawa, whose Twitter handle is @yousuck2020.
While Maezawa is relatively unknown outside the archipelago and the art world, he's guaranteed to become more famous with his plan to fly to Earth's biggest satellite with a cabal of artists. A self-professed art lover, the Japanese entrepreneur intends to take a combination of painters, musicians, dancers, photographers, film directors, fashion designers and architects on a week-long lunar loop, where he'll get to watch as they get inspired and create art along the way.
"I thought long and hard about how valuable it would be to be the first passenger to the moon," Maezawa said at an announcement at Space Exploration Technologies Corp.'s headquarters in Hawthorne, California, sitting next to the rocket company's CEO, Elon Musk. "I choose to go to the moon with artists."
The flight around the moon is a marriage of Maezawa's diverse interests: to be a visionary, to support art and to promote his company. Taking the enormous personal risk of orbiting the moon as the first private citizen would cement him in history books. Maezawa said he hopes the art created during the trip will inspire more interest and support for artists. Maezawa and Musk declined to say how much the lunar trip would cost.
"This is not us choosing him," Musk said. "He chose us. He is a very brave person to do this."
Maezawa made a name and fortune for himself by defying the norms of Japanese society. A former drummer in a rock band, he built shopping website Zozotown, a popular destination for younger consumers, from a mail-order music album business.
With a net worth of $2.3 billion, according to the Bloomberg Billionaires Index, Maezawa made a splash in the art world in 2017 when he spent $110.5 million on a single Jean-Michel Basquiat painting at a Sotheby's auction, setting a record for an American artist's work at the time. By then, Maezawa had already bought several Basquiat pieces.
Maezawa has funded his art binge by selling shares in the company he founded. He sold about $250 million worth of stock in 2016 and used most of it to add to his art collection over the following two years. In May, Start Today said he had sold about 23 billion yen ($205 million) worth of the company's shares. He has not announced major art purchases so far this year, suggesting at least some of the funds may have been used to participate in Musk's mission.
"I love art, so I want to see what artists will collaborate on together and see it directly with my eyes," Maezawa said.
Maezawa has long stood out in the Japanese corporate world. In a place where company executives maintain low-key lifestyles and keep out of the spotlight, the billionaire is active on social media, sharing snippets from lavish meals or vacations, and regularly makes headlines in the Japanese entertainment world for dating young, popular actresses.
The first would-be civilian passenger to the moon was already signaling his interest in outer space before the announcement. Maezawa first mentioned in a Twitter post in 2015 that his "eyes were opened," after touring NASA and talking to astronauts. A year later, he told Japan's Newspicks online magazine he wanted to try his hand in space. In April, he tweeted that space is one of his main "hobbies," along with art and wine.
"Ever since I was a kid, I have loved the moon," Maezawa said. "Just staring at the moon filled my imagination. It's always there and has continued to inspire humanity. That's why I couldn't pass up this opportunity to see the moon up close."
Asked about his health and fitness for the trip, Maezawa said he hasn't yet begun preparing or even deciding what kind of training is necessary. He'll be in his late 40s if the mission goes ahead on schedule. Musk praised Maezawa's bravery for seeking to be the first passenger on the trip. "This is dangerous, to be clear," Musk said.
Maezawa regularly injects his visions for humanity into interviews and speeches: world peace, universal income and letting every person reach his or her full potential. In an essay last month, he said gross domestic product was an inadequate way to measure progress. Instead, he called for the economic indicator to be replaced with one built around feelings of gratitude.
Building on the success of Start Today's Zozo brand, Maezawa intends to turn his company into a global retailer, with the goal of being one of the world's top 10 clothiers within a decade. His first step toward that has been a body-measuring, skintight suit called the Zozosuit, which is used to sell a line of made-to-fit private label basic wear and business suits. The company will be renamed Zozo Inc. from October.
In an interview with Bloomberg News in July, Maezawa talked about his love for making things. Maezawa didn't attend college, instead moving to California to play in a band after high school. The experience inspired the beginnings of the business of Start Today — named after an album by the punk band Gorilla Biscuits — as he began to sell music CDs in Japan.
"No matter what, I wanted to do different things compared to other people," Maezawa said. "I was like that as a child and now as well. And the desire to do something different is connected to wanting to do it before anyone else."
(A previous version of this story corrected Start Today's description in the second paragraph.)
This story originally appeared on Bloomberg.