Michael Jordan's Net Worth Reaches $1 Billion on His 53rd Birthday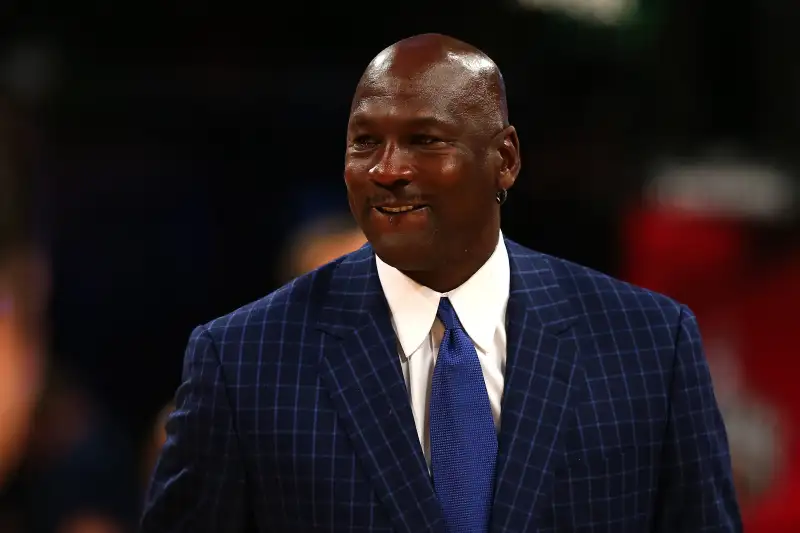 NBA legend Michael Jordan, widely regarded as the greatest basketball player ever to set foot on the court, turns 53 on Feb. 17. One of the most identifiable individuals on Earth, Jordan is in the 98th percentile of consumer awareness, putting him on par with Barack Obama in terms of public recognition. He is also the 12th most recognizable celebrity on the planet and one of only two athletes — the other being David Beckham — to break the top 20.
Michael Jordan, also known as MJ, parlayed his athletic prowess into marketing gold more effectively than any other sports star in history. Here is a look at his net worth, his life outside of basketball and the financial moves that helped him become the richest athlete in the world.
Michael Jordan's $1 billion net worth can be traced not only to his legendary basketball career, but also to his business ventures, NBA ownership stakes, endorsement deals and overall success in translating his image into a brand.
When Forbes inducted Jordan into the billionaire's club in 2014 — more than a decade after he last played professional ball — the publication called him "indisputably the best-paid athlete of all time." In fact, Jordan made $100 million in 2014 alone, exceeding the earnings of any other current or former athlete and besting the $94 million he earned during his 15 years with the Chicago Bulls and the Washington Wizards.
Read More: NBA All-Stars: How Much Money Kobe Bryant and LeBron James Make Outside the NBA
Michael Jordan's NBA Career
Michael Jordan played 12 seasons of basketball with the Chicago Bulls between 1985 and 1999, including a brief retirement in 1994, during which he played for a minor league baseball team affiliated with the Chicago White Sox before re-entering the NBA in 1995. By the time he retired from the Bulls again in 1999, Jordan had accumulated an impressive five MVP awards, six NBA Finals MVPs, 13 All-Star nominations, a Defensive Player of the Year award and six championship titles. Moreover, no Chicago Bulls player will ever wear Jordan's jersey number, 23, again.
When Jordan was 38 years old, he once again left retirement, this time to play for the Washington Wizards, of which he was a partial owner. By the time he retired for good in 2003, he had played in 1,072 career games and scored an average of 30.1 points per game — an NBA record high. Jordan's official NBA biography refers to the athlete as "… the greatest basketball player of all time." During this time, Jordan also earned $20 million from the movie, "Space Jam."
Read More: Guess the Net Worths of NBA Draft Prospects Like Andrew Wiggins
Michael Jordan's Endorsements
Michael Jordan is also one of the most successfully marketed athletes in history — and he might just be the greatest shoe salesman of all time. Michael Jordan's shoes feature the legendary Jumpman logo, which shows the instantly recognizable silhouette of Jordan's body levitating toward a basket. The first Air Jordan sneaker debuted in stores in 1985, and within a year the brand had earned Nike $100 million. In 2013, the Jordan brand made Nike $2.25 billion, $90 million of which went to Jordan himself.
Today, Air Jordans account for 58 percent of all basketball sneaker sales.
Prior to the arrival of Jordan, James Worthy's $150,000 contract with New Balance was the most lucrative endorsement deal in sports. In 1984, Jordan crushed that record when Nike signed him for a five-year deal worth $7 million, including stock options. In 1991, when the Bulls took home the first of their six titles, Gatorade signed Jordan to a 10-year, $13.5 million deal and released the first of its famous "Be Like Mike" ads. Ball Park Franks paid the sports star $2 million in 1990, Hanes paid him $10 million in 1989, Wheaties paid $2 million in 1988, and he received $200,000 from Chevrolet in 1984 — his rookie year.
In 2013, Jordan was paid a combined $80 million from endorsement deals with Gatorade, Hanes, Upper Deck, 2K Sports, Presbyterian Healthcare, Five Star Fragrances and, of course, Nike. Today, he earns $60 million annually from Nike/Jordan brand royalties alone.
Read More: LeBron James' Net Worth and Stephen Curry's Net Worth: The Real Deal on 2015 NBA Player Salaries
Michael Jordan's Business Ventures
According to Forbes, Michael Jordan's most valuable asset is his ownership stake in the Charlotte Hornets, which is worth more than $500 million. Jordan's timing couldn't have been better in joining the organization. He was approved as majority owner in 2010, when the team, then called the Bobcats, was valued at just $175 million.
In the ensuing years, the value of all NBA teams soared, pushing the team's worth to an impressive $725 million. Jordan also owns seven restaurants and a car dealership, which he can travel to and from on his $50 million Gulfstream IV jet.
Michael Jordan's Family Life
In 2002, Jordan divorced his wife of 13 years, Juanita Jordan. In one of the most expensive divorce settlements in history, he was ordered to pay his ex $168 million, which included the couple's seven-acre, $29 million Chicago mansion.
In 2013, Jordan married 35-year-old Cuban-American model Yvette Prieto at a star-studded wedding in Palm Beach, Fla. In 2014, she gave birth to the couple's identical twin girls.
Michael Jordan's Philanthropic Work
Michael Jordan is affiliated with a wide range of charities, including Special Olympics, Opportunity Village, Make-a-Wish Foundation, St. Jude Children's Research Hospital, the Jackie Robinson Foundation and more. In his first season with the Washington Wizards, the athlete donated his entire $1 million salary to 9/11 recovery efforts and victims' families. In 2015, he donated $8.9 million in winnings from a single copyright lawsuit to 23 different charities in Chicago.
Arguably the greatest basketball player in history — and undoubtedly the richest athlete ever — Michael Jordan continues to add to his fortune each year. Between his endorsement deals and enduring legacy, Jordan is poised to remain one of the wealthiest and most recognizable celebrities on the planet for years to come.
This article originally appeared on GoBankingRates.