With LinkedIn Deal, Microsoft Is Making Its Biggest Purchase Ever
Money is not a client of any investment adviser featured on this page. The information provided on this page is for educational purposes only and is not intended as investment advice. Money does not offer advisory services.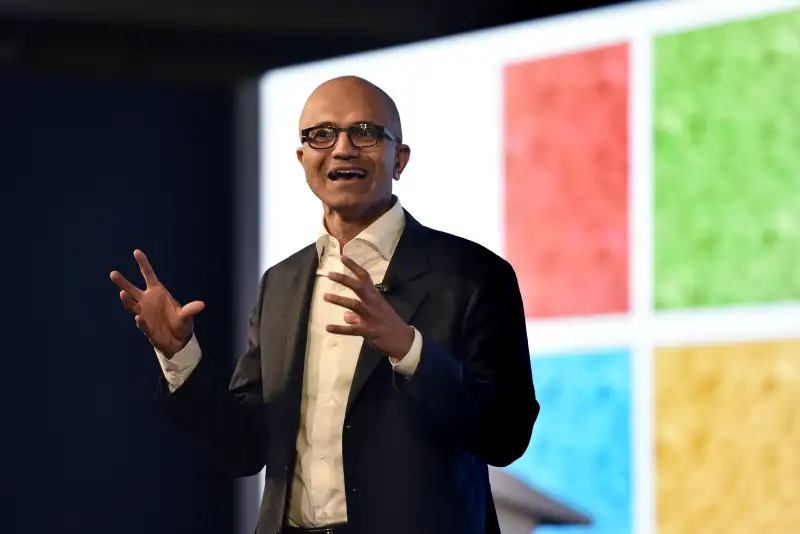 Hindustan Times via Getty Images
Microsoft will buy LinkedIn for $26.2 billion in its biggest-ever deal, marking CEO Satya Nadella's first big effort to breathe new life into the software giant's business-productivity tools.
By connecting core software like Microsoft Word and PowerPoint with LinkedIn's network of 433 million professionals, the deal marks a turn for Microsoft, which stumbled in a mobile phone venture launched under Nadella's predecessor. It also aims to take on challengers in several areas.
The deal could help keep services like Outlook email relevant enough that customers won't want to leave it for rivals such as Google's Gmail, analysts said. And because the acquisition brings a network heavy in marketing and sales professionals, it delivers a shot across the bow to competitors in those areas, such as Salesforce and Marketo.
For LinkedIn, the opportunity to tap Microsoft's customers, including the 1.2 billion users of its Office suite of business software, could help it jumpstart growth, which has slowed in recent quarters.
"LinkedIn and Microsoft really share a mission" of helping people work more efficiently, said Microsoft CEO Nadella in a conference call with analysts. "There is no better way to realize that mission than to connect the world's professionals."
Nadella has been trying to reinvigorate the once-lumbering company since taking over two years ago, and has helped build more credibility around Microsoft's efforts in areas such as cloud-based services. When he took the top job in February 2014, the company's share price was $34.20; early Monday afternoon, it was trading around $50.
"The Venn diagram is pretty big," Nadella said in a separate call with Reuters, meaning the overlap of customers of both companies, although he didn't give a precise number.
In a presentation to analysts, Microsoft said after adding in LinkedIn, the total potential market size of Microsoft's productivity and business-process segment was $315 billion, up from $200 billion without LinkedIn.
Nadella gave an example of a customer walking into a meeting scheduled on a Microsoft Outlook calendar integrated with LinkedIn, receiving notification that one of the people in the meeting went to college with a colleague.
"The future of productivity is around people, identity and data and the relationships between the them," said Matt McIlwain, a portfolio manager at Madrona Ventures. "Microsoft is buying LinkedIn for the opportunity to leverage these capabilities and combine them with Microsoft's strong but complementary assets in those three areas."
The offer of $196 per share represents a premium of 49.5% to LinkedIn's Friday closing price.
Mixed Track Record
LinkedIn's shares soared 47% to $192.42 and Microsoft's shares were down 2.7% to $50.06.
Microsoft has a mixed track record when it comes to acquisitions, with past targets such as business network Yammer, internet video conferencing service Skype and particularly phone company Nokia failing to deliver hoped-for benefits.
Monday's deal raised investors' hopes that another social media company, Twitter, could be the next acquisition target, sending shares up more than 5%.
Reid Hoffman, chairman of LinkedIn's board and the company's controlling shareholder, said the deal has his full support.
Jeff Weiner will remain chief executive of LinkedIn, reporting to Nadella. In a phone call with Reuters, Weiner said LinkedIn would remain its own entity in the way that YouTube is relatively independent from parent Alphabet, or Instagram from parent Facebook.
Microsoft plans to speed-up monetization of LinkedIn by boosting individual and organization subscriptions as well as targeted advertising, it said.
Despite the rich premium paid by Microsoft, LinkedIn is selling for well below its peak of more than $270 per share in 2015. A weak forecast earlier this year sent its shares tumbling amid slowing online ad revenue.
LinkedIn went public in 2011 at $45.
The deal, which won the unanimous support of both boards, is expected to close this year, the companies said.
Microsoft, which has $105.55 billion in cash, said it would issue new debt to fund its acquisition. Moody's said it was reviewing Microsoft AAA rating for a possible downgrade.
After the deal, which will require approval from regulators in the United States, the EU, Canada and Brazil, LinkedIn will become part of Microsoft's productivity and business processes unit, the companies said.
Microsoft's financial adviser was Morgan Stanley and LinkedIn's financial adviser was Allen & Company LLC and Qatalyst Partners, founded by Silicon Valley dealmaker Frank Quattrone.
Microsoft's legal adviser was Thacher & Bartlett LLP and Wilson Sonsini Goodrich & Rosati and Professional Corp advised LinkedIn.
Reporting by Supantha Mukherjee and Anya George Tharakan in Bengaluru, Liana Baker in San Francisco