Was Someone Tipped Off to the LinkedIn Sale?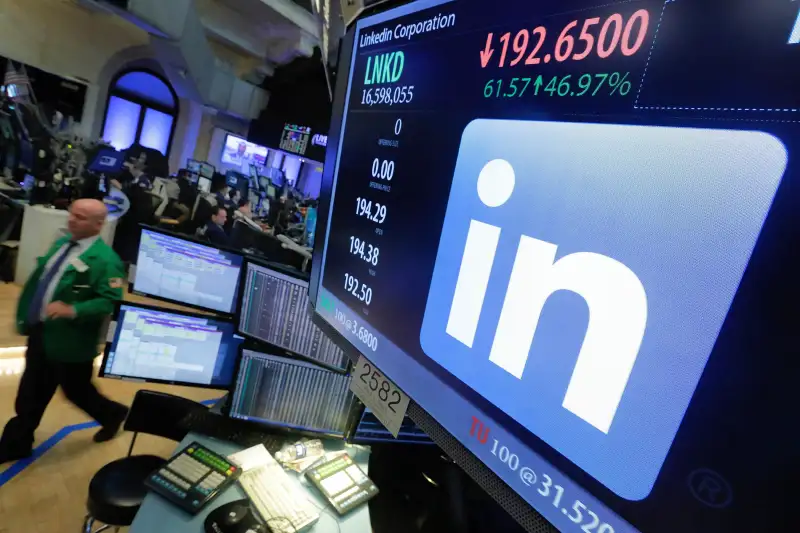 When LinkedIn announced this morning that it would be acquired for $26.2 billion by Microsoft, the entire tech and business press seemed caught off guard. There had been no rumors circulating about such a deal, nor was there even a strategic Sunday night media leak. Moreover, the company's share price actually fell last Friday by a few dollars per share (closing 49.53% below Microsoft's $196 per share offer).
But it does appear that someone might have known what was coming.
Fortune has examined options contract records for LinkedIn, and discovered unusually high trading volume last Friday.
One of the LinkedIn options is a call with a strike price of $160 per share, which is the price at which an option starts to make money, that matures on Aug. 19. They first began trading on Feb. 5, which also represented the day with the most contracts sold, at 121 (the only day of triple-digit action). Well, until last Friday when a whopping 621 contracts were traded.
There also is a $175 per share option that had 331 contracts moved last Friday. That also represents an all-time high, although there also was an unusually-strong action the day before (116 contracts traded) and on May 11 (314 traded).
It is, of course, possible that last Friday's buyer (or buyers?) simply had remarkably fortunate timing. Just how lucky? According to data from Bloomberg, 600 options to buy LinkedIn shares at $160 were bought in two trades on Friday afternoon for a total of $135,100. Those same options are now worth just over $2 million, for a less than one trading day profit of nearly $1.9 million.
Also on Friday, 300 options to buy LinkedIn shares at $175 were bought in four trades. Those options cost $25,000. They are now worth $569,100, a gain of 2176% in less than one trading day. Another red flag: All of the $175 call options were bought in the last five minutes of trading on Friday.
That's some very well timed trades. A more likely scenario, of course, is that someone in the market had an inkling of what was coming.
If this is indeed a case of insider trading, it would hardly be the first time that options trading was the first giveaway. Back in 2011, for example, unusual options trading preceded Hewlett-Packard's purchase of 3Com, ultimately leading to insider trading charges against a hedge fund manager.
An options trader who viewed the data compiled by Fortune said that it likely is too small for an institutional buyer, suggesting an individual trader is more likely.
This article first appeared on Fortune.