Millennial Parents Are More Likely to Save For Kids' College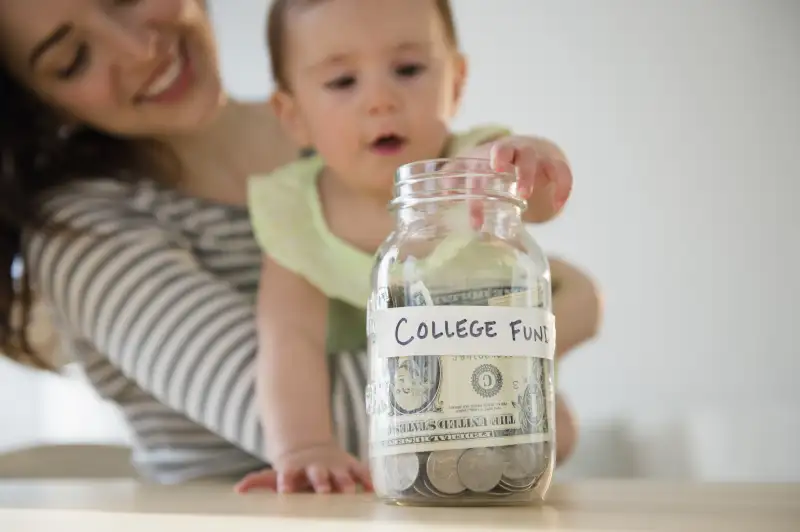 JGI/Jamie Grill—Getty Images
Millennial parents are far more likely than their predecessors to save for their children's educations and far more of them want to pay the whole tab for college, according to a survey.
Whether they will be able to do so is questionable, though, given the relatively small amounts most have saved so far.
74% of parents aged 30 to 34 polled for the 2015 Fidelity Investments College Savings Indicator have put aside money for college, compared to 58% of parents the same age who were polled in 2007.
Nearly half (48%) of the group born between 1981 and 1985 plan to pay for all college costs, compared with just 16% of parents the same age in 2007, according to the survey conducted for Fidelity by Boston Research Technologies.
Check out the new Money College Planner
Millennial parents have spent much if not all of their adult lives living with the fallout from the financial crisis, said Keith Bernhardt, vice president of retirement and college products at Fidelity. That experience has made them cautious about debt and determined to help their children avoid burdensome student loans, he said.
"They've seen the repercussions of taking on too much debt and the cost of that," Bernhardt said.
The current batch of thirty-something parents have saved a median $1,500, though, compared to the $1,000 median amount saved by parents of the same age in 2007.

NEWSLETTER: COLLEGE_PLANNERSign up for COLLEGE_PLANNER and more View Sample
Overall, the parents surveyed hoped to pay for 66% of their children's college costs. Fidelity projected that based on current savings rates, they will be able to cover just 27% of projected college costs on average, Bernhardt said.
Fidelity's survey does not represent the general population. Those surveyed were far more likely to have a college degree, for one thing.
The research firm interviewed 2,470 parents with children aged 18 and younger and household incomes over $30,000 a year or more. Among parents born between 1981 and 1997, 85% of those surveyed had attended college and 61% had college degrees.
Check out Money's 2015-16 Best Colleges rankings
A Pew Research Center survey last year found that 34% of people born between 1980 and 2000 had college degrees and 61% had attended college.
The higher rates of education may explain why these parents are so gung-ho about helping their kids pay for college: these parents understand the benefit. An earlier Pew study found that 86% of college graduates felt their own education was a good investment, even as the majority of Americans (57%) said the higher education system fails to provide good value for the cost.
While they may not be saving enough, the millennial parents polled have done many things right, Bernhardt said. The vast majority of millennials saving for college put money aside monthly (79%), compared to 72% of GenX college savers and 66% of Boomer savers. Most millennial savers (57%) started saving before their children turned six, compared to 47% of GenXers and 37% of Boomers.
43% of millennials polled use 529 college savings plans to save (Fidelity just so happens to offer 529s), compared with 37% of GenX and Boomers.
One thing parents are still getting wrong, though, is being afraid that saving for college will hurt their kids' ability to get financial aid. Fidelity found 53% had that fear, even though money saved in a parent's name-such as in a 529-has only a small impact on aid. Financial aid formulas expect parents to use less than 6% of their non-retirement savings for college. Incomes factor far more into financial aid formulas than assets. "If you save $10,000, you'll lose just $600 in financial aid," Bernhardt said. "They want people to save."