I'm a Millennial and I Used a Travel Agent. Here's What Happened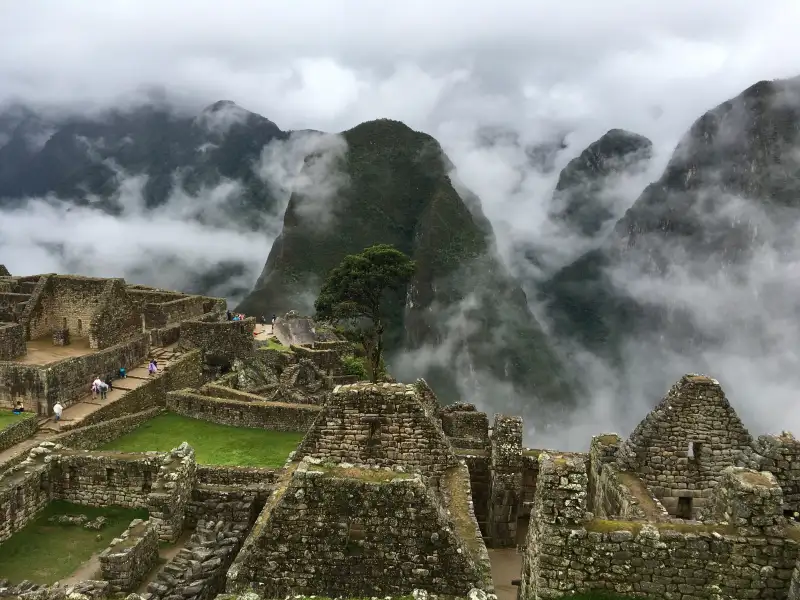 courtesy of Megan Leonhardt
I wanted someone else to do the work for me. So I called a travel agent.
For me, travel agents are nostalgic. When I was a kid, my parents used the travel agents at our local AAA branch to plan family vacations to places like Walt Disney World and Ottawa.
But I'm a millennial—and by the time I was in my teens, travel agents had largely faded from view, replaced by an array of travel websites. So the onus of planning a trip has pretty much always been on me: I've customized my vacations by poring through TripAdvisor forums for hours, and becoming an expert on the cities I plan to visit. It can be especially time-consuming when I'm traveling internationally—which is usually—or going off the beaten path.
Then I saw a recent survey that found travel agents save customers an average of $452 per trip, plus four hours of travel planning time. Since I was already considering a trip to Machu Picchu, I thought that might be a good chance to try it out. I had little experience traveling in South America, and had encountered a lot of conflicting information about this particular Peruvian destination. The situation seemed tailor-made for professional help.
Here's how things actually panned out.
Setting the Parameters
I selected a travel agent who was listed on Travel+Leisure's 2016 A-List of top industry professionals. A millennial herself, she even had a photo of her at Machu Picchu on her profile page; and her agency was part of Virtuoso—a network of travel agencies that promises a "truly personalized" travel experience.
A few days after I reached out, she and I set up a call to discuss my timetable and expectations; she also included a colleague, who wound up handling most our planning. I explained that I was looking for a five- to six-day trip for my sister and me that would include Machu Picchu and the surrounding area. At the time, I was recovering from an injury, so I made sure to stress that I wasn't comfortable doing any extreme hiking—no Inca Trail for us.
We wanted to keep the total budget to a couple of thousand dollars per person. She assured me that was very feasible and we agreed to pay a $500 non-refundable deposit in exchange for their assistance planning and organizing the trip.
Four days later, they sent us a sample itinerary, along with suggested flights. We would fly into Cuzco and immediately drive to the Sacred Valley, where we would explore other Inca cities and explore the Peruvian culture. Then we would travel by train to Machu Picchu and finally wrap up back in Cuzco before heading home.
The total listed at the bottom of the itinerary was about $3,200 for the two of us—right within our budget.
Pricing Surprises
I had a few questions about the itinerary, but after about 10 days of back and forth, I agreed to book the trip as planned. That's when the first hiccup occurred. In the intervening time, they said, the flight prices had gone up by over $200 per ticket. I figured that would still be in our price range, though—and I did some flight searches and couldn't find anything better—so I agreed to the higher airfares and asked for the new trip total.
That's when I got a second, more unpleasant shock. The travel agent sent a note saying the trip total was now about $5,300 for two—more than $2,000 above the quoted price in the itinerary. When I questioned the increase, she maintained that the "land" portion of the trip (hotels, train to Machu Picchu, transfers, etc.) had not increased—just the flight prices had risen. But then where was the extra cost coming from?
It turned out that the original itinerary she'd sent us—the one we'd used to make our initial decision—did not include airfare at all.
I was annoyed, but at this point I felt stuck. With just a few months to go till departure, I didn't have time to plan a trip with my usual care. We'd also lose our deposit if we withdrew now. So I found a compromise: We avoided their $90 booking fees by purchasing the flights ourselves, but gave the green light for her to arrange the rest of the trip.
Mismatched Expectations?
Last year's study suggested that there would be not just financial savings but a cut in prep time. Because I'm a planner by nature, I was hoping to gain the confidence that someone else was doing the detailed work for us—allowing me to relax.
On that front, too, things came up short. Three weeks before the trip, I still hadn't heard anything or received any updates. I reached out to our travel agent, who responded four days later—saying she was about to send along the full itinerary and vouchers. Sure enough a package soon arrived in the mail: an old-school zippered case complete with tear-off travel vouchers. The kit also contained a packing list and some information about Peru, plus the same basic itinerary we'd gotten three months earlier—without times for tours, or train departures and arrivals.
It also became clear that our travel agency hadn't planned the trip itself. Another travel company, Avanti, was listed as our main tour provider.
I was frustrated, and stressed. And I had questions. What was I supposed to do with vouchers? (I was pretty sure the train operator was going to require actual tickets.) What time was I supposed to turn up at train stations? How would I find my tours?
It took me several attempts, but I finally reached our travel agency and got at least some answers. The main response was that once I arrived in Cuzco, a driver would pick us up at the airport and would give us a more detailed itinerary with exact times and departure points. (A tour guide handed over our tickets later.)
And that was the last time I heard from anyone at the travel agency.
The Trip Itself
Once we were launched, the trip itself went fairly smoothly. There was a driver waiting for us at the airport when we arrived and we were whisked away from Cuzco in a private car to the Sacred Valley.
For that, I do have a travel agent to thank—but it was not anyone at the agency I'd worked with. Our entire trip—the transfers, the hotels, the trains and the tours—were all organized by a local company, Condor Travel. They were lovely, and relying on them allowed us to avoid worrying about contingencies—when, for instance, our train was delayed. I'd highly recommend them. But with hindsight, I would have booked with them directly and cut out the middlemen. (A spokeswoman for the Virtuoso network said that it monitors client satisfaction and provides a program for seeking feedback from travelers—although only about half of the network's travel agents actually participate in the system, she said.)
There were some downsides, however. Our trip appeared to be aimed at a middle-aged American couple. We were the only travelers under age 50 at our hotels in Sacred Valley and Machu Picchu, for instance. Also: Despite my request for a trip with minimal hiking, the tour included the Huayna Picchu hike at Machu Picchu—a steep, 1,000-foot climb up a mountain, and not well suited for someone coming off an injury.
The Verdict
In the end, I don't think that the hypothesis bears out—or at least, it didn't for me. I almost certainly didn't save any money. According to Money's recent Best in Travel report, the cost for two people to spend a week in Cuzco—including airfare—is about $3,005.
And for me, using a travel agent didn't save any time. If I had been willing to simply show up and trust that everything would work out, perhaps it would have. But I'm the kind of traveler that likes to have all the details worked out ahead of time, and so all the back-and-forth and additional research meant that I didn't experience this benefit.
Clearly, travel agents are best used for more complex vacations, rather than simple trips. Perhaps they're also best for inexperienced travelers or those who want a more hands-off experience. But if you're already a black-diamond traveler and want more control and more customization, you're probably better off spending the time planning the trip yourself, or springing for a higher-end travel professional. (For those, you'll have to pay more; we didn't pay our agent a separate planning fee.)
"The main advantage for using a travel agent should be that this professional brings experience and knowledge to your vacation," says David Else, a travel writer and expert for Lonely Planet. That can depend on both the individual travel agent and the traveler, he says.
Even delegators should do a bit of prep work, he says—researching the destination in advance, for instance, in order to ask the right questions and clarify expectations for the trip. Ask in advance if the travel agent has actually been to your destination, and whether they're planning to arrange your details personally or outsource your experience. "It's not that unusual for a travel agent to pass on the work to a third party on the ground," Else says. But if they do, he adds, you are well within your rights to ask how frequently they work with that company and seek testimonials from previous clients.
The Virtuoso spokeswoman also recommended that clients "communicate up front" what services they want—and expect—the agent to provide. This is certainly something I could have been better at doing—and I realize now that it might have saved me some unnecessary stress.
There's one other point to be made: Know when to walk away. If at any point you feel like you're not getting your money's worth, or that your safety is somehow being compromised, don't be afraid to abandon a couple hundred dollars in order to avoid further frustration (or worse). I suspect we should have cut bait when the first pricing issues arose—and certainly, we should have skipped the hike once we understood what was involved.
In the end, that was probably the most valuable lesson I learned.