White House Says Increasing Minimum Wage Could Reduce Crime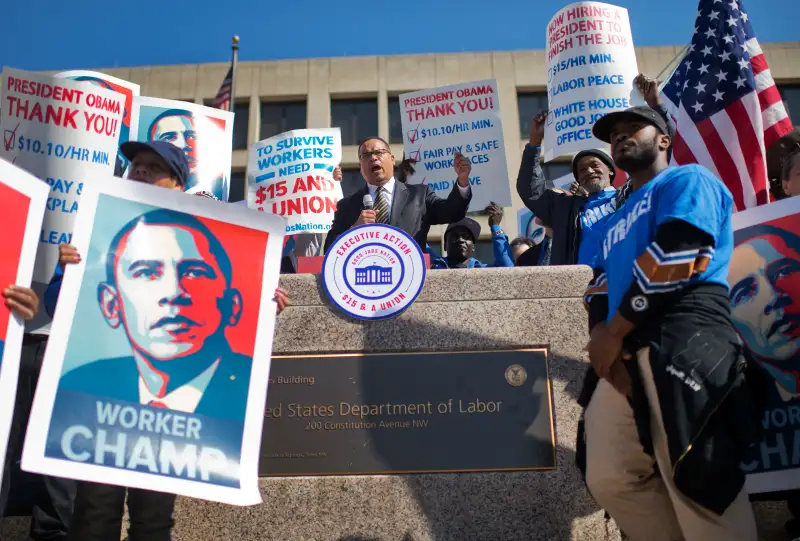 Tom Williams—CQ-Roll Call,Inc.
Proponents of raising the minimum wage argue that it will reduce income inequality while keeping job creation consistent. However, this week the White House has presented another justification in support of a higher minimum wage: it could reduce crime.
The Council of Economic Advisors, which advises the president on economic policy, found in a new study that better wages are among the key factors that lead to reducing crime. "The impact of wages on crime is substantial," the report stated. "A 10 percent increase in wages for non-college educated men results in approximately a 10 to 20 percent reduction in crime."
The report also found that increasing the minimum wage to $12 by 2020 would result in a 3% to 5% decline in crime—amounting to between 250,000 to 510,000 fewer crimes—and a "societal benefit" of $8 to $17 billion, the Atlantic reported.
The study's findings deviate from decades of research that supports the criminal justice system's ability to promote and reduce crime. "Higher levels of imprisonment have occurred despite—not because of—changes in underlying criminal activity," the authors wrote in the study.
The Council outlined several specific policy recommendations for state governments and private businesses for dealing with the formerly incarcerated, such as delaying criminal background checks beyond initial job applications. The Departments of Justice and Labor also plan to create a National Clean Slate Clearinghouse, which will help legal-aid programs and reentry-service providers with record-cleaning and expungement.
Still, the Obama administration will likely face hurdles as it attempts to implement these recommendations. More than 46,000 state and federal laws restrict employment for people with criminal records, and more than 70 percent of employers conduct criminal background checks.

The Council also found that applicants with criminal records were 50% less likely to receive an interview request or job offer—which in part leads to their struggles with underemployment, low-wage jobs and stagnant skill sets. It also means that formerly incarcerated people earn between 10% and 40% less than other workers.