What Happens to Your Mortgage in a Divorce?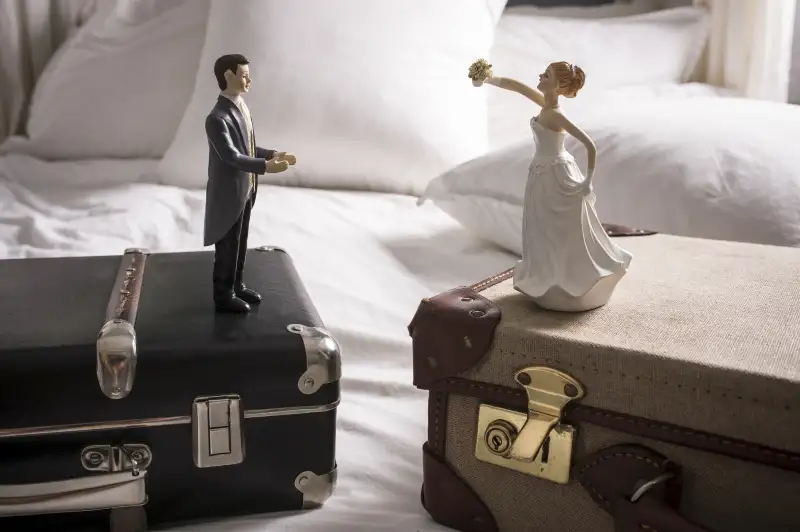 David Cleveland—Getty Images
Divorce is a messy and emotional situation, and it can wreak havoc on your finances. One of the major assets that couples share is their home mortgage. Handling your mortgage correctly in the divorce will help you and your ex go your separate ways on the right foot financially.
1. Selling Is Often the Best Option
Your best option is usually to sell your home. This is easiest done if you have equity in the house, and the house can be sold and the profit split. Emotionally, selling will not always be the easiest, especially if you raised your children in that home or have other fond memories. From a financial and logical standpoint, selling the home and splitting the profit is the cleanest way to deal with the mortgage.
2. Decide if One Spouse Can Take Over the House Payments
If one spouse wants to keep the home, then they can refinance the home under their own name. In order to do this, they will need to qualify for the refinance with just their income.
It is not wise or advised to trust that your ex will make the mortgage payments. Even if your name's not on the deed, as far as the mortgage company is concerned, you and your ex spouse are both fully liable for the mortgage costs each month. Therefore, if your ex misses a payment, or if something happens to them, such as disability or death, you will still be held accountable for the payments.
Even if your ex is the most trustworthy person, having your name tied to that mortgage loan means that you will not be able to get another mortgage unless you have enough income to qualify for another mortgage. It might even prevent you from getting a place to rent, since many landlords want to be sure you have enough income to pay for the rental.
Read More: 6 Options if You're Underwater on Your Mortgage
3. Should You Sign a Quitclaim Deed?
A quitclaim deed is a legal way to transfer interest of real property. Signing this deed means the person is forfeiting their claim and right to the property. Signing this deed in divorce gives the other party full rights to the home, but your name still remains on the mortgage. You will still be held accountable for any missed mortgage payments and your credit score will be affected.
Remember, the deed and mortgage are two different things, and the quitclaim deed cannot remove your name or responsibility from the mortgage.
Another important thing to know about quitclaim deeds is that if you sign one, you are forfeiting the right to sell and profit from your home sale. For example, say you sign a quitclaim deed because your ex wants to pay the mortgage, but cannot afford to refinance. Now that your name is off the deed of the home, your ex can sell or refinance the house any time and will not owe you anything.
Read More: 5 Ways to Protect Your Business During a Divorce
4. When You Can't Afford to Sell
While selling the home is the cleanest solution, things get complicated when more is owed on the mortgage than the house is worth. Couples that cannot afford to sell the home during the divorce can try one of these three options.
Short Sell the Home
A "short sale" is a home sale in which the mortgage lender agrees to accept less than the full value of the property and cancel the debt. A short sale will negatively impact your credit score and it can have tax implications, as the debt cancellation offered by the lender is viewed by the IRS as income. (Note that a law passed in 2007, and subsequently extended through 2016, exempts debt cancellation income.)
Rent the Home
If both you and your ex can agree on renting the home out for a period of time, then you can delay the sale of your house until you have more equity. Renting does buy you time and prevents a short sale, but renting comes with a host of responsibilities — which you'll share with your ex.
Continue to Live Together
This option is for only a select few couples who can live peacefully under the same roof. While the situation is not ideal, it can save both parties money, since it allows them to wait until the house market goes up.
Read More: Ask Yourself These 5 Questions Before Buying a Home
5. What to Do When Things Get Complicated
Divorce can bring out the worst in people, and many times, an ex spouse will not be willing to sell the home or some other issue. This is why it is important to consult with a divorce attorney. A divorce attorney can help you understand your legal rights when it comes to the mortgage and protect you from doing something unwise.
It is a good idea not to finalize the divorce until your mortgage issues are settled. Be prepared to get court orders to make your ex remove your name off of the mortgage through selling or refinancing.
No one buys a house with their spouse with intent on getting a divorce. Unfortunately, these things happen. It is best to protect yourself and your assets by making decisions based on logic rather than emotions.