These Are the 4 Most Common Credit Card Scams. Here's What to Watch Out For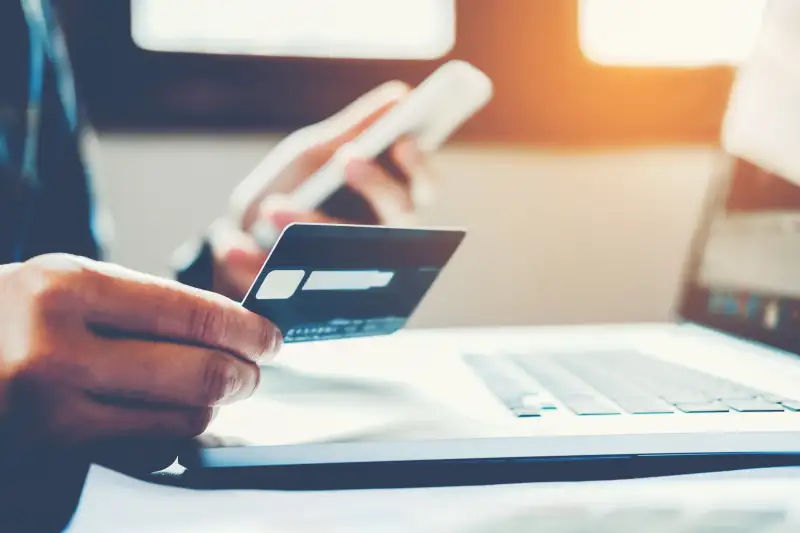 SARINYAPINNGAM—Getty Images/iStockphoto
Credit card fraud can take shape in ways that look much different than someone simply stealing your credit card. While technological advances have provided ample means of convenience in personal finances, they've also paved the way for more web-based credit card scams than ever.
However, prevention isn't out of your reach. All it takes is a little education on what to look out for.
Four of the most common credit card scams
1. Offers to pay fees in advance
How it works:
Some businesses may promise credit cards with good terms, but there's a catch — you must pay an upfront fee to get your account set up. Once you've paid the fee, however, you won't hear from them again.
Keep in mind that the main target of advance-fee scammers is a person who is desperate for a card with great rates and terms.
However, make sure you don't confuse this scam with legitimate credit card offers. After all, some credit cards for bad credit do charge an application fee and many secured credit cards require a cash deposit to get started.
How to avoid this scam:
Only sign up for credit cards from legitimate banks and credit card issuers. Also, never respond to a credit card offer that comes through an unsolicited email.
2. Robocalls
How it works:
You may have received some promising phone calls from companies who claim to want to help you get a new credit card. They may even say they can reduce the interest rate on your current credit cards so you can save big on interest payments.
The problem? You never signed up to receive this communication, and you never really know who is on the other line. Many companies who offer these perks will also ask for money upfront, and they simply cannot deliver what they promise. They may also try to steal your identity if you give up any personal details.
How to avoid this scam:
According to The Federal Trade Commission (FTC), if you receive an unsolicited phone call, you should simply hang up. Don't press any numbers to be taken off the list or ask to speak to the operator. They also suggest signing up for the national "Do Not Call Registry," and reporting to the FTC online.
3. Phishing emails
How it works:
Phishing emails are similar to robocalls in that they're unsolicited, but their goal is trying to catch you off guard. Many times, scammers will send emails that intend to impersonate your credit card company, and they may ask you to reply to confirm your credit card number or personal information.
Other times, they may even say they notice "suspicious activity" or a problem on your account to get you to enter your login information.
How to avoid this scam:
The FTC says that while many phishing emails can seem legitimate, you should never click on an email, log into an account or offer up your personal details. They also recommend downloading security software on your computer and protecting all online accounts you use with multi-factor authentication if available.
4. Credit card skimming
How it works:
Credit card "skimmers" are illegal contraptions expertly hidden on ATMs, gas pumps, and other areas where you insert a credit or debit card. The goal of skimmers is to discreetly steal your credit card information while you're making a transaction.
How to avoid this scam:
The FTC suggests looking closely at any credit card insertion point before you use your card. Skimmers may not be noticeable if you don't take time to look, but they might move if you physically wiggle the card reader before you use it. When it comes to pumping gas, you can always pay inside the station with the cashier, instead of using an outside terminal.
Establishing some common sense habits
Avoiding credit card scams, as well as cases of accidental fraud, starts at home. Never give your credit card number or any other sensitive information to anyone online or over the phone in a situation you don't initiate.
It's safe to research credit cards and apply for one with a reputable website on your own, but you should never do so if you received an invitation to reply via email or over the phone. If someone calls you on the phone asking for you to confirm your account details with a company you use, hang up and call the company separately using their normal customer service number. That way, you can confirm they are who they say they are.
Also, keep a close eye on your credit card accounts and any charges made. Once you get in the habit of checking your statements regularly, you can report any suspicious activity right away. Federal law dictates that you're only on the hook for up to $50 in fraudulent charges made with your credit card number. However, most credit cards offer zero fraud liability — meaning you're liable for zero, provided you spot the fraudulent purchase and report it. If you don't, it can be a very long time before you realize there have been some unauthorized charges made.
Bottom line
Always err on the side of caution, even if a website claims to be secure. Truly secure websites will always start with https:// and display a small padlock icon in your browser's address bar. Taking your time to look for easily recognizable signs like these before making sensitive transactions goes a long way toward avoiding long lasting financial trouble.
This article originally appeared on Bankrate.