These Are the Most Expensive Homes on the Market in Each State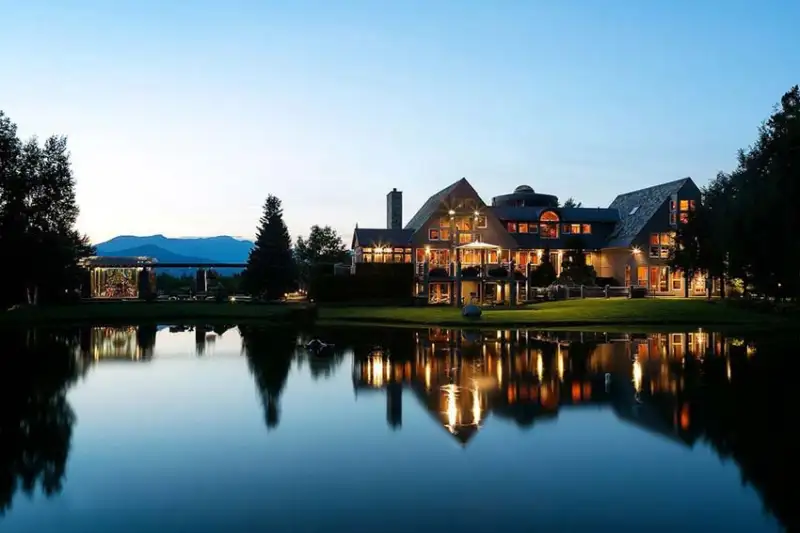 When you hear the phrase "dream home," what comes to mind? A hot tub? A private island? Or, what about a parking lot for your private jet? For a hefty price tag, you can have all of that—and much more. Real estate site Zillow shared with us its roundup of expensive homes on the market across the nation, and these sprawling properties are taking luxury to a whole new level. From an oceanfront estate in Alaska where you can whale watch from the windows, to a 345-acre property in Ohio that comes with a private lake, every state in America has its own style when it comes to luxury homes. Home gyms, movie theaters, and pools are just the beginning. Forget having a tennis court if you could have a private polo field or an 18-hole golf course instead. Why have just one pool if you could have two and access to a private beach? Even more, these houses have indoor basketball courts, equestrian facilities for more than 20 horses, and some even come with the title of being the owner of the country club next door. There's no expense spared when it comes to the amenities. Let's be real, you might not be able to purchase these homes, but there's nothing wrong with daydreaming about owning these mansions. Take a peek at how outrageous these luxurious properties are—you might even find some inspiration for your own dream home (that's on a much smaller scale, of course).
Alabama
16801 Scenic Hwy #89, Fairhope, AL
Price: $9.9 million
If Chateau Montagel reminds you of a European palace, it's for good reason. This estate is definitely a building fit for royalty. In addition to the classic design, the 54,000-square-foot home boasts 15 bedrooms, 22 bathrooms, 12 fireplaces, a 2,000-bottle wine cellar, and a home theater complete with a box office, for all your movie watching needs. Adding to the royal feel are interiors including intricate ceiling frescoes, mahogany doors, and crystal chandeliers. Behind the house is a gorgeous in-ground pool and two-bedroom guesthouse with a home office and workshop. Chateau Montagel is located in the exclusive Shoal Creek Community, which offers a members-only golf club, boarding stables, and 24/7 gatehouse security.
Alaska
74200 Alaskan Oceanside Paradise, Anchor Point, AK
Price: $3.9 million
While "beach house" might not be the first thing that comes to mind when you think of Alaska, that's exactly what this oceanside paradise is. While the water may be way too cold for swimming, you can sit back and watch whales and sea lions through the home's floor-to-ceiling windows. Located on the property is a 1897 historic gold mine, with some equipment still present onsite. Own a private plane? No problem—you can fly it easily from the Anchor Point Airpark nearby and leave it conveniently at your own lot across the street.
Arizona
8055 N Mummy Mountain Rd, Paradise Valley, AZ
Price: $20 million
Step into this five-acre estate and you'll feel as though you've been transported to a Mediterranean getaway. Nestled in the heart of Paradise Valley at the base of Mummy Mountain, this manor is perfectly positioned to take in the spectacular valley views. This estate is truly luxurious and features a guesthouse, 1,800-square-foot fitness facility, a tennis court, and a private movie theater with tiered seating. With a hot tub, sauna, and jetted tub, this retreat offers countless ways to unwind. For the music lover, practice in the comfort of your own home with an ultra-modern music studio and a custom-designed instrument showroom. And there's no need to worry about communicating across the 25,000-square-foot house—just use the built-in intercom.

Arkansas
For sale: $10.9 million
This sophisticated Mediterranean estate looks like a palace and features four bedrooms. Beautiful marble staircases and floors, chandeliers, and lush green grounds give the house a dramatic look. Entertain in style with a gentlemen's card room, theater with tiered seating, and a large backyard pool and patio. From the inside, take in stunning views of the modern pool and beyond with floor to ceiling windows. Kids can play and explore all year round with an indoor authentic redwood treehouse that even comes with a swing. Best of all, handrails, ramps, and an elevator make the house wheelchair and stroller friendly.
California
924 Bel Air Rd, Los Angeles, CA
For sale: $250 million
For nearly 100 years the historical Rancho San Carlos was owned and inhabited by one family, but now it can be yours—for the small price tag of $125 million dollars. The exquisite estate was designed by Reginald Davis Johnson, the architect behind a number of churches and schools in Pasadena, California. Located in beautiful Santa Barbara, this sophisticated 12-bedroom home features a central courtyard. The master and family bedrooms are situated on two natural terraces, providing exceptional views of the surrounding mountains. Also located on the property are 10 residential cottages with charming terracotta roofs, orchards, and extensive equestrian facilities including numerous pastures and a covered paddock.
Colorado
For sale: $80 million
This enormous lodge will redefine your definition of "log cabin." Nestled in the mountains near downtown Aspen, this 82-acre home is perfect for a seasonal extended family getaway or year-round use as a group retreat space. With 26 bedrooms and 31 bathrooms, it's definitely roomy enough for even the largest of families. The interior is classically rustic with dark wood accents, warm chandelier lighting, and large stone fireplaces. Venture into the surrounding mountains for winter activities and spend the summer nights outside, hanging by the fire and swimming in the pool. Also located on the property are three additional single-family homes, perfect for guest use.
Connecticut
For sale: $175 million
If you've ever wanted a private island but aren't ready for the isolation of ocean life, you're in luck. This secluded waterfront estate is the best of both worlds: a 63-acre private waterfront property, only minutes away from Greenwich. On the property you'll find stables, substantial equestrian facilities, and a private polo field for friendly matches. The romantic 10-bedroom, nine-bathroom house is made from Italian stone. Get right into the water at the private beach and boat launch, complete with a private boathouse. With wraparound views of the Long Island Sound, a picturesque lighthouse, and the Long Island Shore, there's always a new angle to watch the sunset.
Delaware
27 Hall Ave, Rehoboth Beach, DE

For sale: $5.75 million
This oceanfront estate is truly a sea-lover's dream: not only is it situated directly on the waterfront, but the entire home inside is nautical-themed with sand-colored floors and stained glass windows featuring oceanic scenes. The rooms are airy and bright thanks to high vaulted ceilings and countless windows. With seven bedrooms and 10 baths, it's ideal for a vacation home for a large family. For cloudy days, a hot tub, wet bar, and fireplace set the scene for a relaxing day at home. An outside shower makes it easy to wash up after a dip in the ocean, or before a swim in the above ground pool.
Florida
1071 N Ocean Blvd, Palm Beach, FL
For sale: $69.9 million
You don't just get access to one private beach on this property—you get access to two. Nestled in between the Atlantic Ocean and the Intracoastal Waterway, this Renaissance-style compound offers eight buildings including several guesthouses, a pool, and gym. The private dock attached to the property is large enough to fit multiple vessels. Final touches on the buildings were completed in 2015, so all the structures are either brand new or recently renovated. Lush landscaping adds to the beauty of the property, and thanks to the double shores, you can watch the sun rise in the east and set in the west.
Georgia
For sale: $48 million
This exquisite brick and limestone estate was only built in 1995, but thanks to classic accents and antique statuary you'll feel like you're on the grounds of a vast European manor, instead of in Atlanta. The back of the house features a grand staircase leading to the grounds, where you'll find a saline Pebble Tec pool, a one-bedroom pool house and a four-bedroom guesthouse. Vaulted ceilings and wide windows allow the light to pour in from all sides, but the surrounding greenery still allows for privacy. On warm days, sit back and relax on one of the stone patios or spend the day playing a few rounds on the tennis court.
Hawaii
For sale: $35 million
This modern estate was built with the intention of fusing contemporary and historical Hawaiian style. The low-profile home complements the surrounding natural elements, encourages fluid movement between outdoors and indoors, and allows for the natural beauty of the area to shine through. Through wraparound windows you can look at the coastal bluff of Kauai's shore, plus, the mountains, shoreline, and reef nearby. With six bedrooms and eight bathrooms that are broken up into 14 "pods," the architecture gives the feeling of intimacy while still being large enough for extended family and a number of guests.
Idaho
125 Sheep Meadow Ln, Ketchum, ID
For sale: $20 million
Nestled near the mountains and lush national forest in central Idaho sits this 15,00-square-foot home. The stone exterior gives the house a traditional look, but the interior is an incredibly modern work of architecture. Cathedral ceilings and gorgeous floor-to-ceiling windows on the sides and back of house flood the living spaces with natural light, allowing residents to look out on surrounding greenery. Contemporary chandeliers and light fixtures throughout the house give the feeling of luxury while remaining visually unique. A number of fireplaces on the property are the perfect locations to gather with friends and family, including a covered outdoor fireplace for chilly summer evenings. Other luxury amenities include a home movie theater, spa with massage table, fitness center, and outdoor pool with hot tub.
Illinois
1932 N Burling St, Chicago, IL
For sale: $50 million
Nestled in a suburb of Chicago is this 22,000-square-foot architectural masterpiece. Drive through the gates and up the long, stone driveway to the grand entranceway complete with four regal pillars. Inside, marble floors and hardwood accents give the home warmth and a timeless feel. The large kitchen island and the wet bar make this a perfect place for entertaining friends and family. In the back of the house, large windows allow for sweeping views of Goose Lake and the surrounding countryside. On the weekends, relax in style by the pool, in the sauna, or in the home's private theater with a glass of wine from the wine cellar.
Indiana
5501 W Hamilton Rd S, Fort Wayne, IN

For sale: $30 million
This exquisite estate, known as "Freeland Farms," is truly a work of art. The stonework and pointed roof on the outside of the house give it the feel of a castle, and red wooden doors on the structure adds a classic pop of color. In addition to the main house, this property offers a guest apartment and a detached stone home with finished basement. This museum-like castle boasts large stone towers, elevators, and seven acres of private lake. Small footbridges throughout the property make it easy to explore the beauty of the grounds, complete with emerald lawns and towering trees. The state-of-the-art equestrian facility is perfect for both amateur and competitive riders.
Iowa
For sale: $10.9 million
This unique property, known as "Peace Harbor," boasts both creative architecture and gorgeous natural landscapes for a winning combination. Floor-to-ceiling windows overlook expansive views of Spirit Lake, while modern sculptures are found throughout the beautiful grounds. Inside, contemporary finishings and modern furniture give the house a sophisticated feel. Perhaps the most surprising asset is the private underground pub complete with a fake storefront called "Kevin O'Sullivan's." Inside you'll find a wet bar, a pool table, and stage area for musicians to jam. The house also includes a home theater with tiered seating, a four-car garage with detached 2-bedroom caretaker's apartment, six fireplaces, and a home gym.
Kansas
6544 Wenonga Cir, Mission Hills, KS 66208

For sale: $10.395 million
While this Georgian-style gated estate doesn't rank as the largest on this list, its worth comes from its details. The exterior is covered in antique reclaimed brick with white pillars and black shutters accenting both the front and back of the house. Hand-planked interior flooring, Venetian-style hand-plastered walls, and the detailed Amish craftsman-carved archways and moldings all add to the architectural interest of this home. Limestone patios and a two-story cabana complete with a bedroom and bathroom sit adjacent to the pool. An added treat: heated floors are ready to warm your feet after taking a dip.
Kentucky
For sale: $16 million
This expansive estate is ideal for the equestrian fanatic—not only does it boast a 20,000-square-foot historical barn with 24 stalls and 3,500-square-foot carriage house, but it's also located just miles from Churchill Downs, home to the Kentucky Derby. Above the barn is an apartment, perfect for a stableman's quarters. The other living spaces on the property include the main house, which is nestled intimately among trees, a caretaker's quarters, and a detached indoor pool surrounded by glass windows and a glass roof, giving it a very indoor-outdoor feel. Tree-lined pathways around the property are ideal for after-dinner walks or trail rides.
Louisiana
3608 W Prien Lake Rd, Lake Charles, LA

For sale: $6.2 million
This Lake Charles house is one of the smallest properties on the list, coming in at just under one acre, but the scenic location and the details, like the charming terracotta roof, make it dream home worthy. The interior of the house is thoughtfully designed, with hardwood accents, marble countertops, and an elaborate winding staircase. Commercial grade stainless-steel appliances, including a double oven, make it perfect for the passionate home cook. Outside, sit by the pool while looking at expansive views of gorgeous Prien Lake and the surrounding lush landscape, or enjoy the view from one of the home's numerous covered patios and balconies.
Maine
144 Frazier Pasture Rd, Ogunquit, ME

For sale: $12.6 million
This classic Shingle-style home and its accompanying guesthouse were completed in 2014, giving it a timeless feel on the outside with modern amenities on the inside. The inside details include a sleek kitchen featuring an enormous kitchen island, Calacatta marble countertops, and a walk-in chef's pantry. The property also boasts numerous balconies large enough for entertaining, a home movie theater with tiered seating, and a gorgeous 40' x 20' saltwater pool perched at the edge of the property with expansive views of the Atlantic Ocean and nearby Marginal Way, one of New England's only paved, public shoreline footpaths.
Maryland
5517 Pembroke Rd, Bethesda, MD

For sale: $18 million
This gorgeous 20,000-square-foot home is perfect for a large, active family, and its proximity to Washington, D.C., make it ideal for an easy commute to the capital. The stone and stucco exterior give the house a timeless feel, while the well-kept greenery adds to the natural beauty of the estate. The inside boasts both a home gym and an indoor basketball court, perfect for shooting hoops all year round. There's also a home movie theater, private library, and live-in staff quarters. During the warmer months, gather by the outdoor pool or take a dip in the hot tub.
Massachusetts
150 Woodland Rd, Chestnut Hill, MA

For sale: $90 million
This expansive 14-acre estate is situated just five miles from Boston, but thanks to the surrounding lush forest, rolling lawns and ponds, you would never know the city was so close. Drive down the winding driveway to find this massive curved limestone home situated in the middle of the property. The inside of the home is just as impressive as the landscaping, with hand-drawn stone covering the floors and majestic winding staircase. Turf walkways and pathways wind through the property, making it easy to explore the beauty in every inch of green space. The house is also surrounded by both a country club and an additional golf course, making it perfect for a golf enthusiast.
Michigan
10034/9875 Anglers Cv, Charlevoix, MI
For sale: $12.9 million
This historic log cabin situated on Lake Superior was built in 1923, and despite its large size, the traditional woodwork gives an incredibly cozy feel. In addition to the main house, the estate also includes a private island, a working farm with an apple orchard, over one mile of private Lake Superior beach, and 13 other properties. The rooms are all uniquely designed, some with birch walls, some with hardwood, and some with intricate interior stonework. Countless windows in the bedrooms and living spaces open up to sweeping views of the lake, and in the cooler months the original fireplaces, including one designed to look like a teepee, will keep you and your family warm.
Minnesota
2825 Little Orchard Way, Wayzata, MN

For sale: $11.9 million
This European-inspired estate is tucked away on a suburban cul-de-sac and only a short drive from Minneapolis. Inside you'll find custom artisan finishes, granite countertops, and intricate stone and woodwork. The kitchen and dining areas flow seamlessly together, and the double oven and large center island are perfect for entertaining. Beside the lake on the property is a detached studio guesthouse built in the same creative style as the main building, and a nearby dock makes accessing your boat easy. Also inside the main home are a large private gym, two elevators, a one-of-a-kind French-inspired home theater, wine cellar, and cigar smoking room.
Mississippi
845 E Scenic Dr, Pass Christian, MS

For sale: $6.999 million
This elegant beachfront estate is nestled on the coast of the Gulf of Mexico. Located on the grounds are the main home, two guest cottages, a pool, and gazebo. The main home is classically designed with white pillars on the outside and throughout the house, a long winding staircase in the entryway, chandeliers, and hardwood floors. Other features of the main house include a gated entrance, formal library, a recreation room, 15 bedrooms, and soaring ceilings. The well-kept property is covered with scattered palm trees and countless other trees and shrubs, while the huge, flat lawn is ideal for throwing large parties.
Missouri
1700 S Warson Rd, Saint Louis, MO
For sale: $10.75 million
This is the first time this massive estate has been on the market since it was built in 2000, and its elegance truly speaks for itself. When you enter through the front doors you'll find a sweeping double staircase, and a number of gigantic chandeliers. In the rest of the nearly 30,000 square feet of living space you'll also find amenities like a wine storage room adjacent to the dining room, a two-lane bowling alley and billiards room, a racquetball court, a spa and a home movie theater with seating for up to 16. Outside on the property you'll find a beautiful pool, tennis courts, a rose garden and a koi pond.
Montana
Montana's Shelter Is, Rollins, MT

For sale: $29 million
Nestled on 22 acres of private island surrounded by one of the cleanest lakes in the world, Flathead Lake, this estate boasts a location like no other. This three-story house was built to maximize the natural surroundings of the home, including 45-foot ceilings, a glass-walled observatory, and full balconies. Inside, a commercial grade kitchen, complete with a full dining area and a wine cellar make this the perfect location for entertaining guests. You'll also find an indoor shooting range and a heated boat stall with a rail system that makes it easy to bring your boat in and out of the water. The detached two-bedroom guesthouse also has its own boat storage, and was designed with the same handsome hardwood detailing as the main house.
Nebraska
For sale: $2.5 million
This gorgeous, gated log home is the perfect prairie escape for any equine-lover. The house is made with light, handcrafted Montana wood, which gives the entire home a warm, bright coloring. The property features extensive equestrian facilities: a log carriage home, a 14,000-square-foot riding arena with a viewing room, and various stables and pastures. The home also has a patio complete with a barbecue pit (a grill and a smoker) and a round bar with high-top seating, perfect for dinner or drinks outside. A pond on the property is stocked with bass, crappies, and bluegills for fishing.
Nevada
550 Sierra Sunset Ln, Zephyr Cove-round Hill Village, NV
For sale: $59 million
Far, far away from the bright lights of Las Vegas sits this beachfront Lake Tahoe estate. The stone exterior looks beautiful against the lush green lawn and the bright blue lake. In addition to countless bedrooms inside the house, you'll find a game room, home movie theater, sauna, gourmet kitchen with a large butler's pantry, wine room, and two home offices. Relax outside during the warmer months on the patio or porch, both with sweeping views of Tahoe and the surrounding neighborhood. The property also hosts two outbuildings and a 15-stall equestrian barn, as well as chicken coops, paddocks, and meadows. Another benefit of the location: unmatched lakefront access, which includes a private boat dock.
New Hampshire
142 & 144 Hopewell Rd, Alton, NH

For sale: $19.8 million
At over 60,000 square feet of livable space, this massive estate stretches over two addresses: 142 and 144 Hopewell Road. Situated directly on Lake Winnipesaukee are the property's private dock and multi-boat storage, complete with a small, cozy boathouse. Enter the seven-bedroom estate at 144 Hopewell Road, and you'll find a grand double staircase, marble flooring, and beautiful chandeliers hung throughout. The other residence, at 142 Hopewell, though a more modestly sized five bedrooms, does have a private home theater and a private pool uniquely designed with running waterfalls and a small rock-covered cove.
New Jersey
84 Glen Alpin Rd, New Vernon, NJ
For sale: $45 million
This European-inspired mansion is tucked away on 15 fenced-in acres in suburban Morristown, New Jersey. The property itself is magnificent, featuring imported sculptures, gorgeous perennial gardens, over 100 imported trees, a full regulation tennis court, a pool with accompanying pool house, two spas complete with hot tubs and three outdoor kitchens. Inside you'll find an architectural masterpiece, starting with the sweeping limestone staircase in the entrance, 10 to 14 foot ceilings, and rooms detailed with wainscoting, intricate moldings, columns, fine European light fixtures, and 13 fireplaces imported from Italy and Portugal. Other lavish amenities include a private home gym, detached carriage house ideal for guests or staff, and a pub room with custom bar.
New Mexico
For sale: $13.65 million
Located just outside the busy center of Santa Fe, this charming home is a welcome retreat from the hustle and bustle of city life. The classic, earthy architecture of the house, featuring antique Jerusalem stone, compliments the natural coloring of the surrounding hills and foliage. Large covered patios make movement between the inside and outside fluid, and large windows and glass doors allow for a spectacular view of the area. The house boasts 13 handcrafted fireplace mantels from a third-generation German stonemason, who also worked on other details in the home. Also located on the property is a two-bedroom guesthouse that offers privacy from the main house and its residents.
New York
For sale: $85 million
This Long Island compound boasts the best views of the New York City skyline, without any of the crowds. The estate is comprised of three enormous palace-like homes surrounded by exquisite landscaping, countless fountains, and classic sculptures. If you're looking to unwind, this is the right place to do it. With eight acres of waterfront access, indoor and outdoor pools, tennis courts, a bowling alley, an electronic casino, multiple wine cellars and a home spa—there's no shortage of ways to relax right in the comfort of your own home. Best of all, smart home technology means you can control any number of electronics in your home remotely.
North Carolina
234 Skycliff Dr, Asheville, NC

For sale: $10.95 million
This gorgeous stone home, with its exquisite stonework, ivy-covered towers, and pointed rooftops, is reminiscent of a European castle. Nestled outside of Asheville with a spectacular view of the Blue Ridge Mountains, this four-bedroom property makes for a cozy one-family home. The living spaces are artfully designed with coffered ceilings, arched entryways, and large windows with remarkable views of the surrounding area. Numerous large balconies and patios are perfect for entertaining or just breathing in some clean, mountain air. Also located in the house are a home theater, wine storage room, fitness center, a Fort Knox safe for valuables, and a private suite ideal for a nanny or caretaker.
North Dakota
322 Sunset Bay Rd, Bottineau, ND

For sale: $2.75 million
This custom-built home next to Lake Metigoshe was created with the surrounding environment in mind. Throughout the house are numerous skylights and windows designed to draw in the natural light reflecting off the lake. The main floor was built with the intention of being a space to entertain: an open floor plan, a large kitchen with an island, and a large pantry with extra freezers make food storage, preparation, and eating all a breeze. Upstairs, the master bedroom suite boasts its own private balcony. Additionally, the property features more than 170 feet of shoreline complete with a sandy beach, perfect for swimming and relaxing during the summer months.
Ohio
370 Twp Rd # 129, Zanesfield, OH

For sale: $10 million
If you buy this property, you're not just getting a house situated next to a lake—you'll become the owner of the five-acre lake. Located 45 miles from the city of Columbus, this 345-acre estate is a sprawling paradise for the nature-lover, complete with seemingly endless hiking and horseback riding trails. For the sport hunter, this land boasts some of the best private deer hunting in the state, along with other game like turkey, geese, ducks, squirrels, rabbits, and coyotes. The main house features massive windows to take in views of the area, and a back patio and balcony that's connected by a spiral staircase. Other amenities include a gym, sauna, and outdoor hot tub.
Oklahoma
3101 Hardy Springs Rd, Mcalester, OK
For sale: $6 million
This sprawling 20-acre estate, located outside of the Tulsa city center, is protected by not one, but two gates. Once you pass through security and reach the main house, you'll find beautiful ponds with fountains and fire pits with seating on the side, perfect for relaxing and entertaining. Inside, the neutral palate of the house gives off a warm vibe, and intricate trim work adds to the interest of every room. Other amenities include a small home theater, numerous gas fireplaces, and a kitchen with a large island, marble countertops, and a six-burner stove.
Oregon
For sale: $24 million
This 500-plus acre compound is perfectly situated to take in all of the dramatic beauty Oregon has to offer. The stone and dark wood exterior blends seamlessly with the natural woods on the property, and the interior finishings are equally as impressive and elegant. In the main house you'll find eight bedrooms including the master suite, which has its own private gym attached. There is also a theater room, a wine room, and four guest suites—each with their own kitchenettes. There's also a detached five-bedroom guest home. The property includes various farm buildings, too, including an indoor arena with a viewing room, a saloon, 12 equine stalls, and a vet room. A re
Pennsylvania
100 Maplehill Rd, Gladwyne, PA

For sale: $25.9 million
This classic East Coast style home was only completed in 2009, but a traditional stone exterior with limestone accents makes it a timeless piece of architecture. Drive through the gates and down the long driveway to the house, and upon entering you'll find a winding staircase that leads both upstairs and down. Throughout the house, chandeliers add elegance and brightness to each room. Downstairs you'll find a game room with pool, ping-pong, and a wet bar. There is also a home movie theater and an indoor pool with poolside seating. Out back, lush ivy climbs up the side of the house to the second-story balcony. The property also boasts private tennis courts.
Rhode Island
16 Yosemite Valley Rd, Westerly, RI
For sale: $19.995 million
The Rhode Island coast is known for its stunning beach houses—and this property is no exception. Drive down the peninsula's long driveway to the grand chateau, which is perched right on the edge of the Newport coast. The inside is just as grand as the outside, with gorgeous French doors, bright yellow walls, winding staircases, and giant windows that open onto the ocean side. The master suite includes a sitting room, two walk-in closets, a private terrace, and a marble bathtub. Behind the house are covered patios and a gorgeous pool, perfect for lounging when the ocean is a bit too cold. Other amenities include a tennis court, balconies, and a game room with a pool table.
South Carolina
133 Flyway Dr, Johns Island, SC 29455

For sale: $22 million
This private shingle-style beach house is located on 200 feet of private oceanfront. As soon as you walk through the doors and up the front stairway, floor-to-ceiling windows provide unmatched, unobstructed views of the Atlantic. Throughout the house, the railings and balustrade are designed to look like the ocean waves. The gourmet kitchen is equipped with a butler's pantry, large peninsula, and double oven, perfect for cooking for large crowds after a day at the beach. Behind the house you'll find a recently renovated saline pool with a patio and poolside cabana complete with dressing rooms, showers, and a beverage center. A bridged walkway connects the living quarters with the beach over the lawn.
South Dakota
968 Wynstone Dr, Jefferson, SD

For sale: $4.65 million
When you pull in the driveway and see the front of this massive home, located adjacent to the Missouri river, you're only getting a glimpse of what the massive estate has to offer. When you approach the front, you'll first see a roundabout driveway that circles a small running stream with flowers. When you step inside the house, you'll find amazing amenities like a large kitchen with a freestanding island, a home movie theater, and a wine cellar. In addition to a large, lush lawn, the back of the house boasts an in-ground pool complete with a diving board, a pool house with a small kitchenette, and covered patios. From the second floor of the house, step out onto the balcony to look out upon the swimmers below.
Tennessee
For sale: $15.5 million
The price of this home is reflected in the size of the property and the opportunity for developing the land, not necessarily the home and its amenities. The extremely private three-bedroom, five-bathroom main house sits on the hilltop overlooking the Tennessee River on this expansive 94-acre estate, located about 45 minutes from Knoxville. The main house is a white brick New Orleans colonial with a wrap-around porch on both the upstairs and downstairs levels and three fireplaces. Out back there is an in-ground pool with a water slide, which can be seen from the porch of the main house.
Texas
10000 Hollow Way Rd, Dallas, TX
For sale: $48.9 million
This Texas estate is a pied-a-terre of famed architect Robert A.M. Stern, the same man behind the famous Comcast Center in Philadelphia and a number of iconic buildings in New York City. When you enter the home you immediately step into a graphic white and black entryway, complete with a whimsical spiral staircase. Each room throughout the building has its own distinct mood and color scheme, part of what makes this grand home so unique. Also included in the house is an indoor and outdoor swimming pool, a spa with an indoor hot tub, a library, tennis courts, and leather-walled billiard room.
Utah
For sale: $25 million
This exquisite home is known as "Cascade," due to the one-of-a-kind layered stone roof and the masterful indoor architecture. Drive up the driveway and straight below the house to the concealed garage. Inside, Italian stone slabs keep the look natural by blending the property in with the surrounding landscape, and sleek, custom-made furniture pieces all fit with the look. The massive glass walls open the space up to the sweeping views of the nearby mountains. Outside, a large stone patio complete with a fire pit perches on the side of the structure with expansive views of the property and the mountains, perfect for a quiet night alone or a party with friends.
Vermont
For sale: $12.5 million
While many residences in Stowe are seasonal ski houses, you'll want to live in this estate all year long. This contemporary home features large windows in nearly every room, maximizing the view of both the lush grounds and the surrounding mountains. In addition to a two-bedroom guesthouse and detached caretaker's cottage, the property hosts a photography studio and an underground gallery full of extraordinary American art. On the grounds is a miniature golf course, a private tennis court, a shooting range, a zip line, and a working orchard. Out back, perfect your chess game with a larger-than-life full chessboard and game pieces.
Virginia
205 Silver Tee Dr, Penhook, VA

For sale: $25 million
For this hefty price tag you won't just walk away with a new home—you'll be the new owner of the accompanying The Water's Edge Country Club and all its amenities: an 18-hole PGA Championship golf course, a full equestrian center, and a junior Olympic-sized swimming pool. The actual private residence is custom-built to showcase panoramic views of Smith Mountain Lake and features beautiful stonework throughout. In addition to the pool at the club, the residence has its own private pool and hot tub, or you can take a dip straight in Smith Mountain Lake. Other amenities include a home movie theater, a private boat launch, and a wet bar.
Washington
For sale: $28 million
This property, known as Misty Isle Farms, is a one-of-a-kind horticultural paradise, featuring 525 acres of over 3,000 trees, hundreds of shrubs and flours, private lakes, water falls, and creeks and bridges built to encourage exploration throughout the Arboretum. The buildings on the property include the main house and seven other guest residences (ideal for visitors or grounds workers to tend the horse and cattle pastures), and a 12,000-square-foot showroom for vintage cars and carriage. For aviation enthusiasts, the property features a landing strip for airplanes and a roll-away helicopter pad next to the primary residence for convenient use.
West Virginia
230 Quarry Rdg E, Charleston, WV

For sale: $13 million
This estate was built by West Virginia artisans and union laborers to highlight the fantastic views of the rolling mountains the state is known for. The home, which is just a short drive from town, features a sophisticated interior with vaulted ceilings, Brazilian mahogany accents, silk-lined walls, and a two-story private library complete with a fireplace. Floor to ceiling windows in many of the rooms provide optimal light and unobstructed views of the dense greenery. Out back is a large swimming pool and an accompanying patio. The property also boasts a home gym, a large wine cellar, a sauna, and tennis courts, so you can relax and recharge all in the comfort of your own home.
Wisconsin
W3245 Snake Rd, Lake Geneva, WI

This famous mansion, known fondly as Hillcroft, was once considered the small hunting lodge of the Wrigley family—the same family that's best known for the chewing gum, baseball field, and other significant real estate holdings throughout Chicago. Nestled on the beautiful coast of Lake Geneva, this well-preserved estate's exterior is a mix of intricate stonework and elegant woodwork. A stone patio out back is the perfect perch to look at the beauty of the lake and the lush greenery, including the ivy climbing the side of the house. Also located on the property are carriage houses, greenhouses, and a private boat launch.
Wyoming
For sale: $33.9 million
This expansive 330-acre ranch in Western Wyoming is known as the "Cakebread Ranch," named for the owners Steve and Jill Cakebread, relatives of the family behind Napa Valley winery Cakebread Cellars. While the house has just three bedrooms (not much for the hefty price tag), the real draw is the vast land. Included on the property is a day lodge with a private restaurant complete with a commercial kitchen, hickory flooring and three gorgeous stone fireplaces. An old flyshop cabin from the 1800s sits along the Salt River, fully furnished with equipment for the fly fishing fanatic. Also included are tennis courts, a massive outdoor fire pit, and a five-acre working organic farm.
This story originally appeared on Real Simple.