I Moved to China to Pay Off $50,000 Worth of Debt and it Was One of the Best Decisions I've Ever Made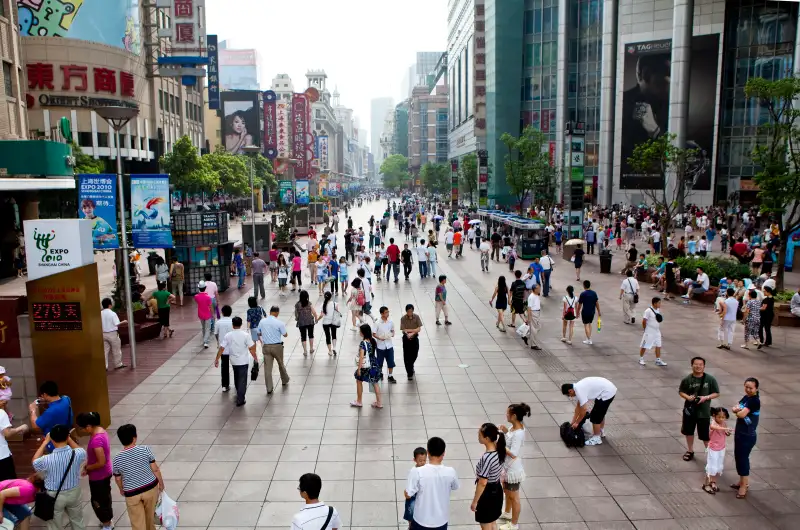 Sam Diephuis—Getty Images
There's nothing like a 10-year high school reunion to make you reevaluate your life.
While comparing myself to former classmates, I realized that even though I'd achieved a great deal, I wasn't fully satisfied. An undergrad degree from a great school, a number of trips abroad and a master's degree looked good, but my $50,000 debt balance sure didn't.
I'm not alone. Like Many Americans, I had more credit card debt than emergency savings and couldn't see a future without debt for myself. Plus, over 65 percent of U.S. adults with debt don't know when or if they'll ever escape, according to a recent survey by CreditCards.com, a Bankrate sister site.
A few people I knew had taught English on the side or overseas to earn extra money or pay down debt. So starting in October 2015 — just a couple weeks after the reunion — I decided to give it a shot and started volunteering at a local community college. By December, I was an adjunct professor teaching four nights a week. I loved it!
In February 2016, I took a bigger step and started taking Teaching English as a Foreign Language (TEFL) classes. That's when I learned China could be a lucrative place to teach. By that May, I had accepted a job offer in China and quit my day job. Soon thereafter, I was on a plane to southern China, and my new life had begun.
Why moving to China was the best thing for my debt payoff
Moving over 7,000 miles away from home may have separated me from my loved ones and all that's familiar, but it also brought me closer to my goals. Since moving to China in September 2016, I have:
Paid off more than $14,000 (26 percent of my total) in debt.
Saved $10,000 in an emergency fund.
Paid nearly $6,000 for my online teaching certification.
Traveled internationally several times.
Several factors have played a huge role in my financial success abroad. Here's what they are:
1. The cost of living in China is low
Some teaching jobs in China offer free housing or a housing stipend. Many even offer free meals during schools days. That means teachers can pocket a lot of their income because they're not paying for rent and utilities.
Living in a large city in China also comes with another cost-saving perk: reliable, public transportation. I use the metro on weekends to travel between my suburb and downtown and spend just $50 a month for metro and taxi fare.
The number of bills I pay reduced dramatically when I moved to the Far East. My budget mainly includes food, transportation, debt payments and fun stuff. Plus, it costs less or the same amount of money to travel to another Southeastern country as it does to fly between American coasts.
2. I'm surrounded by like-minded people
Your friends can make or break you. Most of my coworkers and friends in China are calculated about how they spend. And talking about money isn't taboo here.
While students are hanging from monkey bars at recess, coworkers and I often chat about our saving and debt payoff goals. We openly discuss sending home the majority of our income to our native countries and being frugal with the rest in China. Some of my coworkers live on their teaching salary while their husbands stay home with their toddlers.
Also, people who move halfway around the world to teach in a foreign country are risk-takers and go-getters. They prioritize and get stuff done. It's motivating to see other people nab side hustle opportunities or start their own businesses to increase income.
My Chinese coworkers, who make less money than me, seem to be quite frugal. Some end up saving a lot and owning homes. I admire them.
Being around folks who watch their wallets makes you do the same. So far, I haven't heard of many Chinese locals getting into large amounts of debt. In my opinion, that seems to be an American thing.
3. My knowledge is in demand
Having a license to teach English in China is like having a golden ticket. Business professionals in China are eager to learn the lingua franca. Well-off parents pay tens of thousands of dollars to help their kids become fluent in English so they can study, live or work abroad.
There are plenty of training centers and traditional schools that hire year-round. Schools offer American, Canadian and British curricula. Native English speakers with licenses can make $60 an hour for tutoring.
4. Distance makes the pockets grow fatter
Certain social media apps are blocked in China for political reasons. Although I can still access them, I avoid them to reduce the urge to keep up with the Joneses. I don't check Facebook or my personal Instagram account anymore, so I don't see old classmates' new houses, clothes or cars.
Being in China has allowed me to focus on my goals and be more content with what I have, which helps me save money and buy things I truly value.