National Donut Day 2018 Is Today! You Can Get Free Doughnuts at All of These Places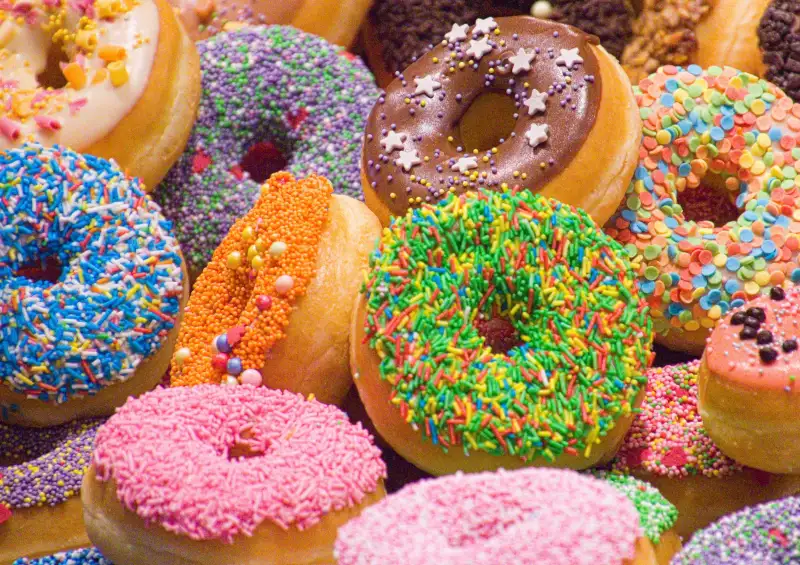 Marco Vitt / EyeEm—Getty Images/EyeEm
When is National Donut Day 2018? You're in luck—it's today, Friday, June 1. And as we've all come to expect, National Donut Day—first created by the Salvation Army before World War II—is loaded with free doughnut deals from coast to coast.
Dunkin Donuts, Krispy Kreme Doughnuts, LaMar's Donuts, Duck Donuts, and many other shops and convenience stores are giving away free doughnuts on June 1 to celebrate National Donut Day 2018—or National Doughnut Day 2018, if you prefer the original spelling of "doughnut."
Even Papa John's is jumping on the National Donut Day free donut bandwagon, giving away orders of its brand new doughnut holes for free on Friday. Walmart has free doughnuts for all customers too.
Here are all the places with free doughnuts on National Donut Day 2018, along with the details on how to get free doughnuts.
To take advantage of the National Donut Day 2018 deal at Dunkin Donuts, just purchase any beverage and you'll get a free donut of your choice, all day long.
Krispy Kreme is celebrating National Doughnut Day 2018 by giving every guest a free doughnut, no purchase necessary.
Every Walmart location in the U.S. is giving out free doughuts to customers on Friday for National Donut Day. Walmart says it expects to give away 1.2 million whole glazed doughnuts. Go to the store's bakery section to get your free donut, while supplies last.
At LaMar's Donuts, everyone gets a free doughnut, no purchase required, on National Donut Day 2018.
Duck Donuts is giving away one free classic donut to every customer on Friday, June 1.
Customers at participating Fractured Prune Doughnuts locations get a free OC Sand Doughnut—honey-glazed, covered in cinnamon and sugar—on National Doughnut Day 2018.
Purchase any beverage (medium size or larger) at Honey Dew Donuts on National Donut Day, and you'll get a free S'More Donut.
Yes, pizza seller Papa John's is getting in on the action for National Donut Day 2018. Starting June 1, Papa John's is adding doughnut holes to its menu. They are coated in cinnamon and sugar and caramel crème, and will normally cost $4.99 for a 10-piece order—but on National Donut Day on Friday, customers get a free order of doughnut holes with any online pizza purchase.
From 5 a.m. to 10 a.m. on Friday, June 1, customers at Cumberland Farms' renovated convenience stores throughout the Northeast and Florida get a free doughnut with the purchase of any dispensed beverage—such as coffee or a fountain drink.
If you make any purchase on National Donut Day at the Washington, D.C.-area locations of Sugar Shack Donuts (in Arlington and Alexandria, Va., and the Shaw neighborhood in D.C.), you'll get a special Donuts4Good promo card. It's good for a free donut, and Sugar Shack encourages you to give it someone who has done a good deed and deserves a treat. Anyone wearing Sugar Shack gear on Friday, June 1, gets a free house donut as well.
The Philadelphia doughnut shop Factory Donuts is giving each customer not one but two free doughnuts on Friday, June 1.
//compass.pressekompass.net/static/opinary.js
At 1,200 Edible stores worldwide, customers can get one of the chain's fruit "donuts"—actually a cored Granny Smith apple covered in chocolate and other toppings—for free on National Donut Day 2018.