New York City Can't Ask You Your Salary Anymore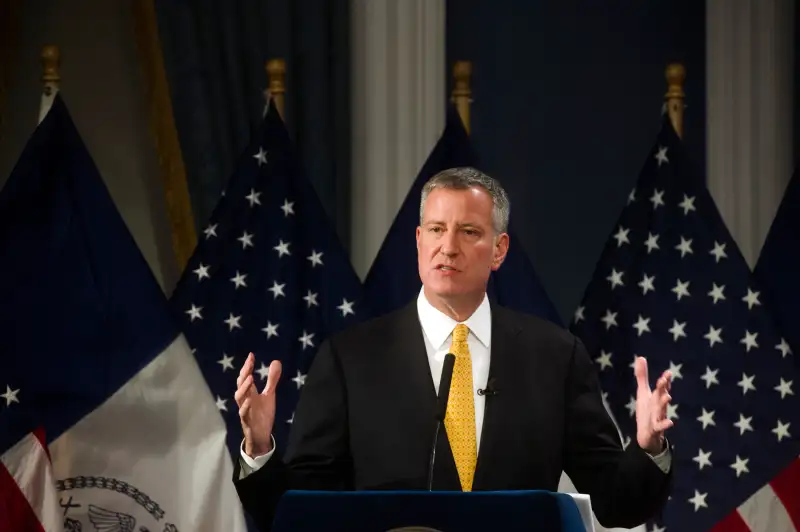 Starting next month, New York City agencies will no longer be able to ask job applicants about their salary history.
Mayor Bill de Blasio signed an executive order on Friday that blocks city agencies from asking about an applicant's previous compensation before extending a job offer. Advocates argue that one discriminatory pay decision leads inevitably to the next and creates a cycle of lower earnings throughout a career.
"It's essential to the success of our agencies and our city as a whole that everyone is treated—and paid—with the fairness and respect they deserve," the mayor said in a statement.
Read next: How Banning Employers from Asking About Salary History Could Help Close the Wage Gap
Across the country, women still make roughly 80¢ for every dollar earned by their male counterparts. In New York City alone, women who are employed full-time lose more than $23 billion each year to the wage gap, according to the National Partnership for Women. And though the gap is narrowing, progress has been slow.
Friday's executive order affects about 300,000 city workers, a vast majority of whom are unionized and are paid based on terms established through collective bargaining agreements. So the new rules will primarily affect those being considered for managerial roles, which make up about 10% of the city's workforce. Executive Order 21 is set to go into effect in 30 days.
"Women continue to face discrimination in the job application process and in salary negotiations. This executive order will codify city agencies' commitment to offering salaries to prospective employees based on merit, not sex," said Azadeh Khalili, executive director of the Mayor's Commission on Gender Equity.
New York City's initiative follows the trail blazed by the pay equity law enacted by Massachusetts this summer. The state was the first to put rules on the books blocking local employers from asking about salary history before offering applicants a job.
Read next: Even the Top-Paying Profession for Women Has a Huge Wage Gap
Massachusetts state senator Patricia Jehlen cosponsored the legislation that Gov. Charlie Baker signed into law in August. The law, which takes effect in July 2018, also offers incentives for businesses to tackle gender pay imbalances and provides clearer standards for making sure that workers get "comparable pay for comparable work."
"To truly achieve equal pay, society needs to finally value traditionally women's work appropriately," Jehlen says. "We will achieve equal pay when we stop taking women's contributions for granted and start valuing that work."
New York City may be the first of several cities and states to replicate Massachusetts' effort. Jehlen notes that lawmakers from Illinois, North Carolina, Washington, D.C., and Texas have already reached out to her office.
Meanwhile, D.C. Rep. Eleanor Holmes Norton introduced the Pay Equity for All Act in the U.S. Congress in September. If passed, it would bar employers nationwide from asking about previous salaries.
Khalili is hopeful other U.S. cities will take note of New York's model. "When New York moves, a lot of other cities move. So we think this is going to be make a big difference on a local level around the country," she says.