How New York Could Save the Nuclear Power Industry in the U.S.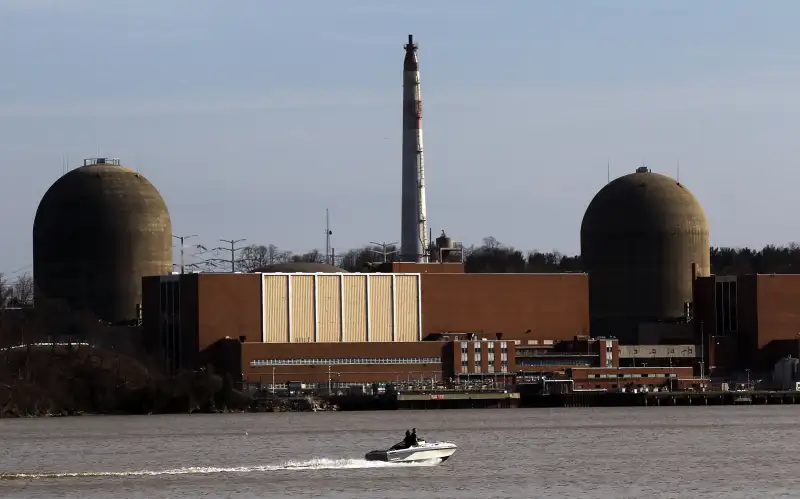 New York state and nuclear power have never been best friends, but the state is expected to decide as soon as Monday on a proposed subsidy plan that could furnish the rest of the country with a model for saving a struggling industry while reducing carbon emissions.
Nuclear power is nearly carbon free, but many U.S. plants are losing money, hammered by sharply lower prices for rival fuel natural gas and lackluster demand for electricity. Five plants in states from Florida to California have shut since 2013 and many others are at risk.
The New York Public Service Commission on Monday is expected to vote on whether to subsidize nuclear power plants under a proposed Clean Energy Standard, or CES.
It would enable nuclear, solar and wind power utilities to earn tradable credits for generating electricity. The credits are estimated to be worth $965 million in the first two years. Opponents say the subsidies would raise power costs for consumers. Some environmental groups favor a tax on carbon emissions over a subsidy for clean energy.
Power company Exelon has said that if the CES is not approved, it will close two upstate New York nuclear plants, Nine Mile Point and Ginna. Most of the power they generate would probably be replaced by natural gas plants, making it harder for New York state to meet targets to slash carbon emissions.
The United States, the world's No. 2 carbon emitter after China, joined rich and poor countries in last year's Paris climate accord in a pledge to slash carbon emissions. Nuclear power could help meet the targets, but the technology's history is fraught with safety concerns and disputes about radioactive waste disposal.
New York Governor Andrew Cuomo, a Democrat, has pushed to shut Entergy Corp's Indian Point nuclear plant, amid concerns it could be a target for attacks only 40 miles (64 km) north of New York City.
Reactors at Risk
Nuclear power generates nearly 20% of U.S. electricity, and about 60% of the country's emissions-free power.
But the Nuclear Energy Institute, an industry group, estimates that 15 to 20 of the country's 100 nuclear reactors are at risk of shutting in states such as Illinois, Pennsylvania and Michigan, and more could shut if the economy sours.
On New York's CES plan, Whitney Herndon, a research analyst at the advisory firm Rhodium Group, said: "You need to start somewhere with a state having a successful proposal so that other states can use that as an example ... Even if other states couldn't apply this exact type of proposal, there's enough information going around for them to take some lessons."
Under the plan, New York's nuclear plants would earn zero-emissions credits, and could trade or sell a credit for each megawatt hour of electricity they generate through 2029. The subsidy would be cut if power prices rise, which would help nuclear plants. It remains to be seen whether Indian Point would be eligible for credits, considering Cuomo's opposition to the plant.
CES critics, including some state politicians and environmental groups, say the plan would boost consumers' power bills, and argue there are more efficient ways to cut carbon. If the plan passes, opponents could fight it in the courts.
"Instead of giving nuclear some reward  it would be more appropriate to sanction those acting badly," said Dave Lochbaum, a nuclear expert at the Union of Concerned Sciences, a watchdog group. A carbon tax on fossil fuels would have the effect of rewarding nuclear, wind and solar, he said.
Carol Browner, former climate and energy advisor to President Barack Obama, said New York could serve as a "very important example" to other states struggling with potential nuclear plant shutdowns.
The industry hopes that if New York succeeds, it could pressure other states to adopt similar subsidies.
New York's decision is "fundamentally the most important for the nuclear industry as a whole, and for Exelon's nuclear fleet," said Joe Dominguez, a government affairs official at the company, which owns or operates about two dozen nuclear units across the country. In Illinois, Exelon plans to shut two plants unless the state legislature passes a clean energy standard this year.