Here's What a Luxury Ski Resort Owned by North Korean Leader Kim Jong Un Looks Like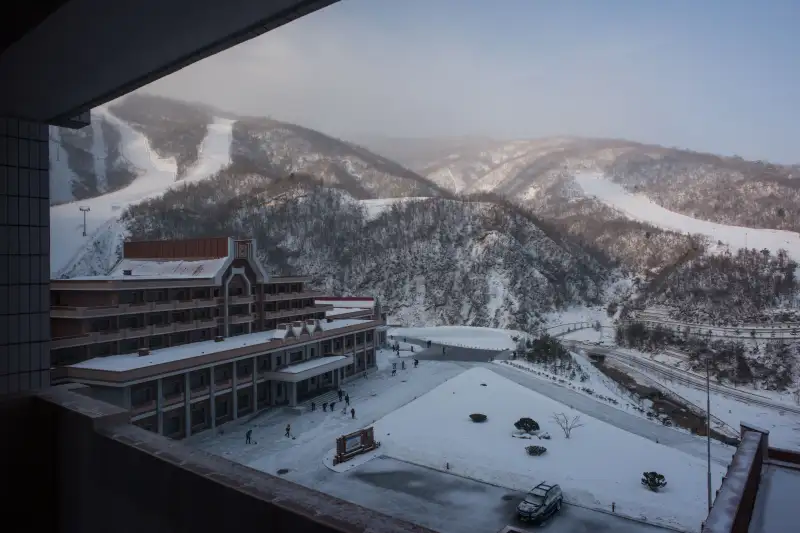 Ed Jones—AFP/Getty Images
North Korea's abrupt cancellation of a joint cultural event this week leaves only one venue in the country that will host events for next month's Winter Olympics: Kim Jong Un's luxury ski resort.
South Korean skiers will begin training Wednesday at North Korea's Masikryong resort as part of an agreement to spur reconciliation ahead of the Games starting Feb. 9 in South Korea. North Korea on Monday scrapped a joint cultural performance at Mount Kumgang, a resort built while Kim's father was in power, in a move that revealed underlying tensions between the nations.
"Seeing South Koreans practice at a place he built is a propaganda coup for Kim," said Lee Su-seok, a North Korea analyst at South Korea's Institute for National Security Strategy. "Masikryong represents his era, and he is relying on the ski resort rather than the 20-year-old mountain resort to emerge from his father's shadow."
North Korea is seeking to capitalize on South Korea's desire for a peaceful Winter Games as international sanctions over its nuclear arms program further squeeze its finances. Trade with China -- North Korea's main financial backer -- shrank by more than half last month, the latest evidence of what Kim earlier this month called the "unprecedented impediments" his country has faced.
ED JONES—AFP/Getty Images
ED JONES—AFP/Getty Images
Swiss Education
While South Korea currently bans tourists from traveling north, the thaw over the Olympics brings the countries closer to dialogue on restoring lucrative cross-border tours that once brought Kim's regime millions of dollars a year. The free advertising for his ski resort may also attract more visitors from China, which sends more tourists to North Korea than any other country.
Until a travel ban last year, the number of U.S. visitors was believed to hover at about 1,000 a year. Those with special permission to travel are now advised to draft a will and discuss funeral arrangements.
Kim, a skiing fan who was educated in Switzerland, ordered soldiers to build the Masikryong resort shortly after he took power in 2011. North Korea says it built the resort in just one year, boasting that it would have taken other nations a decade.
North Korea used a loophole on luxury goods in the United Nations Security Council resolution to bring in European-made snowmobiles and other equipment to Masikryong. While the European Union considers ski equipment to be luxury goods, China told a UN panel of experts that skiing was a "popular sport for people."
ED JONES—AFP/Getty Images
ED JONES—AFP/Getty Images
Ski Sanctions
Fresh UN sanctions passed last year will make it harder for Kim to maintain the resort, according to Christopher Green, senior adviser on the Korean peninsula at the International Crisis Group in Amsterdam. While China might justify snow plows as necessary for public safety, restrictions on industrial machinery would block sales of a ski lift, Green said.
Masikryong, which means a mountain pass where horses rest, has 10 ski runs, with the longest one stretching as far as 5,100 meters (16,700 feet). A giant electronic screen displays propaganda videos at the bottom of the hills, according to 2015 footage by Singaporean video journalist Aram Pan.
The nearby 11-story hotel, painted in orange, has 120 rooms, an indoor swimming pool, a karaoke bar, a gym and a children's room with books like "Ali Baba and the Forty Thieves," the footage showed. A shop sells North Korean handbags, and foreigners can use an internet room. TVs in the guest rooms show channels from the U.K., China, Japan, Germany and Russia, Pan said, adding that locals can't watch them.
ED JONES—AFP/Getty Images
ED JONES—AFP/Getty Images
Dennis Rodman
The flight to the nearby Kalma Airport from Beijing takes less than two hours. Visitors have so far included Chinese diplomats, Dennis Rodman, a former NBA star who has befriended Kim over several trips to North Korea, and Japanese pro-wrestler-turned-lawmaker Antonio Inoki.
The resort has also seen controversy. Human-rights activists were outraged last year when a team of NBC journalists showed women and children using axes and sticks to clear snow from the bus route into the resort.
Jin Chun-kyu, a South Korean who visited Masikryong in November under a U.S. Green Card, said the resort takes dollars, yuan, yen and euro, as well as North Korean won. He said it costs about $100 a day to ski at the resort, which restricts the daily number of visitors to 2,000.
"It's quite spacious," said Jin, who visited before the season opened. "You don't have to wait long to ride a lift."
The resort has "no problem" as a venue for joint training and practice games, South Korea's Unification Ministry said by email on Jan. 26 after its inspection team visited the resort. Its slopes and snow are in "fine" condition, while Kalma is well managed, it said.
"Pyeongchang's Olympic appeal is rubbing off on Masikryong," said Lee Choong-ki, a professor of tourism at Seoul's Kyung Hee University. "North Korea is getting more global publicity than it could ever have by spending tons of its own money."
ED JONES—AFP/Getty Images
ED JONES—AFP/Getty Images
ED JONES—AFP/Getty Images