All the Companies Cutting Ties With the NRA After Deadly Florida School Shooting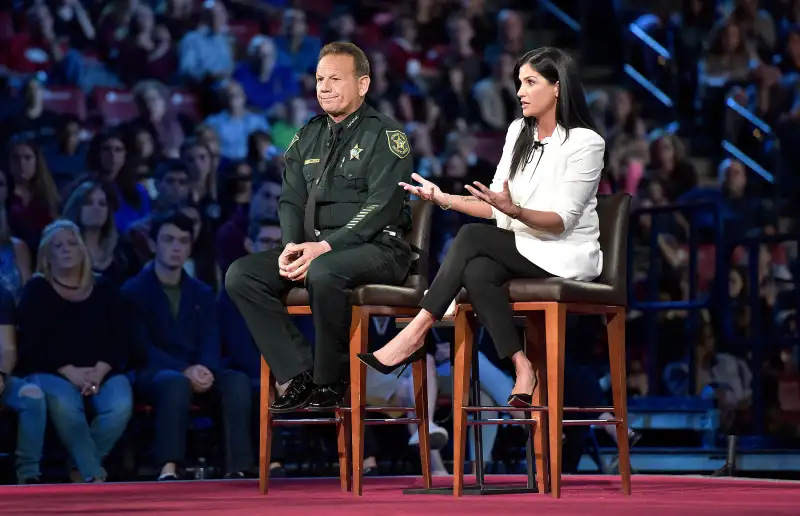 Sun Sentinel—TNS via Getty Images
The battle over gun control has spread to credit cards, rental cars, airlines, hotels, software security, insurance, and more.
On Thursday, February 22, a major bank and Enterprise Holdings, the largest rental car company in the U.S., announced they were ending business partnerships with the National Rifle Association, citing pressure from customers in the wake of the Florida school shooting that left 17 dead. Major hotel companies also have eliminated affiliations with the NRA in the aftermath of previous school shootings.
The First National Bank of Omaha tweeted last Thursday that "customer feedback has caused us to review our relationship with the NRA," and that it would not be renewing its contract to produce NRA-branded Visa cards.
The First National Bank of Omaha is one of America's 15 largest credit card issuers (as well as a 2017 multi-state winner of Money's Best Bank in Every U.S. State). The NRA-branded cards had offered perks like 5% cash back on gas and sporting goods purchases, as well as $40 statement credits for new customers, the (Omaha) World-Herald reported.
Many other companies have also ended partnerships with the NRA recently. The moves come after an outpouring of anger and grief over America's mass shooting epidemic, with much of that frustration aimed at the gun-rights lobby and the NRA—and, by extension, any businesses that support the NRA.
Within a few days of the Florida high school shooting, the progressive site ThinkProgress published a list of companies that offer discounts to NRA members, thereby making membership in the group, which "opposes nearly all gun safety legislation," more attractive. Many of the companies on the original list have since severed ties with the NRA, including the First National Bank of Omaha and the rental car brands Enterprise, Alamo, Avis, Budget, Hertz, and National.
The Wyndham and Best Western hotel companies similarly came under pressure to end their discount programs for NRA members in early 2013, right after the Sandy Hook school shooting that left 26 children and adults dead. Both hotel companies no longer offer such discounts and are not corporate partners with the NRA, as their social media teams said in replies to countless tweets lately.
The NRA said in a statement that the companies ending their NRA partnerships were engaging in "political and civic cowardice," and that the "loss of a discount will neither scare nor distract one single NRA member from our mission to stand and defend the individual freedoms that have always made America the greatest nation in the world."
Here's an updated list of all of the companies that have cut ties with the NRA after the Florida high school shooting:
Avis Budget Group
The company that owns the Avis and Budget rental car brands replied to multiple tweets from users, confirming that their discount programs for NRA members would be ending effective March 26.
Allied Van Lines
The moving companies Allied Van Lines and North American Van Lines, which are both owned by the same company, announced that they no longer have an affiliate relationship with the NRA.
Chubb
Reuters reported that Chubb would stop underwriting an NRA-brand insurance policy for gun owners.
Delta Air Lines
On Saturday morning, Delta announced that it would cease to offer discounts to NRA members. In response, conservative Republicans in Georgia, where Delta is based, have threatened to kill tax breaks that the airline currently enjoys.
Enterprise Holdings
Enterprise Holdings, which runs the Enterprise, Alamo, and National rental car brands and has the industry's largest fleet and highest revenues, also announced it was cutting ties with the NRA. Enterprise's social media team replied to hundreds of tweets with some variation of a message saying that all three of its brands would stop offering a discount for NRA members in March.
First National Bank of Omaha
While gun-control supporters are applauding Enterprise and the First National Bank of Omaha because of their stances against the NRA, some gun-rights activists say they will boycott these companies. Gun owners with accounts at First National "will be giving strong consideration to moving their accounts to a bank that hasn't bowed to political pressure," Rod Moeller, the director of government affairs for the Nebraska Firearms Owners Association, told the World-Herald.
Hertz
One day after Enterprise's announcement, another major rental car company, Hertz, said that it was ending its discount program for NRA members.
Lockton
The Lockton Affinity insurance group said it would discontinue its brokerage partnership with the NRA.
MetLife
The MetLife Insurance Company announced it was ending its discount program for NRA members as well.
Paramount Rx
This prescription discount firm Paramount Rx says it is in the process of discontinuing discounts for NRA members, which is a service it provides from a third-party vendor.
SimpliSafe
MarketWatch reported that the alarm system firm SimpliSafe has ended its relationship with the NRA.
Starkey
The hearing technology company Starkey said that it will not renew its NRA discount program.
Symantec
The software and cybersecurity firm has announced that it has ended its discount program for NRA members, which included discounts for its Norton anti-virus software and LifeLock identify theft protection products.
TrueCar
The car-buying service ended its relationship with the NRA as of February 28.
United Airlines
Soon after Delta said it would end a discount program for the NRA, United Airlines followed suit and posted a very similar message on Twitter.