Obama Races to Finalize Bank Rules Before Trump Takes Over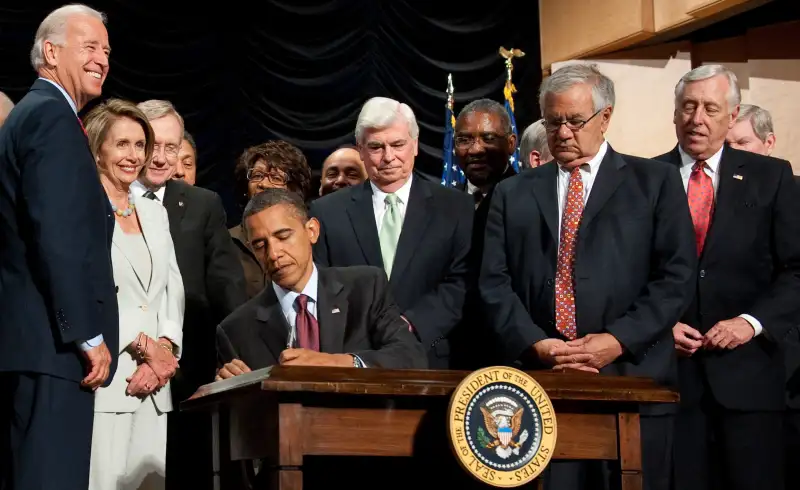 SAUL LOEB—AFP/Getty Images
U.S. officials are striving to put finishing touches on a slew of banking rules before President Barack Obama leaves office and hands regulatory power to Donald Trump who has vowed to rewrite the existing financial rule book.
President-elect Trump will take over on Jan. 20 and his fellow Republicans will have control of Congress and government agencies, allowing the new administration to block or roll back many of the last-minute changes.
But by completing far-advanced work on some banking standards in the next 10 weeks, Obama officials would raising the chances that some elements of the regulatory framework will survive.
Some rules are meant to flesh out the Dodd Frank Act of 2010 designed to prevent the next global financial crisis. Trump campaigned on a pledge to scrap the law but now he says only some provisions must go to lighten the regulatory burden.
The Federal Reserve is working on rules to govern matters such as executive pay, market stability and what investments Wall Street may hold.
Last month, Securities and Exchange Commission Chair Mary Jo White said her agency would "in the near term" finish a rule on one thorny issue: how mutual funds manage derivatives.
The SEC and bank regulators have also for years struggled to finalize a rule that would tie more banker pay to the long-term health of their firms rather than short-term performance of Wall Street firms.
Read: How Trump Could Make It Easier for Wall Street to Screw You
With only about 40 working days until the handover, it is not clear which, if any, of those standards will get across the finishing line.
"Just look at the calendar," said Tom Quaadman of the Chamber of Commerce. "These are intricate rules and there's not much time."
The executive pay rule exemplifies the challenge.
Six federal agencies have a say on the compensation standard meant as part of Dodd Frank and a final draft has not yet been offered, industry officials told Reuters.
It would be nearly impossible to circulate a final rule and get the agencies to endorse it while still satisfying standards for clearing such paperwork, several lobbyists who have opposed the rule said.
Banking regulators declined to comment on when the compensation rule might be completed.
No time to chat
Simple logistics also pose a challenge.
New federal rules come into force once they have been published in the Federal Register and employees there typically need several days to typeset a rule.
That means Obama officials need to lodge paperwork with the Federal Register at the beginning of the inauguration week at the latest.
Some sixteen copy editors are due to forego leave and be on hand in the coming weeks to process final rules expected from dozens of agencies, said an official familiar with the operation, but not authorized to speak to the media.
"These days, people do not spend a lot of time hanging around the coffee maker," he said.
Some freshly-minted rules also face the prospect of getting erased under a 1996 law known as the Congressional Review Act, which allows Congress to block a regulation within 60 working days of being drafted.
One such rule allows students who were defrauded by for-profit colleges to seek loan forgiveness. The Department of Education finalized it days before the Nov. 8 election, meaning Republicans who have raised objections to it will have a chance to block it.
President George W. Bush was the first to trigger the Review Act when he block labor regulations that his predecessor Bill Clinton had enacted at the end of his term.