GOP Wants to Save Coverage for Pre-Existing Conditions -- But Only for Themselves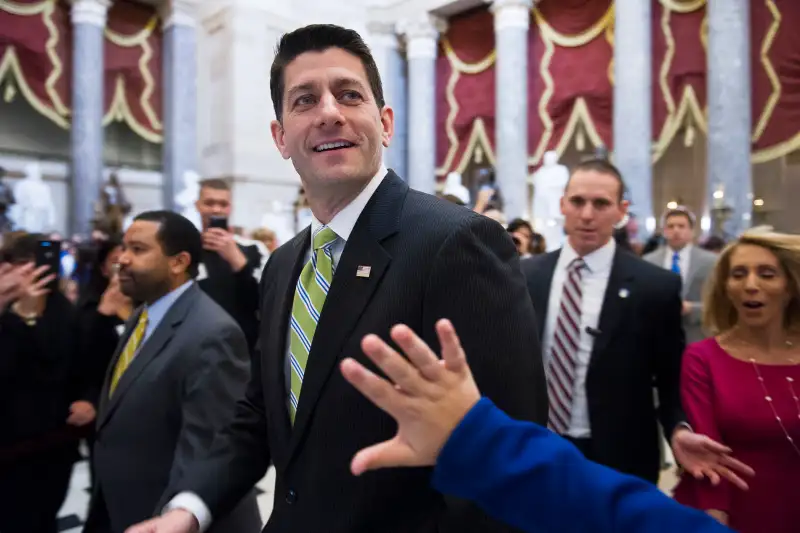 Republican lawmakers appear to have proposed health insurance for the American people that they don't consider good enough for themselves — or their staffs.
As Congressional Republicans revive their efforts to repeal and replace Obamacare, they have included a loophole that would protect legislators and their staffs from weakened protections that could hurt other American insurance buyers, Vox first reported Tuesday night.
Formally known as the Affordable Care Act, Obamacare included a provision requiring members of Congress and their staffs to buy their coverage on an Obamacare marketplace; they currently get coverage through a Washington, D.C., exchange aimed at small business coverage, where they also get a significant employer contribution from the federal government. Obamacare also established strong protections for people with pre-existing conditions, such as diabetes and depression — preventing consumers from being charged more or denied coverage on an individual marketplace because of their health status.
Now, in their replacement legislation, Republicans have proposed rolling back these protections on a national level — but have said that those protections must remain in place for themselves and their staffs.
Critics pounced immediately. "If House Republicans are afraid of TrumpCare for themselves, they have no right to force it on hard-working American families," House Democratic leader Nancy Pelosi said in a statement. The Republican behind the amendment, Rep. Tom MacArthur, vowed later Wednesday to close the loophole, Vox reported.
One way the House proposal would weaken protections for those with pre-existing conditions is by letting states apply for a waiver that would allow insurers to charge people different premiums based on their health status. Under such a system, someone with metastatic cancer could be charged an additional $142,650 annually in premiums, according to a study by the (liberal-leaning) Center for American Progress, while someone with asthma could be charged an additional $4,340 a year.
States would also have the option, under the GOP-backed amendment, of establishing high-risk pools for state residents who would otherwise be unable to get coverage. These pools existed before Obamacare, and research showed they often failed to make coverage affordable and accessible.
It's not surprising that Congress members seem inclined to avoid premium hikes based on their existing health conditions. In general, the prevalence of pre-existing conditions tends to rise with age — and the average age of U.S. lawmakers has been increasing. The average age of a U.S. Representative is 57 and the average age of a Senator is 61, according to Quorum.
It remains unclear whether the replacement bill will garner enough votes to pass the House — and whether the exemption will survive the legislative process. "It doesn't strike me as the most politically savvy provision to include," says Sabrina Corlette, research professor at the Center on Health Insurance Reforms at the Georgetown University Health Policy Institute.