Shop Amazon's Top Organizational Gadgets on Sale — Starting at Just $15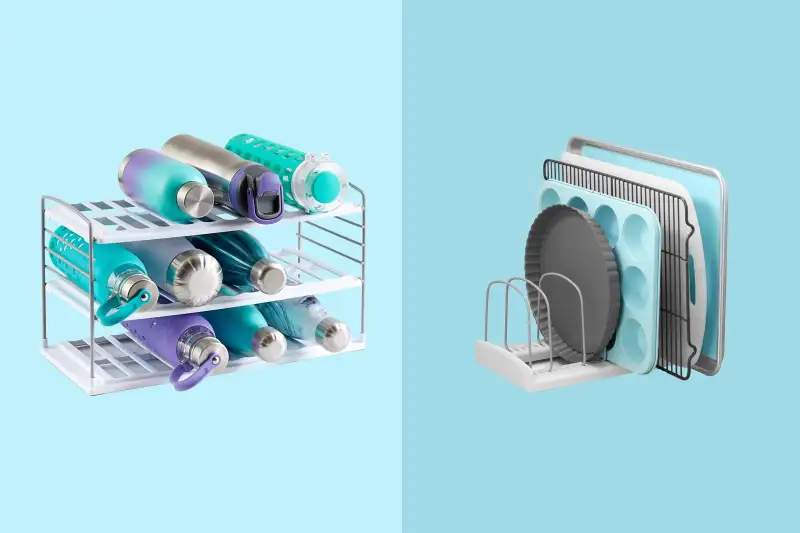 Are you struggling with clutter, mess, and disorganization at home or in your workspace? You're not alone. We're all trying to save time, maximize efficiency, and be as organized as possible, but let's face it, it's not always easy. That's why we've scoured Amazon's top-selling organizational gadgets that are currently on sale and found the best ones starting at just $15.
From racks for storing water bottles to a turntable for neatly displaying all your snacks, we have found the most clever storage solutions on Amazon that will help you say goodbye to clutter and hello to an amazingly organized home. Whether you're looking for something to help organize your kitchen, pantry, or fridge, you'll find some amazing options from YouCopia starting at $15. Ready to get organized? Let's go!
UpSpace Water Bottle & Travel Mug Cabinet Organizer: $24.99 (was $29.99)
StoreMore Adjustable Bakeware Rack Organizer: $15.99 (was $19.99)
WrapStand Kitchen Wrap Box Caddy Organizer: $16.99 (was $19.99)
TeaStand Tea Bag Organizer with Clear Removable Bins: $25.49 (was $29.99)
RollOut Caddy 8-Inch Wide Under Sink Organizer: $23.99 (was $29.99)
RollOut Clear 6-Inch Wide Refrigerator Drawer: $15.99 (was $19.99)
FreezeUp Freezer & Fridge Food-Safe Organizer: $25.49 (was $29.99)
Rolldown Refrigerator Egg Holder & Dispenser: $16.49 (was $19.99)
FridgeView Fridge Lazy Susan Turntable with Mat: $15.99 (was $19.99)
Crazy Susan Divided Turntable Pantry Organizer: $23.99 (was $29.99)