#OrlandoUnited: How to Donate to Help Victims of the Orlando Nightclub Shooting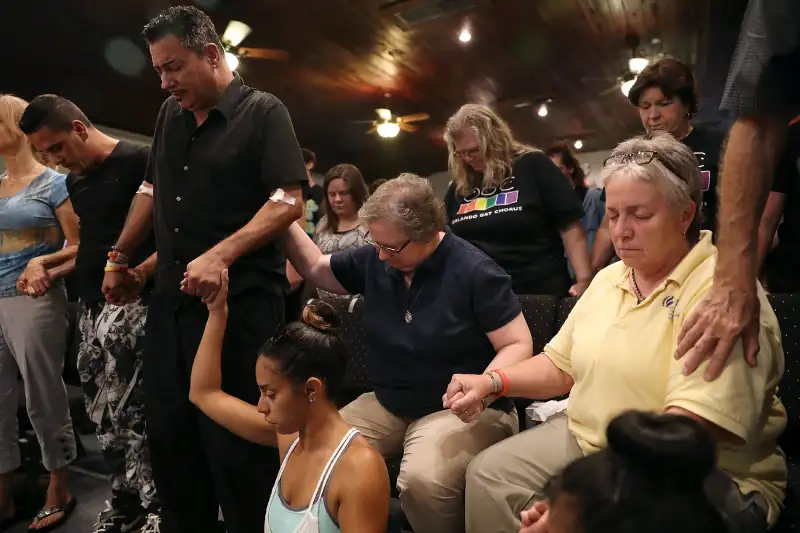 UPDATE 6/15: The city of Orlando has created the OneOrlando fund, modeled after the OneBoston fund that was established in the aftermath of the Boston Marathon Bombing. The Walt Disney Co. donated $1 million to the fund, and other organizations, including the Orlando Magic, Darden Restaurants, the DeVos family (owners of the Orlando Magic), the Orlando City Soccer Club JetBlue, and Mears Transportation also made substantial contributions.
Disney is also matching "eligible donations" from Disney employees via the Disney Employee Matching Gifts: A Program of The Walt Disney Company Foundation, according to a statement from Orlando Mayor Buddy Dyer.
According to the Orlando Sentinel, the funds will be distributed to "nonprofit organizations serving victims and their families, Hispanic, LGBTQ and faith groups and 'underlying causes of this tragic event.'"
You can donate to the fund here.
---
In $5, $25, and $100 increments, the money is pouring in—a palpable testament to the urge felt by many Americans to help in ways big and small in the wake of the largest mass shooting in U.S. history, in which at least 50 people were killed and 53 others were wounded when a gunman opened fire in an Orlando gay nightclub.
By Wednesday morning, more than 90,000 individuals had donated more than $4.2 million through a GoFundMe page set up by Equality Florida, the state's largest LBGT advocacy group.
According to an FAQ on Equality Florida's GoFundMe page, "Every penny raised will be distributed directly to the victims and their families."
Equality Florida has so far been the primary conduit of the flood of financial donations to victims and their families, but it is not the only one. The Center, an LGBT advocacy group that is providing a crisis hotline (407-227-1446) and grief counselors for people in the Orlando area, also set up a GoFundMe page, which had raised more than $355,000 as of Wednesday morning. The Center promises that all proceeds will be used to benefit the victims and their families. Planting Peace, a global humanitarian and environmental nonprofit, has also started a CrowdRise campaign, and has raised over $20,000 to cover expenses incurred by the victims and their families.
How will the funds be used to help? Equality Florida has posted that "We are working with the City of Orlando, local partners, and the National Center for Victims of Crime, which deployed funds in both the Chattanooga and Aurora shootings, to distribute the contribution from our Pulse Victim Fund." They have also updated their GoFundMe page with information regarding their legal representation and financial status.
Money has contacted all these organizations for more details on how they will be dispersing the funds and will update as more information becomes available.
Are these the most effective ways to use your money to help victims of the tragedy? In general, to make sure you're donating to an organization that will use your money wisely, conventional wisdom is to look up the group's financials on CharityNavigator, a site that rates charities based on how efficiently they use donated funds; and on Guidestar.org, which focuses on organizational transparency and governance. Experts recommend sticking with groups that limit their overhead expenses to less than 20% of their budget.
In this case, Equality Florida has pledged to use 100% of the money donated to help victims and their families. Charity Navigator had not previously rated Equality Florida but today gave it a three (out of four) grade. GuideStar, meanwhile, gives Equality Florida it's highest "gold" rating.
Still, it will take a while for the funds to be tabulated and dispersed by the organization and their lawyers. If you're looking for another way to contribute to the cause, here's a list of top-rated LGBT non-profits from Charity Navigator. The National Center for Victims of Crime, which is working with Equality Florida, gets a "gold" rating on Guidestar. You can also donate to support comfort dogs from Chicago's Lutheran Church Charities, a fleet of which has traveled to Orlando to help those affected by the tragedy.
As we saw after Sandy Hook and other tragedies, criminals have used such events as an opportunity to scam people trying to help. Experts recommend that you never give donations via Facebook or Twitter directly. While it's ok to learn about an organization's mission there, always take the extra step to verify where you're sending money. As per Charity Navigator website: