It's Shockingly Easy to Buy the Type of Rifle Used in the Orlando Nightclub Shooting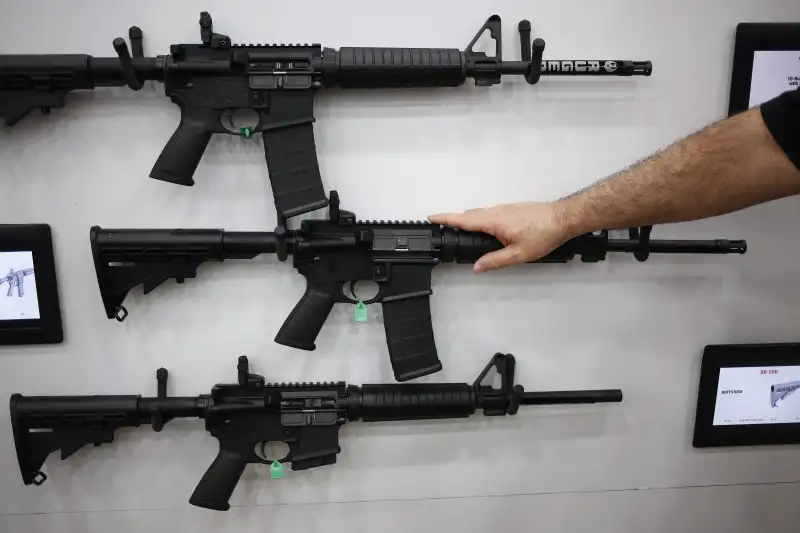 Bloomberg—Bloomberg via Getty Images
Correction appended, June 15
In the largest mass shooting in U.S. history, 49 people were killed and 53 others were wounded at a gay nightclub in Orlando, Fla. early Sunday morning. The type of weapon that was used in the attack is shockingly easy to buy.
Police say Omar Mateen used a Sig Sauer MCX, a semiautomatic assault style rifle that is similar in appearance and capabilities to the better-known AR-15. The AR-15 has often been in the national spotlight as a weapon of choice for other mass shooters. The AR-15 is semi-automatic, reloading quickly and allowing shooters to fire as fast and as often as they can pull the trigger. The rifles are also relatively affordable and widely available, retailing for as low as $250 online, with an average price of about $1,000 and $2,000. In 2012, U.S. civilians were using an estimated 2.5 million and 3.7 million AR-15-type rifles, the Oregonian reported.
Florida gun laws, like those in many states, are more lax for larger weapons than they are for handguns. While there is a three-day waiting period for purchasing handguns, there's no waiting period between purchase and delivery of firearms, like the AR-15, that require two hands to hold.
Read More: #OrlandoUnited: How to Donate to Help Victims of the Orlando Nightclub Shooting
It's likely the shooter, 29-year-old Omar Mateen of Port Lucie, Fla., faced few, if any, obstacles when he legally purchased the murder weapon several days before the shooting. Anyone over the age of 18 in Florida can purchase the gun, and the state of Florida does not require would-be gun owners to hold a license to own or buy a rifle, shotgun or handgun. Prospective rifle carriers need only fill out an identification form and pay $8 for a background check.
Floridian gun owners are protected by law from entering any state registry or keeping any sort of record for the guns they own. Once you own a gun in the Sunshine State, you aren't required to obtain a license or register your gun. Additionally, there are no background checks for gun sales between private individuals nor any special regulation on assault weapons.
The AR-15 is the most popular assault weapon in the country—and it's been used in previous mass shootings, Quartz reported. The same semi-automatic model used in Orlando was illegally modified and used to kill 14 people and wound 21 in the San Bernardino shootings in December 2015. It was also used to kill 26 people at Sandy Hook elementary school in Newtown, Conn. in 2012. Only six states—Massachusetts, New York, New Jersey, California, Maryland and Connecticut—restrict the use of the gun.
In 2014, parents of several children murdered at Newtown, Conn. filed a lawsuit against Remington Outdoor Company, the parent company of the manufacturer of the AR-15 used in the school shooting. They allege that the military-style gun never should have been made available to shooter Adam Lanza. However, the 2005 Protection of Lawful Commerce in Arms Act protects gun-makers from civil lawsuits caused by "misuse of their products by others."
Read More: Gun Stocks Rise Following Orlando Shooting
Sales of the AR-15 have spiked nationally in the wake of mass shootings. The increased demand was likely spurred by lawmakers' threats to limit citizens' access to assault rifles. In Greater Orlando, prices for the AR-15 doubled in the month after the Sandy Hook attacks, the Orlando Sentinel reported. Shares of firearm manufacturers rose in premarket trading Monday.
Correction: The original version of this story incorrectly described the gun used in the Orlando shooting. It was a Sig Sauer MCX, a semiautomatic assault style rifle that is similar in appearance and capabilities to the better-known AR-15.