How Much It Costs to Put on the Oscars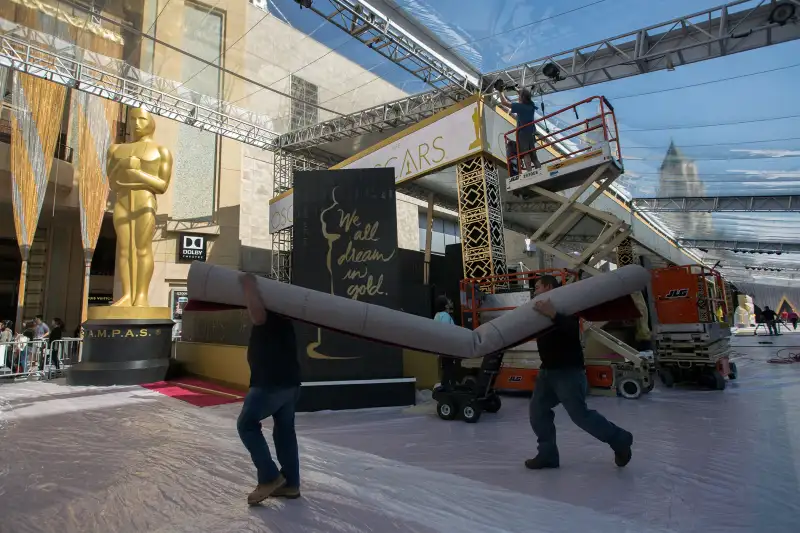 When it comes to entertainment awards shows, the Oscars is the most prestigious—and by far the most expensive.
According to financial statements released by the Academy of Motion Picture Arts and Sciences, the 2015 Oscars and related events—things like the nomination ceremony, legal fees, and nominee luncheons—cost $42.7 million, a slight increase from 2014's $41.9 million price tag.
Where does all that money go?
CBS reported that the statuettes—which were made of pewter and plated in 24-karat gold—cost about $400 each in 2011. But this year the prizes will be made of 24-karat-gold-plated bronze. Bronze is about double the price of pewter. (In spite of that, they have little resale value on the open market.)
The envelopes used by presenters to award the statuettes are hand made by designer Marc Friedland at a cost of $200 apiece. Friedland, who produces a card for every nominee (no spoilers!), labored for 110 hours in 2014, according to Mashable.
Other costs include renting out the Dolby Theater for several weeks before the ceremony and shelling out for sets, producers, security personnel, performers (celebrities like Adele, who performed "Skyfall" at the 2013 ceremony, get paid to appear), the host, and of course, the 500-foot-long red carpet itself.
The $200,000+ gift bags given to acting and directing nominees are actually not paid for by or affiliated with the Academy, which stopped handing out its own gift bags in 2007, according to our sister publication Fortune. Rather they are distributed independently by Distinctive Assets (currently being sued by the Academy for copyright infringement). This year's controversial swag bag includes Hydroxycut Gummies, a $54,000 private walking tour of Japan, and a "10,000-meal donation made in the nominee's name to an animal shelter or rescue of their choice."
But don't worry about the Academy's bottom line; in the same report, the organization reported the 2015 Academy Awards and related events brought in well over $109 million in revenues, and over $97 million in 2014.
How does the Academy bring in so much money? Part of it is through selling tickets to the Oscars. As The New York Post reported, studios are allocated a certain amount of tickets, but attendees still must pay for them. Last year's prices, according to the Post, broke down like this:
A massive chunk comes from the $75 million paid annually by the Walt Disney Co. for broadcast rights to air the festivities on ABC, according to The Hollywood Reporter. Additional TV rights have been licensed in at least 76 other countries around the globe. Other sponsors, like Samsung, pay for promotion during the ceremony itself. Pepsi and Coke have each paid to be the official nonalcoholic beverage of the event, Kohl's is this year's retail sponsor, and Chevy paid to promote an aspiring filmmaker contest.
Read Next: You'll Be Shocked at How Little An Oscar Statuette Is Worth
ABC was reportedly seeking as much as $2.2 million per 30-second ad spot this year (a 30-second Super Bowl 50 spot cost as much as $5 million), though Variety notes that the Academy "limits the amount of advertising time allowed" during the show.