33 Apps That Will Save You Real Money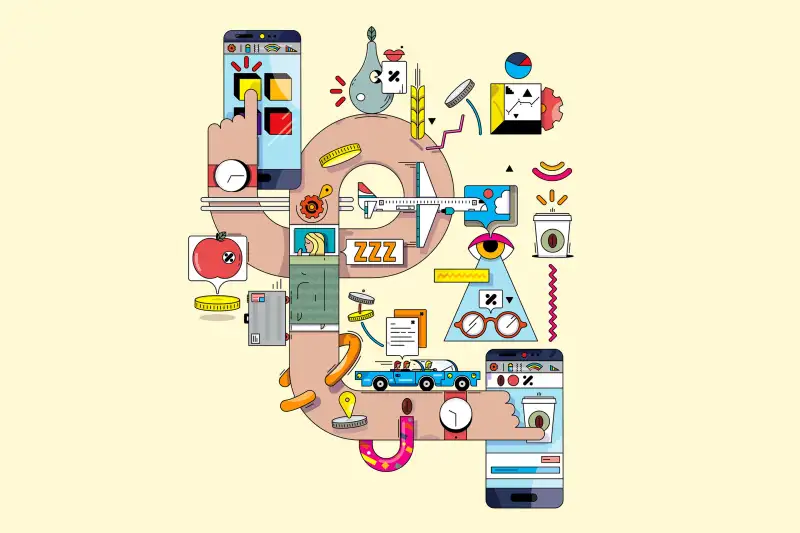 Illustration by Jamie Cullen
By Brad Tuttle, Allana Akhtar, Paul Schrodt, and Alicia Adamczyk
You know your phone can help you with everything these days, from on-the-fly banking needs, editing work documents from anywhere, and even winning free money by answering a handful of trivia questions. It also can assist with saving you real dollars, daily. Here are Money's picks for apps that will save you money this year. Get downloading.
Travel
LoungeBuddy
You don't need to be a frequent flier or pay annual membership fees to enjoy exclusive airport lounges. LoungeBuddy offers one-day lounge access at airports around the world for as little as $25. The perks often include free food, alcohol, hot showers, and business centers, as well as a quiet escape from the typical frenzied scene airports are known for. It's perfect if you have a long layover, and your lounge pass can even be less expensive than what you'd pay at a regular airport restaurant.
Dayuse.com
Dayuse.com allows travelers to book hotel room stays between the hours of around 10a.m. to 4p.m. for 50% to 75% off the nightly rate. When we checked, a room at the Hilton La Jolla Torrey Pines, near San Diego, was available for $129 for daytime use, compared with $329 for overnight.
Roomer
Roomer can save travelers money by enabling people to snag unwanted, nonrefundable hotel rooms at steep discounts. If you find dates and times that work for you, the deals can be amazing, often with discounts of 70% or more. You can also unload your own room to a traveler in need.
Turo
When you need wheels, official car-rental agencies are not the only option. Turo is a peer-to-peer rental service that lets individual car owners rent out their vehicles — typically at prices far below those airport brands you know. Depending on your location, SUVs, minivans, and convertibles might be available for under $50 per day. Many owners will deliver cars directly to renters or arrange for the vehicle to be dropped off at an airport or a prearranged meet-up spot.
Freebird
Think of Freebird as an insurance policy for your airline ticket. The service costs $19 for a one-way ticket, $34 for a roundtrip. If your flight is canceled or delayed by more than four hours, you can rebook via Freebird's search engine on another fight—even on another airline—at no extra charge. Best of all: You won't have to call airline customer service or wait in line at the airport. As of now, there's no app to download. Just go to GetFreebird.com and sign up.
AirHelp
What kind of compensation are you owed when a flight is delayed, canceled, or over-booked? Or if your luggage has been lost or damaged during a flight? With AirHelp, you can scan your boarding pass, and the service will track if and when you're owed money by an airline. AirHelp says the average successful claim pays $450 to the affected traveler. There's no fee for AirHelp's tracking service, but the app does take 25% of any compensation paid.
Hopper
It's always hard to be sure you're getting the best price on airfare, but Hopper helps eliminate the odds that you'll seriously overpay. Not only is it a flight search engine, sifting through fares from 250 airlines and highlighting the cheapest days to fly, but Hopper also uses historical data to predict whether prices are likely to drop or increase in the near future. Hopper can even track flight prices and send you alerts automatically if fares decrease on your route.
Budgeting & Investing
Morningstar
Get Morningstar's expert analysis and real-time quotes at your fingertips through the investment firm's app. You can create an account to monitor your portfolios using investment commentary, current index performances, curated research pertaining to your interests, and other portfolio monitoring tools. The app is free to download, but a premium membership with additional analysis costs $199 annually.
Available on: iOS
SigFig
SigFig's easy-to-use app is one of the best on the market for investors using robo-advisers for the first time. The app enables you to get free, timely portfolio analysis and track all of your investment accounts in a single dashboard. Even if you don't have an account managed by SigFig, the program will still calculate optimal allocation of your holdings and compare your earnings with multiple indexes. If you'd like to open an account with SigFig there's a 0.25% annual fee, but your first $10,000 is managed for free.
Credit Karma
If you're trying to build up your credit, the Credit Karma app is an indispensable free tool. The app provides users with a credit score sourced from Equifax and TransUnion. Although not a FICO score (which most banks and lenders use), it will give you a good sense of where you stand. You can also access and monitor your full credit report through the app, as well as get money-saving tips and ways to improve your score. One thing to note: You will have to enter your Social Security number upon sign-up, and Credit Karma does share the information with Equifax, which underwent a major data breach last year.
PocketGuard
PocketGuard neatly lays out all of your transactions and bill payments in multiple formats, where you can set up monthly savings goals and spending limits for certain categories like restaurants and entertainment. You can also add notes to payments to further detail transactions, which would likely be helpful for planning big events like a vacation or wedding.
Chime Banking
Chime functions as an actual bank: You can open a checking account (the app calls it "Spending") or a savings account and even get a Visa debit card. The best feature is "Save When I Spend," which rounds a transaction up to the nearest dollar amount and transfers that money to the savings account. "Save When I Get Paid" is another great automated feature, which saves 10% of each paycheck that is deposited into your checking account. Best of all? There are no overdraft or monthly fees or account minimums.
Shopping
Affirm
For those who like a layaway option, Affirm lets you spread out payments for online purchases at numerous merchants like Wayfair, Rooms to Go, and Joybird Furniture. Based on your credit (Affirm will check) you will pay an APR anywhere from 10% to 30% on your purchase. If you buy something over $100, you can choose to pay it off in three, six, or 12 months; for purchases between $50 and $99, you have either three or six months. So if you need that sofa upgrade and don't want to fork over a ton of money at once, this is a nice option to get you comfortable, quick.
Shopkick
Like many other shopping apps, Shopkick rewards users for making qualified purchases. The main difference is that Shopkick rewards come in the form of points called kicks—which can be exchanged for gift cards, not cash—and more important, users can also earn kicks without actually spending any money. While shoppers might get 150 to 200 kicks for making a purchase, they can also earn, say, 25 kicks by walking into a store, 80 kicks for scanning a product barcode, 65 kicks for watching an online ad, and one kick simply for visiting the website of a retailer like Apple, Jet.com, or Groupon. Just bear in mind you need a lot of kicks to see a worthwhile payout: For example, 2,500 kicks can be traded in for a $10 gift card.
Cartwheel by Target
An essential for anyone who shops at Target, the Cartwheel app features a constantly updated list of the retailer's latest discounts and deals. Just add the offers to the Cartwheel app, go shopping, and get your phone scanned at the store checkout to pile up the savings.
BuyVia
BuyVia has a team of shopping experts who highlight the hottest new deals at big retailers. You can use BuyVia to track prices for a product you have your eye on and get notifications when there's a price drop. You can also use BuyVia to scan a product in the store to see which retailer has it for the cheapest price.
Ibotta
Use the Ibotta app when you shop at Walmart, Target, Best Buy, and more than 250 other stores, and you'll get cash back on stuff you're already buying—paper towels, fresh produce, even movie tickets and beer. The average new user earns $20 to $25 in the first month, Ibotta says.
Coupon Sherpa
Coupon Sherpa rounds up promotional codes and coupons that offer big discounts for hundreds of retailers. Think $10 off a purchase of at least $25 at J.C. Penney, 50% off one full-price item at Joann Fabrics and Crafts, and so on. Most of the deals are digital, but there are hundreds of printable coupons for groceries too.
Poshmark
This peer-to-peer marketplace for swapping clothes, shoes, and accessories will help you snag top fashion brands like Gucci, Lululemon, Tory Burch, and North Face for up to 70% off retail prices. You can browse by brand, alter searches by a specific price range, or click "New With Tags" to browse stuff that's essentially brand new. For purchases over $500, Poshmark offers a free "concierge service" that verifies the authenticity of your item, so you can rest easy knowing you're not getting a knockoff. It's also handy for cleaning out your closets: Listings for gently (or never) used items are free, though the app takes a 20% commission.
Boxed
Think of Boxed as a Costco for home delivery, where you can order items in bulk. Boxed has no membership fee, plus you get free delivery if your order exceeds $49. Savings can pile on too if you purchase one of Boxed's premade bundles with tailored items, like the Food Storage Bundle, which contains freezer bags and storage containers.
Garage Sales by Map
Do you have a free Saturday that you'd like to spend finding deals on antique furniture or other used goods? Use the Garage Sales app to find nearby sales, or filter the list by keyword to find a seller offering something specific. And you can increase the foot traffic of your own garage sale too—just pop in your address at the site for others to and as well. The app is free to download and use, but you'll pay a fee if you want to go ad-free.
SavingStar
SavingStar lets shoppers earn cash back by tapping and then buying the current offers — which, when we looked, included and easy payoff of 50 cents to $1 each for Annie's mac and cheese, Cinnamon Toast Crunch, Chex Mix, and Right Guard deodorant purchases. SavingStar works at nearly every supermarket chain, as well as at warehouse clubs like Costco, BJ's, and Sam's Club. The cash you earn is paid via PayPal or a retail gift card or goes directly to your bank account.
GeoQpons
GeoQpons filters coupons by stores near your location, while also showing you daily coupons, sales, and ads for your favorite retailers, like Target or Old Navy. Plus, you can search nearby malls and find out which stores are offering deals or coupons.
Listia
In need of something but don't feel like paying for it? Listia can help. The app enables you to receive recycled furniture, clothes, and other items without having to spend a dollar. You pay with in-app credits, which you earn by getting rid of stuff you don't want. It's like an old-fashioned swap but for the Digital Age.
Food
iTip Calc
Never get cheated out of a couple of bucks just because your friends sloppily split the tab at dinner. iTip calculates how much your total bill costs depending on how much tip you want to leave, and then splits your tab among all the guests. You can easily share the calculations on iMessage within the app. And remember: 20% is the new normal.
Available on: iOS
Sweetgreen
Sweetgreen makes health-conscious salads with fresh ingredients, and there's no reason to wait in massive lunch lines at one of its locations around the country. The app lets you choose one of the regular or seasonal salads, or craft your own, and pick it up at your convenience. Plus, there's one very worthwhile reward: free salad. Spend $100 within a year (it's surprisingly easy to do), and you automatically get a $10 credit on your birthday that's valid for 30 days.
Starbucks
The coffee chain's app recognizes your closest location and tells you when your order will be ready, so you can skip the line. If you're a regular, you won't have trouble accumulating the 300 stars necessary to get Gold Status, which allows you to redeem every 125 stars for a free food or drink item. Plus, you get free refills.
Chili's
Chili's has something for everyone: bottomless chips and salsa, generously sized margaritas, and fajitas much tastier than their price gives them any right to be. It also has the best app of any chain restaurant you can and in basically any city. You can place to-go orders and reserve a spot in line if you're dining at one of its restaurants, and every dollar spent gives you a point. Your points can be used to redeem anything and everything, and the point system is powered by Plenti, so you can also use them at Macy's, Rite Aid, and other partners. Recently, Chili's was giving away free chips and guacamole just for signing up. Who says no to that?
Instacart
The adage "Time is money" has never been truer than it is today. Instacart helps you out by enabling you to browse and shop for food items at local stores and get them delivered on the same day. Plus the easy-to-use app saves you actual dollars by highlighting savings on select items and allowing you to add coupons. You have to pay a delivery fee, and at times, prices for items are marked up compared with if you went to the store. But for those working a side job or overtime, this service easily frees up valuable time to increase your cash cow.
Grocery iQ
Grocery iQ is perfect for the diligent listmaker. Add items you need to get at the store, and the app will instantly sort your list and showcase discounts for select items at partners' brands. Type in, say, "fruit," and you may find a $1.75 savings on Dole jarred fruit (one recent example).
Whole Foods Market
If you love Whole Foods but sometimes feel as though you've just unloaded your checking account there, you're not alone. The app helps a lot. With it, you can save on your usual store purchases and browse the most current coupons, bringing down that weekly bill for household staples.
Grocery Pal
Grocery Pal does a bit of everything. You can make lists and compare prices at many different stores. You can also simply scroll through all available discounts and coupons, which can be printed to use. The app isn't the prettiest and can be a bit ungainly to use, but once you've mastered it, the savings will roll in.
OpenTable
OpenTable is the most convenient way to make reservations at any number of fine-dining restaurants (the ones that still take reservations, anyway). But every time you book a table, you're also racking up points, which you can track on the app. Once you hit 1,100 points, you get a $20 reward to be redeemed at a restaurant affiliated with OpenTable, or you can snatch a $10 Amazon gift card if you prefer. Granted, it will likely take you a little while, but if you eat out regularly, it's a no-brainer.