Parents Are Stalking Their Children on Venmo to See How They're Spending Money
Money is not a client of any investment adviser featured on this page. The information provided on this page is for educational purposes only and is not intended as investment advice. Money does not offer advisory services.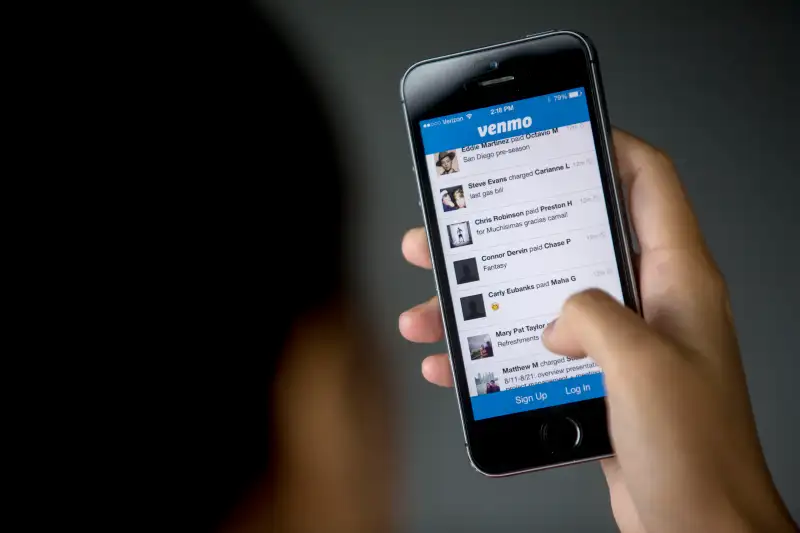 Andrew Harrer/—Bloomberg via Getty Images
Ruby Fuchs was certain her daughter Gina was destitute and malnourished.
Fuchs had been reading Gina's Venmo feed. Gina never asked for money, yet her posts were full of people paying for her food. The strawberries were the killer.
"I was like, 'Really? Things are that bad that you're splitting a pack of strawberries?"' Fuchs, 46, said in an interview. "She's like, 'Mom, that's not how this works.'''
Gina, 22, wasn't hungry or broke. She was just being a millennial. Ruby was just being her mom.
In recent years, America has been split in two. The rich get richer while income for everyone else stagnates. Right-wingers troll left-wingers who troll right-wingers.
But nowhere is the gulf between young and older more obvious, and more readable, than on Venmo, the person-to-person money-transferring app owned by PayPal Holdings Inc.
Real-Time Feed
Venmo said it processed more than $40 billion of payments in the last 12 months and grew 50 percent in the first quarter. It enables users to shift money from their accounts to others' accounts, like Google Pay, Apple Wallet or SnapCash, which Snap Inc. discontinued last week without explaining why. What sets Venmo apart is its real-time feed of transactions, with room for comments limited to a few words. The brevity makes it ripe for generational misunderstandings.
Venmo automatically sets payments to public, so linked people can read everything from their group. Venmo declined to comment.
"Most of us exist within homophilous networks, which means we hang out with people who are like us," said Cliff Lampe, a professor at the University of Michigan School of Information. When Venmo users see just a few words to describe a transaction, it's natural to speculate. "That's what humans do," Lampe said. "We take signals and we make stories out of them."
John Metcalf, 54, found it difficult to construct a narrative around "dick order." That was what a friend of his daughter Jeana wrote on Venmo to explain a payment Jeana made.
'Totally Random'
The Venmo post was "totally random," Jeana Metcalf, 20, said in an interview. Her friend was just being funny, she said. But when her father asked her about it, she freaked.
"Why are you creeping on my Venmo?" she told him.
Privacy, too, has different meanings for millennials and their parents. After a Twitter account bot called @VenmoDrugs began tweeting out usernames and photos of people who used "drugs" or drug emojis last week, Venmo put up an alert for users on Sunday on the subject of "Privacy on Venmo," which explained how to make transactions private.
Pizza Emoji
All this angst over privacy is for an app where "pizza'' is the most-used word, with a pizza emoji posted every 20 seconds. But users sometimes share too much. Avery Taylor said she enjoys scrolling through her Venmo feed for that reason.
"Venmo's such a bad mistress," the 24-year-old said. "It's a bad secret keeper because if you're not careful, Venmo will air out all your dirty laundry for you."
Like many others of her age cohort -- those born in the last 20 years of the 20th century and fluent in the ways of the internet -- Taylor and her friends have been able to predict the blossoming of relationships, exes reuniting and couples' breakups simply by tracking their Venmo feeds.
"There's not rock-hard evidence," Taylor said. "Venmo isn't the greatest place for cold, hard facts. But it's good for leads because you can kind of gauge what's going on."
Some parents skip the social feed altogether. Marti Smith, 56, said her 24-year-old son is forever owing her money, and always promising to repay her when he visits, which he sometimes does and sometimes doesn't.
"He always says, 'I'll pay you later,"' Smith said. Then she set up a Venmo account. "He was like, 'No, no, this is not working for me.'''
Smith is teaching him a language lesson learned by every generation: Money talks.
"This is the best way to do it," she said.