Coming to a Grocery Store Near You: Pea Milk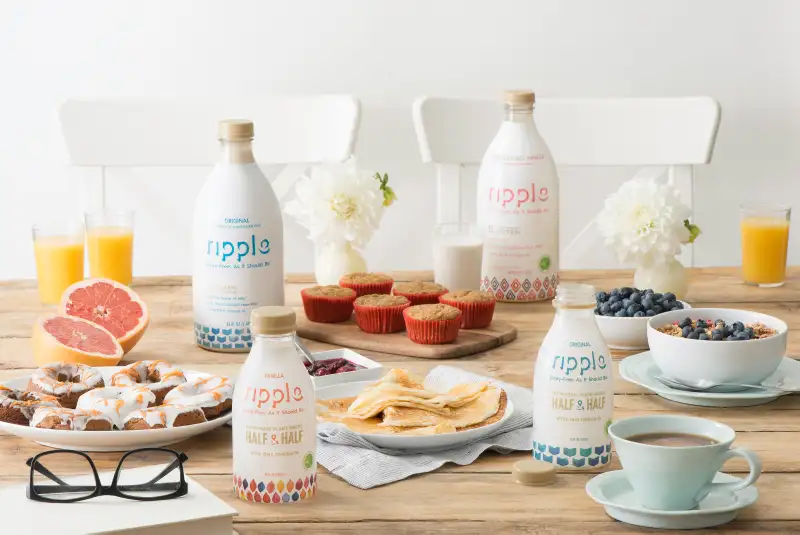 Goldman Sachs Group Inc. participated in a $65 million investment in Ripple Foods Inc., a little-known beverage company that makes a milk-like drink from yellow peas.
The investment, which was led by Euclidean Capital, includes funding from Khosla Ventures, Fall Line Capital and S2G Ventures, a food and agriculture investment firm started by OpenTable Inc.'s founder. It's Ripple's largest capital infusion and brings the two-year-old company's total funding to $110 million.
Ripple has sold the investors on its Ripptein, pea protein that has been extracted from the vegetable by a process that the company says strips out the funky flavor often found in plant materials. The result is almost purely protein, say Ripple's founders Neil Renninger and Adam Lowry.
For the past four years, investors have put well over $1 billion each year into food and beverage startups, including Impossible Foods Inc., which makes a red-meat replacement from plants, and Memphis Meats, which grows chicken cells in a laboratory. Last year, the sector attracted almost $2 billion in equity financing, according to research firm CB Insights.
That's because Americans' appetite for plant-based foods and beverages, often labeled as healthier alternatives to dairy and meat, is growing. U.S. milk consumption has dwindled as consumers switch to alternative dairy drinks. Last year, U.S. retail sales for skim and low-fat cow's milk, the biggest conventional-milk drinks, declined 5.5%, according to IRI, a Chicago-based market-research firm.
Goldman Sachs has noticed the trend. "We are proud to invest in a company that has one of the fastest-growing plant-based product lines," says Kathy Elsesser, the investment bank's global chair of consumer retail and health-care groups.
Lowry and Renninger say their biggest selling point for investors, beyond the proprietary Ripptein, are their complimentary backgrounds. Lowry co-founded the naturally derived cleaning-product brand Method Products and considers himself a master marketer. Renninger, who was a champion Blackjack player before founding Amyris Inc., which makes renewable fuels as well as malaria medications, is a scientist. The duo are working on developing Ripple's new line of pea-based ice creams—that don't taste like peas.