How Summer's Black Friday Is Like the Real Black Friday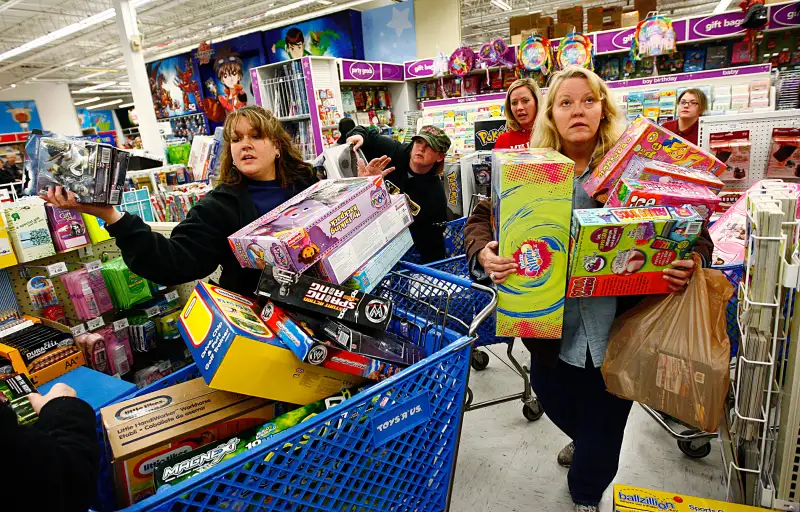 Tom Pennington—Getty Images
From the beginning, Amazon has been comparing Prime Day to Black Friday. On the surface, Black Friday and Prime Day—a big sales event being held today, July 15, if you somehow haven't heard—are quite different. Today's sales are online-only, whereas Black Friday remains dominated by the in-store shopping experience. Only Amazon and a handful of competitors are offering special sales today, whereas virtually every retailer offers deals for Black Friday.
Yet there are many similarities between Black Friday and what's being billed as the summertime Black Friday. That includes many of the criticisms about Black Friday, which has been losing shopper interest for years due to a wide range of factors.
Shoppers should take the following into consideration before buying things on a day pumped up as "Black Friday"—no matter what time of year this day takes place.
There are some truly amazing deals. According to the deal trackers at BestBlackFriday.com, some of Amazon's Prime Day prices for specific items like printers, video games, Blu-ray movies, and TVs indeed beat the best Black Friday prices offered on the day after Thanksgiving last year.
But the vast majority of deals are meh. The hashtag #PrimeDay is trending on Twitter today. Glance through the comments posted, and you'll see multiple mentions of words like "disappointing," "underwhelming," "boring," and "meh." There are also more colorful comments that demonstrate people are hardly amazed by Amazon's offers, like that Prime Day is "not the risk to my wallet I thought it would be," and "like a dollar store going out of business sale," with deals "so random and bad that hipsters couldn't even buy them to be ironic."
For the most part, the same can be said of Walmart's "Rollback" sale timed to coincide with Prime Day. Some deals seem terrific—think $13 for a video game that retails for $30—while most are random and underwhelming. How excited can anyone get, after all, about a plush puppy toy that's marked down from $12.50 to $10.91?
Best deals are selling out very quickly. Many customers trying to get in on Amazon's "Lightning" deals have expressed frustration that the items are sold out and they're being put on a "waitlist." The limited quantities and rapid sellouts are not unlike the doorbusters regularly offered on Black Friday, which some customers feel are tantamount to bait-and-switch because few get to actually purchase the items at the advertised prices. You'd think that Amazon would have an endless supply of it own products, but even they are selling out. As of 11:30 ET, Amazon's Fire HD 7 deal—priced at $79, down from the usual $139—was 98% sold out.
Consumers are under pressure to buy right away. Prime Day lasts only one day, and with the exception of a somewhat vague sneak preview of deals released yesterday, shoppers didn't know what exactly would be on sale today. Many of the deals will be exceptionally short-lived and can sell out, disappearing soon after they've surfaced.
The net result is that shoppers have very little time to assess each deal, compare prices with other retailers, or think things through much at all. It's similar to what we might call "Black Friday brain," in which the crowds, limited quantities, and frenzied atmosphere conspire to pressure shoppers into buying whatever's in front of them, regardless if it's actually a good deal—and regardless if it's something the purchaser actually wants. Speaking of which …
You probably don't need any of this stuff. Amazon created Prime Day out of the blue, in order to manufacture shopper interest at a time it didn't otherwise exist. In other words, people aren't shopping today because they need anything in particular; they're shopping today because it's Prime Day. Yes, you might find some stuff that's fun and remotely useful, at a good price. But don't kid yourself: You're probably not shopping out of a genuine need. As a Detroit Free Press columnist put it, "Don't get so overwhelmed by the hype that you buy stuff now that you really don't need."
Read next: 12 Ways to Stop Wasting Money and Take Control of Your Stuff